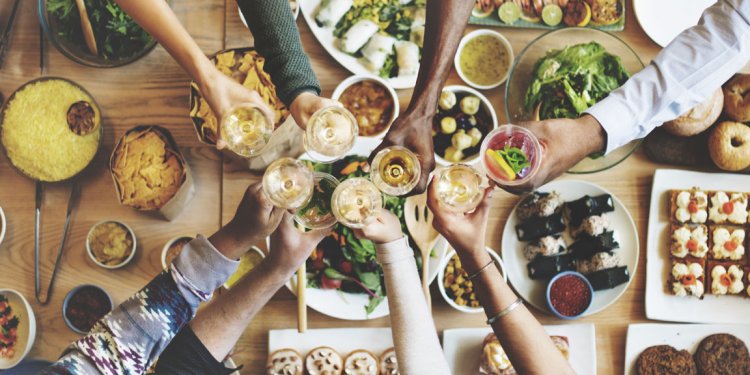 Restaurant Week, San Diego
Now on its 13th go-around, SDRW 2017 edition runs from Jan. 15 through Jan. 22, with its familiar, scrumptious set-up: participating restaurants will offer special two and three-course, prix fixe menus for lunch and/or dinner. Two-course lunch menus are priced at $10, $15 or $20 per person, while three-course dinner menus are priced at $20, $30, $40 and $50 per person.
The popular culinary event spans eateries across more than a dozen regions in San Diego County including downtown San Diego, La Jolla, Central San Diego, East County, Mission Bay and Beaches, North County Inland and Coastal, South Bay and Point Loma/Harbor Island, to name a few communities.
Cuisine varies, too, with every type of food imaginable on the SDRW menus - from American and California fare, to Mexican, Hawaiian, French, Italian and more.
As always, no special passes are required to attend SDRW. Just pick the participating restaurant that sounds good to you, go there and ask for the SDRW menu. Really, it's easy as pie.
Now, on to the main course.
A small sampling of eateries participating in SDRW 2017 include: Il Fornaio (Coronado); BIGA (downtown San Diego); Bo-Beau Kitchen + Garden (East County); CUCINA Urbana (uptown San Diego); Draft Republic (La Jolla); Cafe Gratitude (Little Italy); Backyard Kitchen & Tap (Mission Beach); The Prado (Balboa Park); Decoy (North County Inland); Twenty/20 (North County Coastal); Sea 180 Coastal Tavern (South Bay); Coasterra (Point Loma/Harbor Island); Cafe Coyote (Old Town); Hash House (Hillcrest).
The very long list of participating SDRW eateries – as well as photos and mouthwatering menus – can be seen in full on the SDRW website. Foodies can even score a few recipes so they can try their hand at cooking some delicious dishes at home.
Organizers say SDRW has teamed up with Girl Scouts for this edition of the event, to celebrate the 100th anniversary of Girl Scout Cookies.
This partnership comes with some sweet perks including this contest, which will give three lucky winners a year's supply (52 boxes, exactly) of Girl Scout Cookies from the core varieties, including Thin Mints and Samoas.
Some of the eateries participating in SDRW will create dishes inspired by Girl Scout Cookies such as Samoas-Crusted Fried Shrimp, Do-Si-Dos Peanut Thai Chicken and salads featuring toasted Trefoil croutons.
cse engineering
scrum certification
bds course
startup website
crowdcube reddit
phlebotomy training near me
sports startups
crowd equity
teaching online
just giving crowdfunding fees
crowdfunding sites for individuals
curriculum implementation
teaching assistant courses
social enterprise companies
unicorn company
designing courses
myeducation
men entrepreneur
10 filipino entrepreneurs to inspire you
moglix funding
crowdfunding technology
entrepreneur center
aws student
entrepreneurial thinking
hnd
startup platform
max crowd fund
indiegogo cashback
bachelor of social work
5 entrepreneurial skills
best startup business
fintech startup
iqas
postgraduate degree
crowdfunding estate
milaap app
Share this article
Related Posts