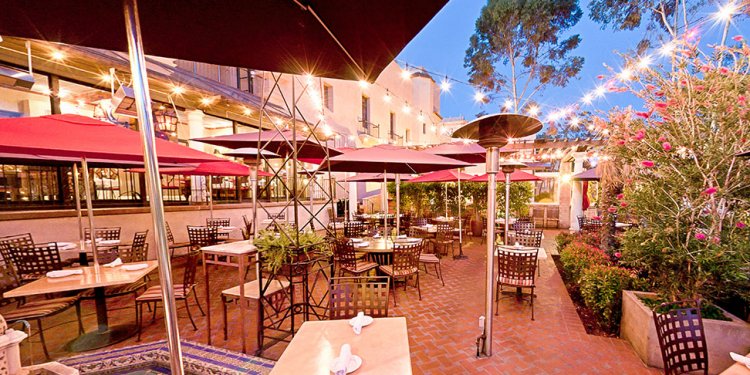 Balboa Park San Diego restaurants
Albert's Restaurant, located near Gorilla Tropics at the San Diego Zoo, offers a wide range of entrees including pasta, steak, seafood, pizza, salad and sandwiches, as well as a children's menu. This full-service eatery and bar is located amidst a tropical garden, and offers indoor and outdoor dining. Albert's is open year-round for lunch and serves dinner during the summer's "Night Time Zoo" experience. Zoo admission is required to access Albert's Restaurant. Please call (619) 685-3200 for reservations.
Café Mingei, located in on the Plaza de Panama at the Mingei International Museum, is a destination for coffee, tea and treats. The café serves hot and iced espresso drinks, plus a selection of vibrant teas, gourmet hot chocolate and other refreshing beverages. Fresh, daily pastry selections are provided by a variety of local bakeries.
Casa 1915 Mexican Grill is located in the Casa de Balboa building. Casa 1915 offers fresh local pastries, gourmet coffee, featuring a horchata latte and customized burritos, bowls and salads. It also has a kid-friendly menu. For more information, call (619) 331-3500.
Daniel's Coffee Court, located in the courtyard of the House of Hospitality across from the Visitors Center, offers coffees, teas and pastries.
Craveology offers cold sandwiches, hot roast beef, salads, pastas, ice creams, pizza and snack items. Located in the east rotunda of the Reuben H. Fleet Science Center with tables outside next to the fountain. For more information, call (619) 238-1233.
Dinosaur Café, located in the atrium of the San Diego Natural History Museum, features a wide assortment of sandwiches and salads as well as soups, pastries, and gourmet coffee and tea beverages. For more information, call (619) 255-0317.
Flight Path Grill is an outdoor restaurant at the San Diego Air & Space Museum that features hamburgers, hot dogs, pizza, salad and more. Enjoy your meal at a picnic table or covered cabana. San Diego Air & Space Museum admission is required.
Home Plate Bar & Grill is sports-themed grill located in the San Diego Hall of Champions Sports Museum offers a variety of sandwiches, salads, paninis and snacks named for some of San Diego's greatest athletes. There is a cool and comfortable indoor dining area with flat-screen TVs and outdoor benches if you'd like to order your meal to-go. Beer and wine service is available as well. For more information, call (619) 702-7436.
Lady Carolyn's Pub is the Old Globe Theatre's outdoor food and beverage pavilion. Try one of its hearty soups in a sourdough bread tureen, a cool, crisp salad, or a warm fruit crumble. Sip an icy juice squeeze, a rich cappuccino, a robust Merlot or a steaming Irish coffee. Stop by and see our show-stopping specials. For more information, call (619) 231-1941, Ext. 2751.
The Prado Restaurant at Balboa Park, located in the House of Hospitality, is a full-service restaurant offering indoor and outdoor seating and is open daily for lunch and dinner. The diverse Latin-Italian fusion cuisine includes an array of appetizers, salads, panini sandwiches and imaginative entree selections. The lounge combines a tapas menu with a wide variety of margaritas and other beverages. Reservations are accepted and recommended, call (619) 557-9441.
The Panama 66 restaurant and bar in the San Diego Museum of Art's May S. Marcy Sculpture Court features lunch and dinner, late hours and weekend brunch. Take in views of the sculpture garden and enjoy all-local craft beers on tap, exhibition-themed cocktails, and locally-sourced seasonal sandwiches, salads, and more at Panama 66. For more information, call (619) 696-1966.
The Tea Pavilion at the Japanese Friendship Garden serves traditional Japanese green tea, herbal and specialty teas as well as sushi made fresh daily, Japanese noodles, rice, miso soup, salads and snacks. Enjoy the magnificent views from inside the Tea Pavilion or from the outdoor courtyard and deck. Unique imported food, beverages and gifts, as well as imported bulk teas, are available for purchase. For more information, call (619) 231-0048.
Village Grill, located on the corner of Village Place and Old Globe Way, serves great pizza, hotdogs, hamburgers, and other fast food items which are made on site. Sit at the tile-decorated tables under the shady umbrellas and enjoy casual dining and people watching. For more information, call (619) 702-2428.
Share this article
Related Posts