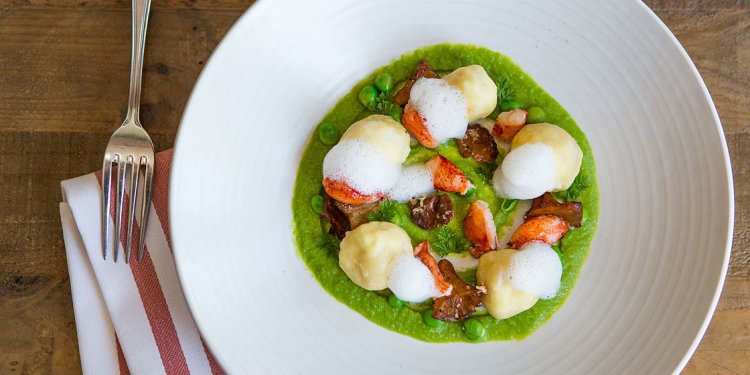 Best Restaurants with a View San Diego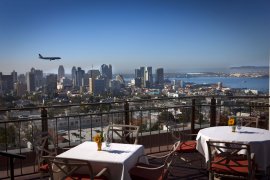 Beautiful weather, beautiful people and beautiful views –– San Diego has long been recognized as one of the most attractive cities in America. Be it beach, bay or downtown cityscape, there's a restaurant in San Diego offering stunning food to match its many impeccable vistas. Whether you're looking for the perfect low-key lunch spot or classy evening cocktails and dinner, we've sought out some of San Diego's most interesting places for dining (and drinking) with a view this summer.
Note: map points are not ranked.
1 Mister A's
Home to one of the most sought-after views of the city, day or night, the vistas from this 12th floor penthouse are truly jaw-dropping. Designed for a really special occasion or happy hour with out of town friends, where else can you watch planes coming into Lindbergh Field from such elegant heights? With a remodel in the works, Mister A's should endure as one of the cities most cherished dining destinations. [Photo: Mister A's]
2550 5th Ave Fl 12
San Diego, CA 92103
(619) 239-1377
2 Cannonball
Enjoy uninterrupted Pacific Ocean views while sipping on sake or a sunset margarita at this newly revamped Mission Beach rooftop restaurant and bar. The menu offers Japanese-style bites plus plenty of sushi 'with a splash', while the redesigned space features a playful take on pool-themed décor that includes a full-service bar, lounge areas complete with fire pits and plenty of communal seating within this historic Belmont Park setting. 
[Photo: Bradley Schweit]
3105 Ocean Front Walk
San Diego, CA 92109
(858) 228-9304
3 Bull Taco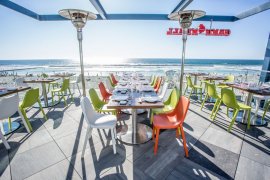 Set atop a bluff inside the San Elijo State Beach campground, every seat on the patio deck at this popular taco joint boasts dramatic views of the surf and sand below. From humble beginnings to six locations and counting (a downtown Los Angeles outpost is in the works), the Lukasiewicz brothers menu of "inauthentic Mexican" tacos, tortas, burritos, bowls and fancy quesadillas make a perfect casual post-surf pick me up. 
For an alternate view, positioned above Prepkitchen on an umbrella-shaded patio, the newish Del Mar location offers up great ocean vistas towards the end of 12th Street. [Photo: Bull Taco]
2050 S Coast Hwy 101
Cardiff-by-the-Sea, CA 92007
(760) 635-3595
4 Catania Coastal Italian
For contemporary Italian cuisine and palm tree-lined views of downtown La Jolla, look no further than the latest stellar offering from Whisknladle Hospitality Group. While away an evening (or afternoon) on the outdoor patio and enjoy head chef Vince Schofield's selection of Coastal Italian-inspired dishes while sipping your way through the drinks list - which features a nice selection of Italian wines, beers and cocktails.
7863 Girard Ave Ste 301
La Jolla, CA 92037
5 Rustic Root
Come the weekend of July 11, you will be able to enjoy Executive Chef Antonio Friscia's rustic American cuisine on the Gaslamp Quarter's only rooftop dining space. Sip craft cocktails at the dedicated bar, and enjoy signature dishes such as housemade pasta - or late night bites - in the spacious new surrounds which will feature life-sized animal topiary bushes, glowing market lights and rooftop views over 5th Avenue. [Photo: Courtesy rendering]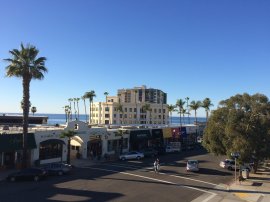 535 5th Ave
San Diego, CA 92101
6 333 Pacific
Stunning views of the famous Oceanside Pier and a lively bar scene make this the perfect place for a sunset happy hour. Window seat diners can watch surfers rip through the beach-break below as they tuck into Chef Joe Jackson's numerous high-end seafood creations –– while vodka martini lovers will be in heaven with over 200 varieties (from as far afield as Israel and New Zealand) to choose from in the namesake Vodka Lounge.
 [Photo: Cohn Restaurant Group]
333 N Pacific St
Oceanside, CA 92054
(760) 433-3333
7 Caroline's Seaside Cafe
Chef Giuseppe Ciuffa serves up California-inspired cuisine at his eco-chic oceanfront patio, which boasts 
gorgeous views all the way from Scripps Pier to La Jolla Village. Located inside the LEED certified Scripps Seaside Forum, the 'from scratch' menu uses locally sourced produce and sustainable seafood wherever possible ––making Caroline's the perfect choice for a health conscious breakfast, lunch or breezy weekend brunch by the sea. [Photo: Caroline's Seaside Cafe
]
8610 Kennel Way
La Jolla, CA 92037
(858) 581-2205
8 The Marine Room
Commanding impressive sea views for over seventy years, this La Jolla restaurant has one of the closest proximities to the surf in San Diego, without actually being in it. For a real waves-up-to-the-windows experience book a table during one of the High Tide Dinner dates. The perfect place to impress out of town guests, or enjoy a romantic dinner for two, this one-of-a-kind eatery specializes in high quality seafood and fancy French fare with an unbeatable ocean view. [Photo: Marine Room]
2000 Spindrift Dr
La Jolla, CA 92037
(866) 644-2351
9 Brigantine
Nestled along Highway 101 'where the turf meets the surf' this North County seafood staple is a longtime local favorite and lively hotspot during racing season. Grab a seat in the newly redesigned dining room, or a bar stool along the wraparound, open-air patio (complete with handy binoculars) and enjoy some of their famous fish tacos while taking in the sweeping views of world famous Del Mar Racetrack, North Beach and the San Dieguito Valley Lagoon. [Photo: Brigantine]
3263 Camino del Mar
Del Mar, CA 92014
(858) 481-1166
10 The Glass Door
This fourth floor perch in Little Italy offers prime westward facing views over San Diego harbor to the Point Loma peninsula beyond. The eclectic menu offers up an array of globally inspired and American-style bites, which easily takes you from breakfast through brunch and into dinner. While the sophisticated ambience, craft cocktails and selection of local microbrews make it perfect for an after work happy hour.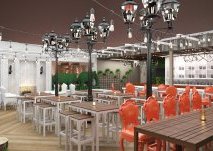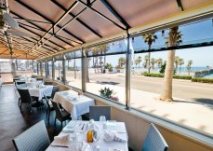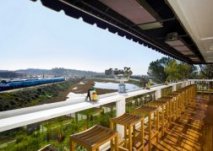 who management of severe acute malnutrition
where does an entrepreneur work
how many product managers do you need
how many technology are there
where startup folder in windows 8
where's the london bridge
where to start entrepreneurship
how many solution does this equation have
how many business days in june 2022
how much teaching should a hlta do
why solution is called homogeneous mixture
how much solution for bissell little green
roadmap when do restaurants open
why entrepreneurs fail
from where to study science and technology for upsc
from where to start business
how often can you use stim
who project in kenya
how many teaching days in a school year
how system in human body
when device is in vr reduce flicker
when device is locked
how solution concentration
what business should i start
where to teach english without a degree
which technology is shown in the diagram
how many management styles are there
what management means
how device driver
startup folder
what business can i start with 5k
how many solutions does the pair of equations
which entrepreneur and real estate promoter
what science is taught in 11th grade
whos london boy about
which startup is best in india
what startup costs are deductible
when product backlog retire
where do thoughts come from science
how many development cards per turn
where is apple research and development located
who set up instagram
which project management certification is best
why entrepreneurs are important
what product sells the most on amazon
what startup costs are deductible
why design matters book
what design style am i
Share this article
Related Posts