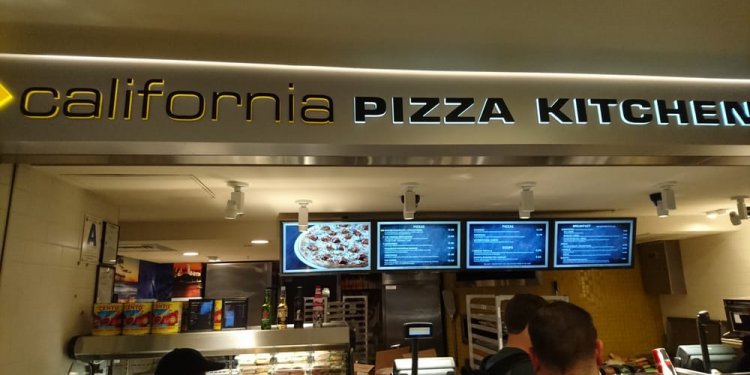 California Pizza Kitchen, San Diego
11602 Carmel Mountain Rd
San Diego, CA 92128
(858) 675-4424
The best 3 things on the menu have to be the Thai Chicken Pizza and the Chicken Piccata! Absolutely superb. End your meal with the Chocolate Soufflé dessert for an even better time. NANDO IS THE BEST SERVER! He was so sweet & constantly checked on my boyfriend & I. Absolutely the best service I've received here to date. Love CPK!
Wow, how does this place stay in business? I'm going to assume it is 100% by having the word "California" in the title giving that old hometown pride feeling of nostalgia or some crap. Stopped by today with Wee One and my brother and sister-in-law visiting from out of state. We decided to come here because "It has California in the name, it has to be the legit California experience". We started with the "small plate" fried Mac and cheese and they aren't kidding about the small. It is literally four balls, about half the size of a golf ball for $5. I wouldn't pay $1.25 each for an actual golfball, let alone something half the size of a golf ball that is just going to only stay with me for the next day, tops. So I ordered the $14 Thai chicken pizza, Brother had the $14 barbecue chicken sandwich, Sis-in-law had the $14 classic crispy chicken sandwich, Wee One had the $5.50 kids Hawaiian Pizza, and I grabbed a $14 cheese and tomato pizza home for Hubs. The Thai chicken pizza had very little peanut sauce so it was very dry, had even less chicken, and had a mountain of carrots, bean sprouts and scallions. I like vegetable as much as the next person (and probably more) but when it is 90% of the pizza, it is a bit ridiculous. And it is definitely something you can eat on your own. The BBQ chicken sandwich did not taste like Bbq at all. It was mushy chicken and even mushier fried onions. Both sandwiches decided to have the farmers market soup as a side and it was awful. The flavor was very similar to the spicy chowder type soups they sell in cans at the supermarket. It had chunks of raw veggies (they claimed to be roasted, but I am not buying that...) and a "drizzle" of olive oil on top that would probably be more adequately described as an "oil spill/ecological disaster" of olive oil on top. Seriously, we thought BP had been through the kitchens (Too soon?). The crispy chicken had a tiny piece of chicken in a huge square roll (because they think chicken is square?) so only the middle had chicken in it. Most of the sanwiches was just dry bread with lettuce and a ton of mayo oozing everywhere (See picture). Wee One's kid-sized pizza was the most appropriately priced but clearly the people who designed the kids menu items have no idea what ACTUALLY children are like. The ham was thinly sliced, but it was in huge pieces so W.O. kept choking on it. I had the take all the pieces off, tear them into edible non-choky chunks and then put them back on. The pineapple was also super huge chunks that had to be torn into smaller pieces for kid-sized mouths. The pineapple had a lot of the outer bits still on it like when you don't cut enough of the rind off, which is a bit irritating in a pizza. W.O. also asked for a refill on his chocolate milk and had to keep waiting and waiting. Not sure why it took 5 minutes to get a refill on chocolate milk when our server came up twice to say "the chocolate milk will be right up". The take home pizza was fine with the proportions and flavors, but still really expensive for a dinner plate-sized pizza. All together, including tip, this meal came to $80!!! Overall, I think California should petition to have the name changed so this restaurant doesn't sully California's name. I will never be returning to this place when the pizza at Little Caesars tasted similar to this "gourmet" crap and was twice the size for a third of the price. And doesn't choke toddlers.
Came here with my family and the first impression was very negative as we walked through the door the two of the host Marissa & Jenna just stared us down and were just talking and didnt even greet us. Host are suppose to be the first impression for there guest and customers and they sure disappointed us and didnt make us feel welcome... A couple minutes later a family behind us experienced the same thing with the host and was very angry. However, they were waiting 10 minutes also they didnt feel welcomed as well. They spoke to a manager about the issue they had. After the manager spoke to one of the host out side the host started talking to other associates about the issue. Don't think we will be coming to this location if they keep this going which is very unfortunate...
Food was excellent!! My sister and I had gone there after a long day of working. Customer service was great and the hostess that sat us was beyond gorgeous! Lol no clue what her name was but she was a pretty blonde, if you see this message me lol
We both enjoyed our pasta, the bread is much better than the plain white slices they used to have and the butter cake was to die for! Good to celebrate valentine's day a couple days off on a weeknight!
CPK. Location is really convenient for a good team lunch. It was our Administrative Assistant's birthday and she decided to do something close and fast. She made a reservation for noon and this place was about 3/4 full. We sat, we ordered, and we ate all the while saying how helpful and wonderful our Admin is. Everyone at the table got different items, bit two of us got an old off the menu item, the BLT pizza. This is by far my favorite pizza here. I of course asked for extra bacon for an EXTRA $2. Worth the price cause it had a lot of bacon taste. The service is good. Tim was attentive and made sure we had our fill of drinks.
I made reservations for a Friday night dinner with my husband and was glad I decided to do so because the place was packed and people were standing around outside waiting to be called. Within 5 minutes we were seated in a booth and our server had brought out menus. We ordered drinks and then a small plate and our main plates. Drinks came out but our app never made it to our table. Our server went in to check on it and brought it out, but it wasn't what we'd ordered! We'd ordered the Spicy Chicken Tinga Quesadilla but we got the Crispy Mac n Cheese instead. Our server was apologetic and left the mac and cheese for us to munch on while we waited. Our quesadilla came out a few minutes later. Quality wise, both the mac and cheese and the chicken quesadilla were delicious. Our Mushroom pepperoni sausage pizza wasn't hot when it hit the table, but was still yummy. The Chicken Tequila Fettuccine was so tasty, with a slight tangy flavor. Things happen in food service, it appeared like there was something going on in the kitchen and there was a delay/mix-up with the food but our server did all the right things. She checked on us and went to check on the food and at the end, she had her manager comp both of the small plates for the confusion. Food was great, service good. I would return.
Share this article
Related Posts