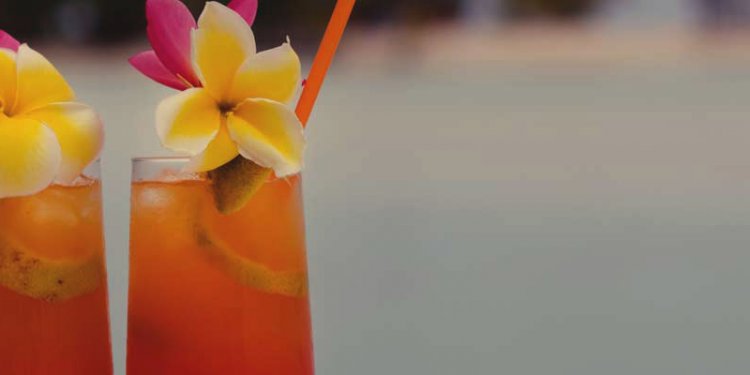 Best Beach bars in San Diego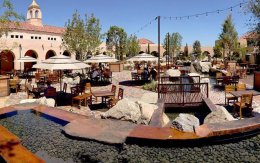 With summer in full swing, it's time to start thinking about the great outdoors and — more importantly — where to imbibe. San Diego is the ideal locale with its near-perfect weather year-round, not to mention the beaches that dot the county. So whether you're looking for casual outdoor seating or a place up close and personal with the ocean, here's where to go to grab a drink.
These two gems (pictured below) each boast sprawling beer gardens with flowing water and lots of lush plants. Each spot is impressive and, depending on where you are in the county, they're accessible from central San Diego or points further north.
Drink This: 2014 Stone Imperial Russian Stout
Eat This: The Really Stinky Cheese Plate
This drinking hub located near the San Diego Tech Center has been serving beer and food since 1994. Koi ponds and serene waterfalls make it a popular destination for weddings, but it's equally popular on Sundays for their boozy beer brunches.
Drink This: Tower 10 IPA
Eat This: Lamb sliders
Exploring the city's iconic park and museums just got a lot cooler now knowing that there's a bar nearby. Situated next to the San Diego Museum of Art, this drinking destination features several beers on tap and cocktails as well as gourmet sandwiches when you're feeling the munchies. Grab a seat by the sculpture garden or better yet, bring your pup and hang out in the enclosed grass area with awesome views.
Drink This: Green Flash 30th Street
Eat This: Turkey and Brie sandwich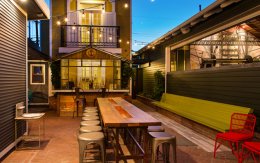 The minds behind this University Heights project thought one building wasn't enough to contain all the awesomeness and instead took three existing structures to create a must-visit drinking hub. The real charm is found between the buildings; intimate nooks — one with a much–coveted hanging swing chair — invite patrons to relax and grab a drink.
Drink This: Bean Me Up, Biscotti! — bourbon, coffee liqueur, biscotti liqueur and orange bitters
Eat This: Tater tots by the bar's in-house snack shack, Royale With Cheese
Oceanside's premier hangout offers ocean breezes with your brews. There are multiple levels of seating with lots of outdoor space, including several lounge areas that encourage lingering way into the evening hours.
Drink This: Wiseacre Wheat
Eat This: Shrimp po' boy
The street-view facade of this Little Italy brewery hides an outdoor patio that's the perfect place to grab a brew on a hot summer night. With more than 20 beers on tap and covered seating, the cool airy outdoor seating beckons all season long.
Drink This: Grapefruit Sculpin IPA
Eat This: Prime-rib tacos
If you play your cards right, you can spy a Padres home game from this second-floor bar (pictured at top) found on top of Rare Form. But a free view of the game isn't the only allure: decor transporting you to tropical islands and tiki-inspired drinks to match make it must-visit when you need an instant vacation.
Drink This: Mai tai — fresh lime, orange liquor and Jamaican rum
Eat This: There's no food served on the premises. Instead, grab a sandwich like smoked turkey downstairs at Rare Form.
When the beach calls and you're aching for a cocktail, head over to this rooftop restaurant and bar within throwing distance of the Belmont roller coaster. Complete with fire pits and lounge chairs scattered throughout, the best thing next to actually being in the sand is the view of it from above.
Drink This: Strawberry wine cooler — pinot grigio, Dolin Blanc, strawberry shrub
Eat This: Fried chicken bao buns
Coveted harbor views plus retro island vibes make this Shelter Island restaurant one of the most memorable places to grab a cocktail and Polynesian eats. The outdoor seating rivals most harborfront eateries but with no-stress parking.
Drink This: Mahalo Mojito — Santa Teresa Claro Rum, fresh lime, mint, simple syrup, soda and splash of Sprite
Eat This: Hawaiian tuna poke
Sky-high views from the seventh floor of the Andaz Hotel put this rooftop destination on the top of this list if you're looking for city sights. By day, sunbathers take over the pool, but it's transformed to party central complete with a DJ when the sun sets. Whatever the occasion, cocktails are served from brunch until the wee hours of the night.
Drink This: The Hook–Up — Corzo Repo tequila, Cointreau, raspberry, mint
Share this article
Related Posts