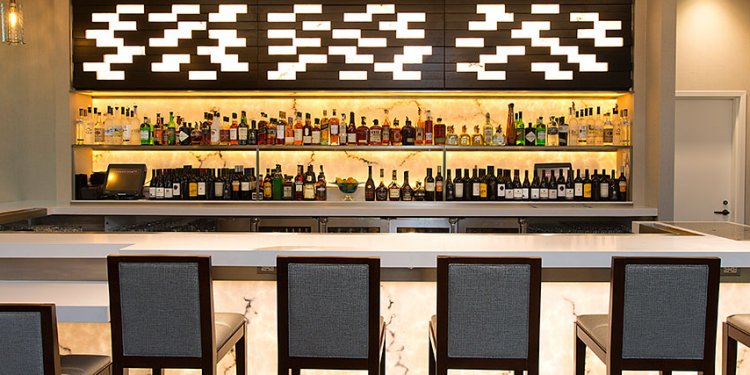 Hyatt Bar San Diego
1 Market Pl
San Diego, CA 92101
(619) 358-6731
This is an upscale lounge that's located on the 40th floor of the Manchester Hyatt and has a 360-view of the San Diego Bay. No card key is needed to get up to the 40th floor. The lounge doesn't open until 3 pm and closes about 1 - 1:30 am. My Beau and I stayed at the Machester Hyatt for several days the weekend before Christmas. Top of the Hyatt was a convenient place for us to relax before turning in for the night. The clientele attire is anywhere from casual dressy to formal. The ambiance is relaxing and cozy. It's a bit dark - just perfect for us. The first night we went on a Thursday night. There was a bit of a crowd. As soon as we entered, we sat at a bar height table in the center of the room as all the window tables were taken. We were immediately greeted and given a menu. I removed one star from my review as this isn't a place you would go to order beer. They have a very limited selection but then again, coming from the Pacific NorthWest, We are spoiled with our choices of beer. My Beau ordered beer the first night and wasn't too impressed with it. I had a 20-year Tawny Port wine, which was delicious!! We received excellent service. I wish I had remembered our servers name so I can give him kudos. I am so horrible with names! The second night was on a Friday night. The place was packed but we managed to get a table near the window. Such an amazing night time view of San Diego! We had the same server and he remembered us and what drink I liked. Amazing service!! My Beau ended up order two differet mixed drinks, which is he thoroughly enjoyed. We were able to talk and relax after a long day. We didn't order any appetizers so I can't comment on that. We really enjoyed the atmosphere and it's convenience since we were staying at the hotel.
5 stars for the views 3 stars for everything else. Its extremely pricey and while some of the cocktails are a. It unique, there's nothing that quite knocks my socks off. All beers are bottled which is pretty disappointing and the selection is pretty small. They have a selection of appetizers available. The flatbread was very disappointing and while the hummus was great, it was a very small serving. Hummus is served with veggies and pita. Service was fine-not bad but not great. Not worth seeking out but if you are nearby on a clear day (especially around sunset), take the trip up to the 40th floor!
Moved to SD a couple years ago and always heard about the views from the top so decided to check it out. We don't mind paying a little extra for drinks with a view especially if they offer great craft cocktails prepared by experienced bartenders who know what their doing. Well this is NOT the case here. It's a compete tourist trap with out and out price gouging. Drinks here are so ridiculously overpriced and not made well at all. Clearly they don't care about repeat customers and just want quick money. I'd never take out of town guests here or come back until they lower prices and train their staff better. Disappointing bc the views are great but there are tons of places around town to get amazing views and also lots of other bars in town that make delicious and well priced cocktails.
Best Bar view of the San Diego Bay. My absolutely favorite upscale Bar in San Diego that offers trendy ambiance with the essence of what a view of what real San Diego looks like. Great place for tourists, date spots and meetings. I would recommended coming here to watch the sunset and sip on some cocktails or wine. There is also a YELP Check in special during happy hour. Its also a great selfie spot because the windows are adorned with famous quotes. What to drink: San Diego Craft Beer- Karl Strauss, Ballast Point or Stone Brewery. What to eat: Churros Meat & Cheese Board
Such an amazing view from the Top Of the Hyatt, I come here more for the views. But since I'm here, and love wine/beer. Well you know.no need to twist my arm. Wine, beer and cocktail list is pretty good. For some people based on the reviews it may be a tad overpriced. But did you all forget.you are in San Diego. I enjoyed the Franciscan Napa Chardonnay...buttery honeydew notes. Will definitely enjoy this glass of wine again soon.
Nice place but the views are limited. Such a shame for a great location on the 40th floor of the Hyatt. Waiter was good. Not to fond of their Long Island Ice Tea. Kind of tarty and odd tasting
Share this article
Related Posts