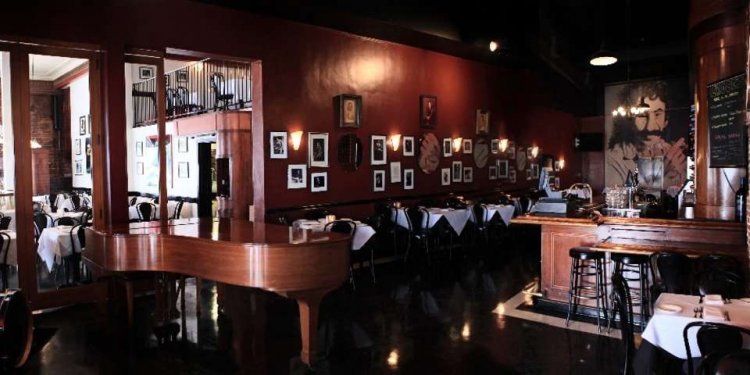 Jazz Bar San Diego
All ages. Cover: $15, $10 students. Certain events $20. Seats 150, plentiful free parking.
Chuck Perrin finally found his new location and began hosting concerts there last December. Even though the showroom of San Diego Jet Ski Rentals seems like an unlikely choice — this venue is actually perfect. The room is fairly large, has excellent acoustics and a fine grand piano. Most of all, Chuck knows who to bring in.
The Westgate Hotel
21+. No cover, ($20 drink/food minimum), seats about 40. Parking $7 valet.
Trumpeter Gilbert Castellanos started this every-Friday concert series last October with a different pianist and bassist each week, calling it "Some of my friends are piano players." He is now featuring guitarists. The acoustics are stunning, making this the best small room in the county to hear jazz, and the place to be on Friday night.
2400 Kettner Boulevard, Little Italy
(No longer in business.)
98 Bottles
21+ Cover: $15, ($10 food or drink minimum), seats about 100, free parking on the street.
It suffers from the roar of overhead planes and a tiny acoustic piano, but for sheer volume of superb concerts, this venue is hard to beat. Located in trendy Little Italy, 98 Bottles has a large neighborhood bar vibe happening downstairs, and upstairs, in the Back Room, a vast array of mostly jazz, local and national — compete with the flight pattern of Lindbergh Field.
Conrad Prebys Music Center
All ages. Tickets usually $15.50, seats 350, $2 an hour parking in Gilman Parking Structure (free on weekends.) The main concert hall is the most acoustically pristine medium-capacity venue in San Diego, and the two best jazz concerts I witnessed in 2011 and 2012 were held there. There are regular "telematic" concerts, which pair improvisers at UCSD with performers in different geographic locations, playing in real time through the magic of the internet.
Seven Grand Whiskey Bar
21+ Cover: Free, seats about 75, free parking on street.
Walk into the Seven Grand and you'd think you stepped onto a Mad Men set. Very retro vibe with dark plywood paneling and stuffed animal heads. The music happens in a back room. Every Wednesday, Gilbert Castellanos holds his jam-session. One week it's mainstream with Joshua White, Ben Schachter, Rob Thorsen, and Brett Sanders or Dan Schnelle, the next, it's Latin with Irving Flores, Thorsen, Mike Holguin, and Charlie Chavez. Bring your horn.
Athenaeum Jazz
All ages. Tickets: $37. Seats 350.
Jazz events coordinator Dan Atkinson brings big-name national and international touring artists to town about 17 times a year. Athenaeum concerts are first class all the way. Both the Athenaeum Arts Library and the Scripps Research Institute venues boast Steinway pianos and superior accoustics.
Fresh Sound at Bread & Salt
All ages. Tickets: $15, seats about 75.
Curator Bonnie Wright has been bringing the cutting edge of jazz, improvised, and electronic music from New York and beyond to San Diego for years now. This year alone, adventurous listeners have witnessed stellar performances by Dutch drum legend Han Bennink and the blistering sax/drum duo of Larry Ochs and Donald Robinson. During her annual summer break, Wright changed locations from Space 4 Art in the East Village to Bread & Salt. This refurbished warehouse (formerly the Weber Bread building) is where you go to get your ears stretched and your mind blown.
The Loft
All ages. Cover: events range from free to $35. Seats 180. $2 an hour at Gilman Parking Structure (free on weekends).
The Loft brings in a nice mix of national and international touring acts (guitarist Julian Lage was there in April) and local heavyweights such as Joshua White, David Borgo, and Peter Sprague. This place has a modern-nightclub feel with an elevated stage, great sound and lighting, and wine, beer, and food available from the Zanzibar Cafe. Down for the summer break, the series resumes in October.
Share this article
Related Posts