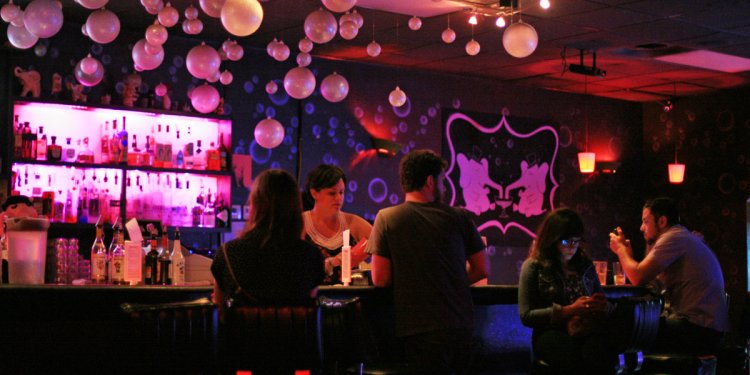 Pink Bar San Diego
3829 30th St
San Diego, CA 92104
(619) 564-7194
No cover before 9:30 (this was on a Friday) and it was pretty dead inside at that time. Came again at 10:30 on a Saturday and there was a $5 cover and it was way more poppin. People really got into the dancing and stuff it's so fun. The drink menu is great. Very fruity options which I always love. $7 for a cocktail. I got the Pink Princess and basically downed it bc it was so delicious. Cash only. The bathrooms are amazingly cool. I kind of had hoped that pink crazy theme would be more present throughout but oh well
I was in line for this place last night and we decided to instead get food then come back and get drinks. When we began to leave the 3 security Guards started mimicking everything we said in a slow and special voice *pretending to act mentally retarded* So disrespectful, it almost made me cry as there are real people with real disabilities. This was just beyond me. I of course will never return back to this establishment, as they security has no respect and want to publicly shame you for not going into their bar.
It's sad I have to even give 1 star to such a horrible bar in N. park but the bartenders, managers here treat the customers horrible like the worst service you can find anywhere . They will ignore you, talk down to you, they are so clueless on how to treat good paying customers that tip well also! I was told they do not allow you to bring in outside food even though there is no food served here and no kitchen but ok that's fine, 30 min later the same bartender that told me that is eating stuffing her face at the bar with food she brought in. Unreal that this place is run by a bunch of bad Attitude women that don't have a clue to talk or treat clients.Please bar rescue save this dump! Only a dump because everyone that works here makes it that way, I like everything else but all the employees suck!!! The owners obviously don't care either about the bar other wise they would respond to the same complaints about how bad all the clients are treated here...will prey to shut this place down, waste of space in north park.
I've never had a bad time here but it's not very memorable. It's a dive bar so don't expect much, booze is cheap but it looks really "retro" in the actual bar, the bathroom is pretty sketchy. If you get sat at a little booth you definitely do receive better service. Bartenders are always really nice, but if you're being an unintentional asshole you're gonna get bad service. Since it is pretty divey the music is very random but super fun. A great place for starter drinks while you hope around.
I like this spot during the week because it's empty and didn't have to pay a cover. It reminds me of The Office Bar down the street because it's dark and the drinks are real affordable. They have several booths, a nice size bar, pool tables and a small dance floor. I'm giving them 3.5 stars this is a good spot for me and some of the bartenders are just cool. Oh yeah its cash only so keep that in mind!!!
I've been coming here since I moved to N. Park in 2006. Since it was the Pink Elephant, and this'll always be its name to me (f-ck Disney). I've been here hundreds of times. I tell people it's my favorite bar in San Diego. I like the no nonsense staff and the grunge of the place. I know I won't have to deal with the Gaslamp douchery, and I can take a break from the gilded craft beer scene for a while. I can just drink my $2 PBR or too-strong Pink Elephant and watch an old movie. It has always had a Local's Rule vibe and I like that. Last night I wasn't allowed in because I was wearing flip flops. In San Diego. In North Park. I used to come in here wearing flip flops all the time. I guess they've made the decision that they can accept a bit more nonsense in order to cultivate a cooler vibe and keep up with the Joneses: all the other bars that have opened up in the last 5 years. I think it's a bad move. By all means do what you got to do to survive. But when you outlaw an essential part of being a real San Diegan, wearing flip flops rain or shine, you become more like LA and less like home. And nobody, NOBODY, wants LA.
Came here on a saturday night and it was NOT poppin. Waste of $5 cover. Went inside and bought one drink and left. The music was horrible, i don't even know what genre it was. But I'll give them one extra star for cheap drinks.
It's fine... cider is good, the bar is cool, retro music, not big deal, have a nice pool area, was empty at 7, probably get full, only cash
I've been here probably 20 times and last night was by far the best I've had. Place was moderately busy. The staff isn't the fastest but are chill and make some strong drinks. We went and had a couple beam and gingers and then went for shots and brew. 80s night on Saturday was lit. We had a killer time dancing, singing and well... Great evening with a great girl.
As mentioned in most of reviews this place has horrible customer service. I went there a few times on weekdays to play pool, it's conveniently located and it has cheap drinks. I would probably give this place 3 stars on a weekday. However, they charge $5 cover on Saturday, it's is quite packed and they are even more rude. Also, it needs redecoration asap.
I love this place! My favorite bar in North Park. I can always count on rad tunes or a local band playing, cheap drinks, and cool people to chat with. I really like the dark setting with the glittery accents. My only complaint is that sometimes the bartenders seem like you're annoying them...even if all you're asking for is a Tecate and not a complicated drink. If you don't want to wade through a sea of hipsters but still want someplace funky and fun in the North Park bar scene, definitely come here!
Your typical dive bar with better music and friendly service! Had a wide assortment of local beers on tap for $5. They have a list of Christmas drinks right now for the holidays. We all had a great time!
Nice chill dive with an amazing happy hour. $6 bucks for two drinks, including whisky, wine and sparkling water. Leather stools with backs rock!
Paid a $5 cover on a Saturday night. Walked in and had no idea why. It was bad music and a funky smell. Then walked my friend to the ladies room and was bearded by the short lady bartender with a hairstyle that's too young for her. She's the one with the outrageous hair color. She yelled "No! You can't go in there!" I backed away and rolled my eyes are her abrasive demeanor. She then went behind the bar and continued the argument about not being able to go in the women's restroom (which I never actually did, I just opened the door for my friend). I told her her hairstyle was way too young for her and to just get me a beer. That's when she said "How about I have you thrown out!" This after having paid $5 not even ten minutes before that. Was escorted out by the two bouncers and will NEVER return to this stupid ugly and horrible bar with awful service.
I really like this spot. Quintessential dive bar with lots of seating, good music (mostly 70's and 80's Rock and new wave), strong CHEAP drinks, and chill crowd. Very dark inside and not overly loud. I ordered the "Sneaky Tiki" cocktail, which was very good and very strong! My bartender, an older blonde woman, was quite grumpy and rude to my friend, but it kinda matched the atmosphere. Cash only!
Share this article
Related Posts