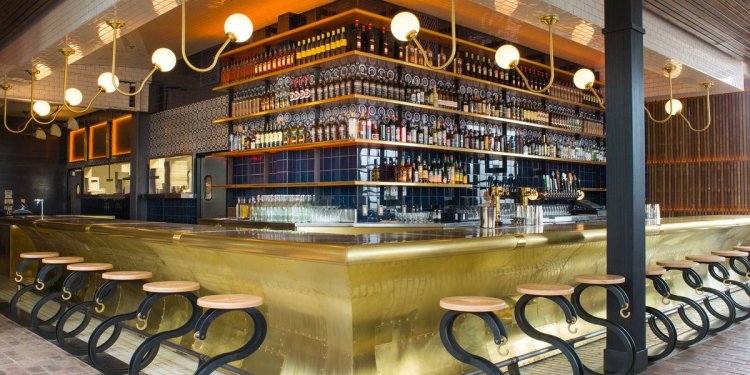 Popular bars in San Diego
The Prohibition era might have been bad for America, but it did help kick start the trend of hidden bars or speakeasies all over the country, and even around the world! San Diego is not an exception to that case, from places who disguise themselves as Lawyer's office to places where you literally have to go down the rabbit hole, San Diego is full of surprises and secrets and we are about to uncover all of them!
We bring you our list of Best Hidden Bars in San Diego, follow along for a great adventure!
1) The Noble Experiment
This bar might just bring the charm and excitement of visiting a speakeasy, how you may ask? Well for starters, it is extremely difficult to find this place unless you already know where to look. It is located inside a very popular eatery in the city just right to the restroom. If you still cannot find it, just look for a stack of beer kegs and you will come across a secret doorway! While entering the bar you will feel like Harry entering Diagon Alley with Hagrid. Once inside, you will be welcomed by dim lighting, highlighted by a white booth and some Rembrandt-style paintings. Make sure to book a table in advance or the Gentleman on the door wouldn't let you in.
2) Prohibition Liquor Bar
To enter this next entry on our list you have to go through a Lawyer's office (yes, you read that right). At the door, a big bulky man wearing a collared shirt will welcome you and if you are not wearing one, he will not let you in. Once inside, you will have many cocktail options to choose from and a live band to go along with it. Oh and did we forget to mention that the building used to host the first funeral home of San Diego? A fake lawyer's office, which moonlights as a bar and is in a former funeral house, what could go wrong right?
3) False Idol
This next hidden bar in San Diego on our list will grab your attention as soon as you see it. How may you ask? For starters, you have to walk though an industrial refrigerator to enter this place. Isn't that a cool way to enter any bar? Inside, you'll come across a wide variety of cocktail menu, some of them labelled as 'Strong Cocktail' which you cannot order more than two, yes they are that strong! Don't forget to reserve a table well in advance unless you like waiting in a cramped room for half an hour.
4) Coin-Op Game Room
If you are a nerd who is old enough to buy himself a drink, Coin-op Game Room is the perfect place for you. Though it might not be a traditional speakeasy but the cocktail menu on display begs to differ. The interior consist of a typical arcade interior taken from the 80s.
5) Polite Provisions
This next entry on our list is for all the moustache twirlers and fedora wearers out there. The exquisite European interiors of this place goes well with the premium elixir liqueur which they have termed as "crafted cocktails". This little known bar in San Diego is designed in such a way that it resembles a pharmacy style bar.
6) Fairweather
This bar is actually located inside another bar (barception?), so to enter, you have to go to the back hallway of the bar and take the stairs that will directly lead you to Fairweather. It is a petite rooftop bar with an amazing view of the city. The interiors are decorated with exotic paintings which goes well with the amazing menu of cocktail they have.
7) Vin de Syrah
If you ever had the fantasy to go down the rabbit hole just as Alice did, this might just be the perfect place for you. It is located right underneath the Melting Pot. Take the stairs down and take the door to your left which will be covered in greenery. Once inside, you will find yourself in Alice's wonderland. From tables and chair taped up to the ceiling to umbrellas sticking out of the wall, that is just how amazing the interior is. However, the uniqueness of this place doesn't end here as they have an extensive menu of different wines and cocktails.
8) Bar Three Piece
This place is inside another bar at The Seven Grand, and you have to press a button for the server to open the door.
It is considered to be the cathedral of whiskey worship. They have a very extensive list of whiskeys from rare to very rare on their menu to offer. The bartenders are top notch and the service is equally good! The interior is designed by keeping in mind the noir looks of the 1920s. So don't forget to grab your copy of Maltese Falcon the next time you visit this place.
9) Nortico
This speakeasy is situated inside the Onyx Capital Restaurant. To find this place just keeping walking down the hallway to the bathroom, at the end of it turn left and you will find the hidden doorway. Once inside, you will be greeted with a complimentary homemade milk punch. Take in the rustic and beautiful interiors of this place while you are sipping on your milk punch. The cocktail is huge with some of the best bartenders in town mixing your bloody mary for you.
10) Café Sevilla
Often described as mini Spain, this place lives up to its reputation of lively music and amazing cocktail menu. The interiors have heavy European influence on them. Although it might not seem like a typical speakeasy during the early hours, it surely transforms into one during the wee hours by taking the party downstairs to the hidden dance floor.
11) Onyx/Thin
Located directly beneath the Onyx Room, this place consist of a huge bar and a huge dance floor in two separate rooms. It is a traditional ghetto bar with energetic dance floor and a wide variety of cocktails on their menu.
12) F6ix
The next place on our list is pretty tough to find. It is located at F Street and Sixth Avenue. You will have to look for the stairs, which will take you downstairs below the street level to a spacious dance floor and an amazing bar. The cocktail menu is spectacular in a way that knocks your socks off!
Share this article
Related Posts