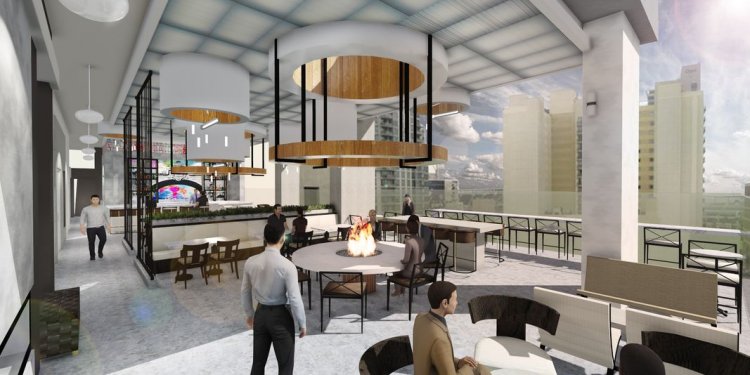 Rooftop Bar Downtown San Diego
Who doesn't love drinking on a rooftop? The downtown skyline will add another open-air bar to its ranks later this fall, when The Nolen opens atop the recently-built Courtyard by Marriott San Diego Gaslamp/Convention Center. Though The Nolen will be on the hotel's rooftop, the bar will have its own dedicated entrance on 6th Street with an elevator that will whisk people up to its 14th floor perch.
Named after John Nolen, a landscape architect and urban planner who helped to lay out the city's development in the early 1900s, the 2, 500-square-foot bar is being designed by local firm Bluemotif Architecture (Juniper & Ivy, Catania, Kettner Exchange) with six foot glass walls for unobstructed views in every direction. The space will be den-like with fireplaces, a fire pit and a mix of dining tables, booths and lounge seating around a main eight-seat bar; in honor of the bar's namesake, the design will feature several custom graffiti-style art pieces of historic San Diego architecture.
This is the first local collaboration between J Street Hospitality and AZUL Hospitality Group; AZUL opened the Le Meridien Indianapolis, which houses Spoke & Steele restaurant, and in conjunction with J Street Hospitality, launched Springhill Suites Atascadero with Union & Vine as its restaurant concept.
The bar's cocktail program will run from house-batched barrel-aged cocktails to cocktails on draft and "hop-tails", aka beer cocktails. They say their signature cocktails will be spirit-forward, ranging from throwback cocktails to modern takes on classic recipes; two drinks that should make the list include Puntin' Baxter, made with bourbon, fresh lime, pineapple shrub, basil, spiced honey, cream of coconut and coconut foam and the Thai Clinch, which has Thai chili-infused gin, Thai basil, blackberry shrub, lime, soda water and cucumber-infused ice.
There will be a food component, mainly snacks, salads and flatbreads, including house pickles, fried green tomatoes, a grilled cheese tartine and truffled tuna melt. The bar and kitchen staff have yet to be named but Chris Okamura (St. Regis Deer Valley, Grand Del Mar) will be The Nolen's general manager.
Share this article
Related Posts