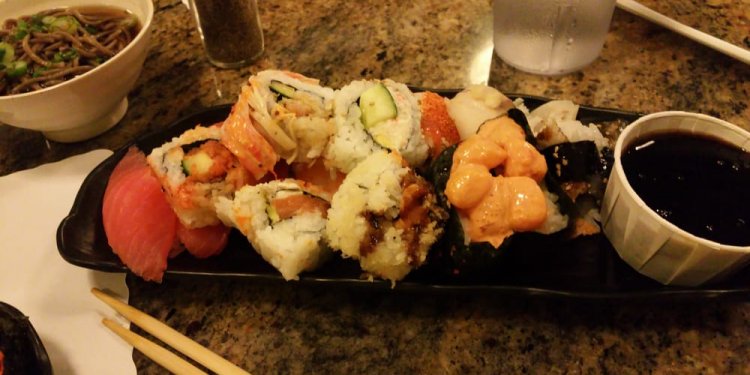 Sushi Bar in San Diego
10330 Friars Rd
Ste 114
San Diego, CA 92120
(619) 281-6448
Kazumi is the most underrated sushi-ya's in San Diego. Everyone flocks to Kaito or Ota or Tadokoro but Kazumi beats them all. Why? The quality of rice! Kazumi is one of the only sushi spots in town that serves his rice warm and slightly vinegar'ed in the traditional edo style. Nice! Besides rice, the quality of fish is up there too. The cut is traditional edo style but if you are a sushi perfectionist, Kazumi uses ingredients like plum sauce that may not suit your taste. Is Kazumi up there with Yoshizumi / San Mateo or Q Sushi / Los Angeles? Of course not. But he doesn't charge those prices either, so this is worth a visit. After our meal, we had some time to chat with Kazumi and had a really great conversation. Hes an incredibly nice guy who had plenty of fun stories to tell! Tip: If you are sitting here as a couple and want to do things omakase style, Kazumi serves 2 pieces of each fish to both you and your dining partner. It is best to request 1 piece (or order) per person so you can try more fish !
When I sat at the bar, it felt like I had my own personal sushi chef. He made what I wanted but also recommended some great nigiri as well. The fatty tuna, scallops, amaebi, hamachi, spanish mackerel, monkfish liver, and aba handroll were all delicious. I definitely wasn't disappointed. Only con is there aren't many seats.
This is the real deal if you are looking for fresh, authentic, and quality! I have tried a dozen sushi places in San Diego after moving here a year ago and Kazumi has some of the freshest, most authentic sushi. I prefer this place over sushi Ota because it is a better value for what you get quality wise. He makes his own yuzu and soy sauce out of fresh ingredients. My favorites were the tai, kanpachi, snapper, and toro scallion roll. He does not skimp on his ingredients, and the prices reflect this quality. I would say this is more of a $$$ than $$ restaurant but totally worth every penny!
Kazumi-san is a gift to Mission Valley and its surrounding areas! My husband told me about how legit this place is and I admit I didn't believe him until we went for a date night. I am excited to go back for more negitoro and other sushi goodness! It's a more intimate venue, but perfect for real sushi lovers. I encourage you to talk to Kazumi-san at the bar. He's friendly and extremely knowledgeable, which means customers have the perfect opportunity to learn more about this very delicious cuisine.
A very traditional place that take quite a while to prepare food and prepare it in a way where it look nice and dedicate. But for the price and the portion, it would be considered pricey. The appetizer have a lot of variety but doesn't taste as good as the price advertise. Overall a decent sushi place but not a great sushi place.
Amazing and most authentic sushi you'll ever get in your whole life. I've been coming here for years and have never been disappointed. Be daring when trying the variety of sushi he has to offer.
Rainy night as I walked into this gem Of a place. I saw my sweetheart waiting for me at a table, I felt like I had entered a small hole in the wall in Japan. I love this place: Atmosphere, traditional Japanese aesthetics, clean, small and intimate. Sushi bar is also small and the SUSHI chef is professional and friendly. Service: excellent, we were waited on with such aplomb and attention to detail. I felt very special. We even learned a few Japanese words. Food: we had the edamame, simple and delicious. We had their seaweed salad which is a few different variety, seasoned with slight hint of soy and Marin flavor. Perfect combination of texture and taste. We ordered a few special rolls.. Eel, smoked salmon and salmon ( flavorful ) unique as you had two salmons one raw and the other smoked so pungent and packed with deep flavored and spicy tuna. Everything was simple yet complex. Most importantly you can taste the fish and how everything as FRESH. Tasted like they fished it that moment. We also had hot sake, a great addition to our meal. This is a hidden gem and the entire evening very special.
Sushi Bar Kazumi is a neighborhood gem. A place that you don't really want to tell people about in fear of it becoming too crowded. Chef Kazumi has decades of experience making sushi, and he has the personality to match his great sushi. The sushi bar is small; it seats about 8 people. There are probably 6 tables total, which seat between 2-4 each. My first couple of experiences there were great, especially at the sushi bar. You can order off of the menu or they have daily specials depending on what's fresh that day. I usually stick to a combination of sushi, which are very reasonably priced by the way. But Chef Kazumi had me falling in love with unagi. The humble eel was better than any unagi I have ever had. Unfortunately, my recent experience there was disappointing. The service was lacking (they only had 1 waiter for the entire restaurant). Worst of all, I was really looking forward to the unagi sushi, but it was almost unrecognizable that I sent it back. They brought out a new piece, which was marginally better, but nothing like what I had there before. Hopefully, this was a one-off experience. I still have a special place in my heart for Sushi Bar Kazumi and will continue going back.
Have to update my review, as they have now become good about reservations. Before, it was a problem that they may or may not hold your spot, but since then, I have called and they said they would "DEFINITELY" save a place for me. Perfect! Getting to know Kazumi better has been great. The fact that he brings shiso from his own garden, and prepares each piece with so much care and detail impresses me. This is our go-to now for good local nigiri. Haven't even tried the rolls, but after watching him make the scallop special for another customer, I'm tempted. DEFINITELY come here if you like good quality sushi prepared with attention to detail.
I recently received a $20.00 credit for Amazon restaurant/delivery. I have never been so disappointed in a spicy turna roll before. I am not sure if it was because it was delivered of if its because this resturant isnt very good. Aside from the spicy tuna, we ordered a rainbow and salom skin roll. They too were very disappointing and the presentation was awful. I will never take out or dine in at this place ever again.
Very yummy vegetarian options. Andrew was awesome and the food suggestions were great. My husband and I are now gonna be faithful customers.
I love this place! Chef Kazumi is so fun and a master of his craft! He is a traditional sushi chef so there aren't a lot of rolls. I've always found the fish to be fresh and delicious. His sake/salmon is great and a little different as it's slightly smoked which is why it's served with a spicy mustard and minced onion on top. Albacore, yellowtail, amberjack...all fantastic. And the BEST tempura veggies I've ever had...the dipping sauce is perfection
Share this article
Related Posts