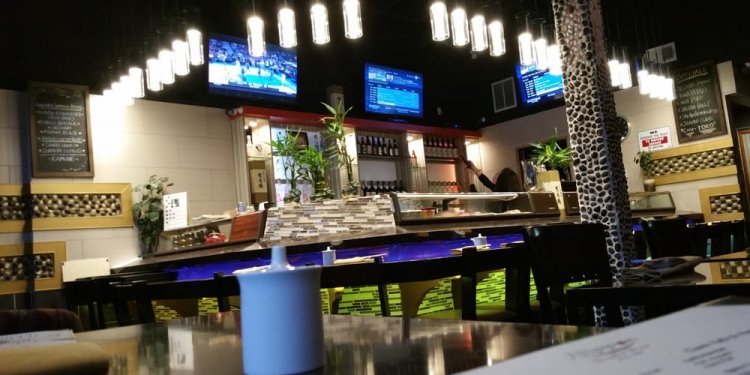 Sushi Bar San Diego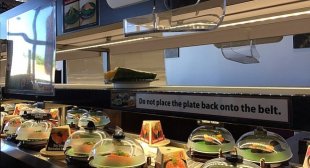 A hand roll arrives on the fast lane
The first thing you'll need to do after finding a seat at KULA Revolving Sushi Bar is to listen carefully to the instructions you'll be given. For example, "Do not touch Mr. Fresh." This anthropomorphized sushi-delivery system is designed to keep the food fresh and the germs out.
When you see something you want making its rounds on this infinite sushi loop, you are to carefully grab just the edge of the plate — once you lift the plate from Mr. Fresh, the plastic top will flip up, the plate will come out, you get your food, and he goes back to the kitchen to be restocked. Each Mr. Fresh has a chip (an RFID, or radio-frequency identification) that notifies the kitchen when food has been removed (so they know which items need to be replaced) and also lets them know how long an item has been circulating. The maximum amount of time any one dish will remain on the belt is three hours, though I was ensured "it is almost never that long."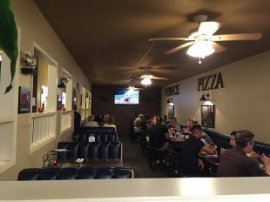 Every plate from the conveyor belt is .25 unless otherwise noted. When you are finished eating an item, you drop its plate into a slot (only the green plates from the conveyor belt, absolutely no refuse, and — as a the warning above the slot states — most certainly not your hands). This is when the "game-like activity" known as Bikkura-Pon begins. Bikkura translates as "a surprise" and is also a pun as it contains the word "restart, " which is Kura in Japan. The "Pon" suffix basically means "bulk dispenser." In other words, it's a bulk prize dispenser.
Video:
Lunch at KULA Revolving Sushi
After the fifth plate goes down the slot (and again at ten), a cartoon begins playing on the screen at your table (or in front of you if you're seated at the bar). An evil ninja appears, and you are encouraged to defeat him by entering more plates. When you get to 15 plates (this became our goal, of course), the gumball machine above the screen is activated and a plastic apple is released. Contained within the apple is a miniscule Mr. Fresh, complete with sushi inside.
You can see the entire process in this video of our lunch.
You need not wait for the food to come around — when it's not urging you to defeat ninjas, that screen serves as an ordering device.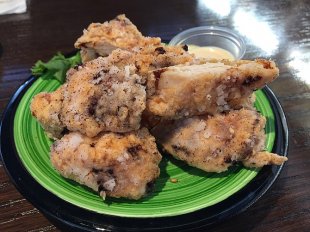 Here you can order any sushi that might appear on the belt or other hot items that must come fresh from the kitchen such as hand rolls or crispy chicken. I recommend the crispy chicken — there's a hint of ginger and a kick of spice.
The items ordered directly arrive on the belt above the sushi-go-round, and once they are ready they are sent zooming out from the kitchen. A little bell signifies it's on its way, and it's zipped down to you at warp-speed, stopping precisely beside your table.
At all times, a friendly server is checking in to see that everything is going smoothly and to make sure your beverage is topped off. From the machinery to the games, everything at KULA is down to a science.
A bit about the company — Kura Corporation (as it's known in Japan) began as a simple sushi restaurant in 1977. Now they have around 350 locations, most of which are in Japan. There are a handful in Irvine and Los Angeles, but this one on Convoy is the first to open in San Diego (open to the public on April 10).
Kura cites its philosophy as, "safe, tasty, and inexpensive." The company's Japanese website is bold. When referencing the value of their product, Kura declares, "We, Kura Corporation, are not a pioneer in the revolving sushi industry…there were almost no good lessons we learn from pioneers, therefore we have created our original unique products and developed advanced systems of store operation."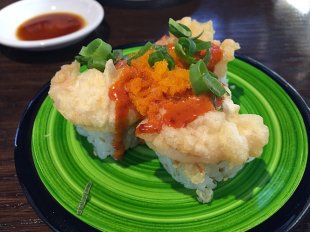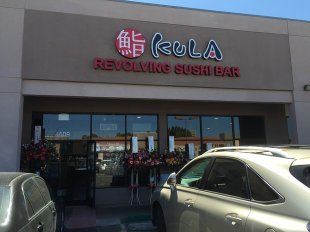 first education credit union
the education of henry adams
benefits of education
education world
early education degree
lebron james education
international education
classical education model
how to get minecraft education edition
the education of an idealist a memoir
an education trailer
technical education
current secretary of education
alphabest education
paralegal education
michigan education association
elite professional education
larry ellison education
optometrist education
essential education ged
cobb county board of education
google apps for education
w. e. b. du bois education
open education resources
brown v board of education 1954
ohio education
we don't need no education lyrics
education services
education plan
radiation therapist education
famous education quotes
pesi continuing education
graduate medical education
because there was very little investment in education african colonies
senate education committee
army education center
baccalaureate school for global education
education thesaurus
arizona education
haiti education
nyu continuing education
distance education accrediting commission
watch the education of fredrick fitzell
new england commission of higher education
n c education lottery
georgia education lottery
how to make balloons in minecraft education edition
sf board of education
finra continuing education
ef education
ok google north carolina education lottery
museum education jobs
linden board of education
guild education walmart
alder graduate school of education
discover education
dentist education
co education
va benefits education
higher education institution
dick cheney education
behaviorism in education
kim klacik education
insurance continuing education
idea education
aia continuing education
which of the following is not a manifest function of education?
apple education price
milo yiannopoulos education
pickering v board of education
barnes and noble education
education connection commercial
under education
health education specialist
education first cycling
collegis education
south carolina education lottery numbers
education management
hardin county board of education
how to put education on resume
online doctorate in education
equity vs equality in education
education nonprofits
definition of health education
online elementary education degree
arkansas dept of education
uplift education jobs
desantis education
education websites
education codes
keith raniere education
mlk education
kearny board of education
south carolina education
bank street college of education
what is stem education and why is it important
azure for education
obama education secretary
education the great equalizer
when was brown v board of education
education clip art
seth moulton education
simone biles education
elizabeth nj board of education
department of education login
international education week
us state education ranking
assisted living education
early childhood education courses
philosophy of education essay
iep special education
autauga county board of education
Share this article
Related Posts