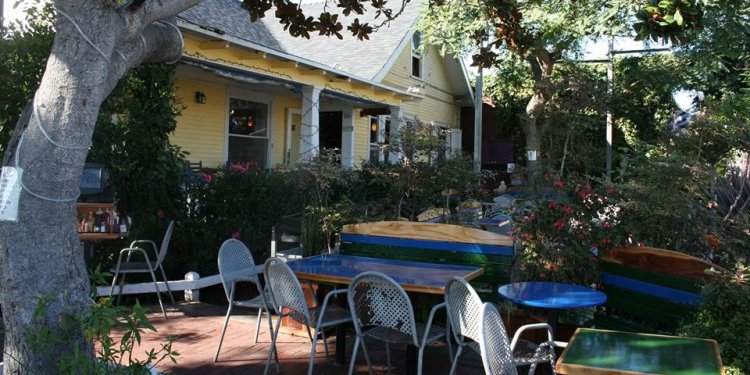 Cafe 976, San Diego
976 Felspar St
San Diego, CA 92109
(858) 203-7140
They are back prettier and better! Yay! Café 976 got a paint job, landscaping, new furniture and overall new look. I love it. The coffee still great, love my non-fat lattes and their down home burrito is as delicious as ever. Their iced coffee could use some improvement... although my bf loves it. All in all Café 976 is a great place to visit for bfast, lunch or just for coffee :)
Dreadful. I have always loved this place because it is easy on the eyes. Such a cool corner spot on Felspar with an absolutely perfect patio to enjoy the scenery. This is a great place to stop and grab coffee for out of towners, but skip breakfast and elect to head to Java Earth which has better food. My boyfriend and I arrived and waited to be seated. Once seated, we had this peculiar waiter who seemed to be confused. He didn't greet us in a friendly manner and seemed to be really disconnected. He brought my boyfriend the wrong food and made a string of small mistakes including forgetting to add my check-in discount. My boyfriends burrito tasted like Del Taco. Don't get me wrong I love Del Taco. I don't know where I'm going with this. 3 stars. instagram: @glowrae
Aparently they did a re-boot about a month ago. Nice homey place to chill for pastries, coffee, breakfast and lunch. Breakfast served until 3:00. Kitchen folds at 5:00 and it stays open until 7:00. And it's just a couple blocks walk to the beach. Jackpot.
Such a beautiful place. I tried a White Almond Latte for the first time and I loved it. Also I've tried a lemon ginger scone and it was delicious. There're very welcoming atmosphere and friendly people. It's a typical PB local spot where you want to come back again and again.
The service was okay. The drinks that we ordered took awhile but it wasn't too much of a problem. We ordered a salad and some French toast. The table next to us received their food before us. And we continued to wait. 30 mins later, we weren't upset or anything we just wanted to leave. And we ask for the check for just the drinks and they sent the manager over and this man catches the biggest attitude for no reason. I was really look for to the breakfast here. Oh well
Always a great spot for breakfast with family, a quick sunny lunch outside, or a cozy study session in the renovated interior. LOVE this place!
Stopped here after a disappointed breakfast at Isabel's Cantina, hoping a white hot chocolate would redeem my disappointment, and in fact it did. Can't say it was the best white hot chocolate I've ever had. But it sure did lift my spirits and quite enjoyed it.
This is a great place for breakfast or lunch. I have studied for a lot of tests here. The coffee is good. Like comIng here on the weekends before going to the beach.
Not horrible, but not good, either. I ordered the BLAT sandwich with no avocado. I received one of the paltriest sandwiches I've ever seen. Even if avocado had been added, it wouldn't have saved this sandwich. It had no real body... weighed maybe 3 ounces at best. Suiteable for a child, not an adult. There was also a side "salad" composed of wilted lettuce and sprinkled feta cheese with some kind of vinegar. Not horrible, but very underwhelming. I posted some pictures of my BLAT sandwich in case you're thinking of ordering one. For what I paid for this sandwich I could have gone to Subway for a far bigger, better sandwich. And I think Subway is sub-standard! Don't waste your money at Cafe 976. You're in for a disappointing experience.
I love meeting people here for brunch or coffee. The food is great & I like the atmosphere. Especially nice to sit outside in nice weather.
I ordered what I thought was a scramble, but it turned out to be scrambled eggs tossed with raw spinach, raw mushrooms and feta. All it would have taken to make this delish is to sauté the mushrooms and wilt the spinach. It was mediocre and service was inattentive. Great Mexican mocha though!
Lots of great updated sections and much cleaner but some of the feel and cool and ease is absent in the place. On three occasions the manager, a big formidable dude looked at me like I was an alien or that I was unwelcome for some reason. I've been coming to Café 976 for 15 years. I don't appreciate that kind of attitude especially from a presumed professional. I can excuse one bad mood day for anybody but three times, please! Much of the staff is the same and for the most part very cool and nice. The menu remains good and the coffee is excellent but prices have increased. Expect to spend about 3 bucks with tip for a small coffee. I think the owners should take a serious look at the management and work with them more closely so the original friendly ambiance of this very special place returns.
I was super excited to check this place out because the outdoor dining looks amazing! I was less than thrilled, however, with the experience. I ordered the Popeye with no cheese. When I got my eggs they were cold and the potatoes were undercooked. Since we had waited for a while, I ate the breakfast, but was totally underwhelmed. I don't think I will go back.
Share this article
Related Posts