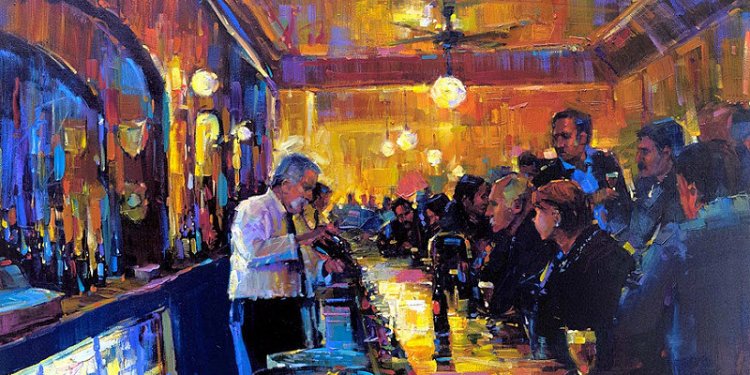 Cafe Europe San Diego
4318 California St
San Francisco, CA 94118
(415) 386-1000
17.01.00 Finally my first visit Traditional Eastern European Food - 4 1/2 Service - 4 - 4 1/2 Atmosphere - Nice and light talking ... a rare thing ... 2 dining sections ... Front is the main Rear ... guessing for the party or large group(s) Pierogi Love the mushroom flavor Hungarian Goulash stew of meat and vegetables, seasoned with paprika and other spices. Originating from the medieval Kingdom of Hungary Stuffed Cabbage Flavorful savory meat stuffed in a cabbage roll. The meat have a nice light density/texture. My favorite among the 4 dishes ordered Blintz with Farmer Cheese Nice light yet creamy taste ... especially after a hearty meal The lightly tart taste rounds out the heavier earlier dishes. Reminds me of the tasty dishes at Old Kakrow @ West Portal (sadly closed) Dishes were lightly salted ... perfect for my friend who is on low sodium diet I rather have low sodium than over salted Now I finally know why it have such a great review. Well crafted comfort food made with love and presented with elegance.
Good food, but felt the price tag was bit steep for the food. Regardless it was tasty. We had the potato and mushroom piroshky served with sour cream. These are like little raviolis with mashed potatoes inside...but they are not bland at all and came with a mushroom and onion sauce spooned on top. Borscht soup - This was a good and light vegetarian version of borscht. I think I prefer the meat version though from Archimedes Banya. The soup was very thin and light. Cabbage rolls - I enjoyed these for lunch and for leftovers. I think it really tastes a lot better with some sour cream though, but hey, what doesn't take better with sour cream?!
Delicious food and very friendly staff! The ambiance of the restaurant is quiet and comfortable, romantic, yet not so dark you can't see your food. I've enjoyed everything I've ordered here, from the chicken schnitzel to the beef stroganoff. The chicken paprikash is especially delicious. The dishes are on the pricier side, but there's generous proportions. Highly recommend this place!
Best beer and Europe fair in SF... shhhh! Don't let anyone know of this hidden-gem ;) In all seriousness, great place to come for a feel of Europe at a great price and without dealing with SFO. Highly recommend it!
This is such a quaint little neighborhood cafe that serves hearty German comfort food in appetite friendly portions...yum. They also have a decent selection of imported beers. Pork Schnitzel with sauerkraut and homemade potatoes: The flattened out crispy pork cutlet nearly took up the entire plate and sat on top of browned sauerkraut and roasted potatoes. A true meat & potatoes meal to the max. What's not to like? Homemade Pork Sausage with sauerkraut and mashed potatoes: Two juicy, plump sausages were plated over a mound of mashed potatoes and browned sauerkraut, topped with chives & some mustard on the side. The sausages were very tasty and had a nice snap to them. Mashed potatoes were not bad either. Most entrees are about $15-$20, so prices are pretty reasonable for very delicious food. Service was also pretty good in a very relaxed atmosphere. I'd come back to try the other schnitzels or other entrees.
I really like this cafe. This is a cafe that serves east european comfort food. It serves several east european comfort food items that is listed in the "Comfort Food" Wikipedia article. They have a small menu, but the items on the menu are very good. I tried several of the items on their menu. The Red Borscht soup I had was very good. The presentation of the soup was very good. The soup was also colorful and flavorful. The cabbage Rolls were big and filling. It was well made. I did not know that cabbage could taste so good. I ordered my cabbage rolls with the tomato sauce. The Pork Schnitzel was amazing. It was huge, the pork meat was tender and moist. It was incredibly filling. I enjoyed every bite. Their Hungarian Goulash and Pierogi with Beef was Okay. I also like their desserts. I really like thier Blintz with Farmers Cheese. The dessert crepe tasted very good. It had a very light and creamy taste. I like it more than the apple strudel. The customer service was wonderful. The staff was very friendly and attentive. I would definitely come back again.
Really great Eastern European comfort food. Try the cabbage rolls with mushroom sauce. Yummy beers in tap and a nice wine selection for the wine lovers in your group. I didn't try the pierogis, but others came in just to show off SF food delights to their out of town guests. Really nice proprietor, too!
We wanted to come here as we are European, and we were very excited to try it out with the great reviews. Unfortunately they were closed. Yelp had their hours listed as open and kid friendly. In addition, there were no signs on the door showing hours anywhere...
My borscht filled belly is happy. The pierogies were juicy and mushroomy. They brought me horseradish even though unadvertised. The beer looked good and I will come back for some. I walked away with warm poppy seed roll to go. This whole place exudes warmth like the Christmas tree and broken record player in the window. Will be coming back!
Share this article
Related Posts