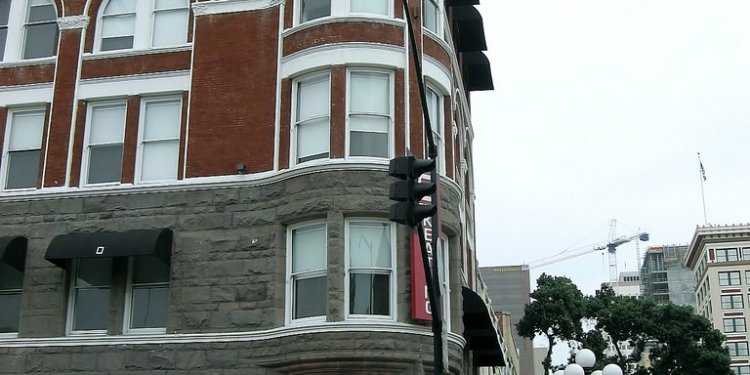 Croce Restaurant San Diego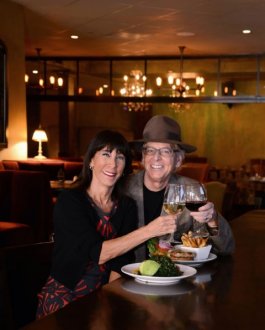 Ingrid Croce and Jimmy Rock reflect on the end of an era
Ingrid Croce and Jimmy Rock.
Everything ages. Everything sheds. Everything valuable feels the slow, consistent itch of its value eroding. And in the closing last week of Croce's—a 31-year institution in San Diego—the everything is live, local music. It's premature to call live music dead. Your neighbor will still own a guitar, and she will play it. Maybe it's just the strain of music—folk, blues, jazz, songwritery stuff—that's dead. Maybe music is thriving as EDM, or thriving in Austin. But live music, ironically, was what killed one of San Diego's original houses of music.
"Croce's didn't close because we weren't making money, " Ingrid Croce told me this morning. "It died because of the music."
It was legendary folk singer Jim Croce who originally pointed to the dingy corner of fifth and E Streets in San Diego's Gaslamp Quart and told his wife, that is the spot. They'd open up a restaurant, a bar, and a place to play live music. Jim would invite his friends to play there. They'd make something ugly into something special. He died in a plane a week later, before that dream could come true. Jim was good at making dreams come true. So, too, proved to be his widow, Ingrid, also a musician.
The emotion of losing your life partner cannot be fathomed, imagined, or approximated. There's no app that helps you practice for seismic emotional loss. But when she became uncrippled enough—by the heartache and the litigation over her dead husband's music—to start living again, she took the baton of that dream and opened Croce's in 1985.
Jim's old ex best friends did come. Arlo Guthrie, Willie Nelson, Waylon Jennings, James Taylor—you name it. Croce's was their home away from home. A place built by them for them. And it kept their fallen friend's legend alive, just as Ingrid and Jimmy Rock have done all their lives.
Downtown San Diego was a pretty nasty place back then. The most profitable industry in the Gaslamp was drugs. The biggest growth industry was theft. I'm exaggerating, but not by much. My best friend's father owned a jazz club down there, called the Crossroads. He said never, ever come down here without me, boys. It wasn't for kids or anyone frail or excessively loved by someone else. It was a place where things got lost.
But Croce's helped make the Gaslamp livable. It put out a welcome mat, invited locals in for a drink, some music, and some food. The next morning, they cleaned the piss of delinquents off that welcome mat, and they opened again. That's how you make a bad place good. You open something good, and keep on opening. They were the canary in the Gaslamp's coal mine, and they survived until 2013.
Squeezed out of Downtown, they moved to Bankers Hill. A restaurant, sure. But with a whole back room dedicated to music. "Croce's isn't Croce's without music, " says Ingrid.
That lasted two years and some change. Four nights a week, they gave their patrons live music for free. The restaurant was profitable, but the music was not. And so, last Sunday, they pulled the plug on the mic, the restaurant, and an era.
"People don't want pay for music anymore, " says Ingrid. "That's the saddest thing. Musicians need money. I do think in other cities, whether Chicago or Austin, or Nashville or New York, people pay to see local music. But San Diego's weird. I remember when a big musician told me, 'I'll never play San Diego again.' There are just so many options in San Diego for people to spend their time."
"It's a generational change, " says Jimmy Rock, Ingrid's husband. "People don't want to just sit and listen. They find the music distracting, or it takes up their time. They have other distractions, whether it's Netflix or the nice weather. It gets hard to get people involved in listening. I do think with music streaming on the internet, especially, the value of music has disappeared, and they don't see the necessity of going to see someone play. When we do it, i was more a communal thing when we were doing it in the 60s."
And now people commune online. Or over a drink. Drinks will never die.
"Even the royalties that we're getting from music are a tenth of what they used to be, " says Ingrid. "That's part of why we couldn't continue to financially support the music at Croce's anymore."
I sit here in my place in Ocean Beach, listening to Jim Croce's greatest hits as I write this. His music is a music of a different time. Live music and movies were everything back then. They were America's release, its joy, its cathartic sadness. Modern times has chat rooms for all of those things. We have become a country of infinite distractions. Bad, Bad, Leroy Brown is now @BadBadLeroyBrown2008.
And so the Croce's era ends. "Never say never, " Ingrid says about the potential of a new place. But she doesn't sound as if she's just keeping new plans close to the vest. It sounds decently final.
So I ask them for a couple stories. The good times. The memorable ones.
Jimmy remembers Robin Williams.
"There was as a time when we had a comedy night, " he recalls. "Robin popped in and asked, 'Hey, would you mind if I got on stage and did an hour set? You don't have to pay me.' There was 20 people when he started. This was before cell phones. Within 30 minutes, there were over 200 people. Robin just took suggestions from the audience and vamped. Afterward, there was a car waiting for him across the street. There was a group of homeless people and I said, 'Oh, Robin, let me help you to the car, I know these guys.' And Robin said no. He walked across the street to the homeless people and talked to every one of them. He signed whatever they had—styrofoam cups, t-shirts, whatever."
Oh, what a night—happened spontaneously, like most best nights do. And what a legend, Robin Williams. Another one gone.
So many memories. Like the fact that Jay Leno had wanted to be the opening comedian on Jim Croce's final tour, which would have put him on that tragic flight. That formed a bond between Leno and Ingrid and Croce's.
Share this article
Related Posts