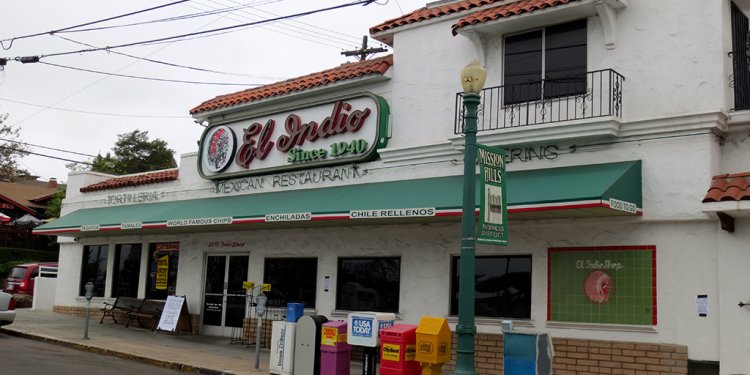 Authentic Mexican Restaurant San Diego
10006 Scripps Ranch Blvd
San Diego, CA 92131
(858) 271-7052
Read a few reviews and have to disagree with the one stars... food i liked it but then again i am just the regular customer.. owner was there for what he is needed for, take my order. Unfortunately i do agree with what people wrote about the owners attitude. If u like Jalapenos in carmel mtn this is the place. Ask the owner bout that. Only tried the Carne asada, beef enchilada and chile relleno... I personally judge a mexican place if its good by how good the carne asada and chile relleno are and they were great!!! Probably because thats what i like the most and order the most. Honestly the beef enchiladas was ok. But i will be back to try other stuff...
Sign out front says "under new management". Seems like a variation of that sign has been out on the sidewalk for the last 5-7 years. I love that this place is within walking distance to my house, and hate that the food always sucks. From Carne Asada to Carnitas, if it can be badly flavored, burnt or watery.yep, they do it like that!!! Had a steak and egg burrito today. Comes with cheese. Added beans. Had a small Horchata...$10.75 and $1.00 tip. Eggs overcooked to rubbery consistency, cheese not fully melted, even when 3/4 finished. They make their own pickled onions and that adds some nice flavor. IF possible, they would have gotten zero stars and add one for the small (3 selections), but nicely done salsa bar.but since one star for me equals food poisoning or "never eat here", they get two. I eat here, but ALWAYS regret it.
10.31.16 After trick or treating we needed to get a quick bite. a quick way to get a quick bite is a taco shop. ummmm, we could have just gone to the pizza spot next door. I didnt't think you can mess up a fish burrito, but this one i had wasn't tasty at all. I could have done without it and just went home and had some cottage cheese. One good thing about this spot was it seemed clean. maybe it was close to closing time?
This is my favorite taco shop food is fresh carnitas are always super good.Service is always fast and kind no complaints at all.If you know about meat honestly this is the place they use good quality since the newmanagment (about 9months ago)
Better than average meat for a taco shop. Guy who took our order was courteous, the place was very clean, the salsa bar was properly chilled and the salsa was tasty. I will be back.
Awful customer service... Didn't even order here because the guy seemed like he didn't want to take our order and had better things to do.
Tried this for the first time. First impressions: shop is clean and the person taking my order was friendly and efficient. Food was made relatively quickly. Ordered the cheese enchiladas and they were just ok. Probably wouldn't order them again. The enchilada sauce appeared to be homemade but was on the sweeter side. I'm not a fan of sweet enchilada sauce. The beans were a bit oily, rice was good and fresh. The only salsa I liked was the Pico. Great taste and spicy! I'd say this place is average, nothing special but not bad.
Really surprised since I saw a yelp sticker outside this joint, I figured I'd give it a try. Man was I disappointed. I only went here because it was convenient but next time I just stick to getting something at Vons. This Mexican restaurant is conjoined with Zpizza. At first I thought I was walking into their store. A huge menu and kinda pricey. But I have to agree the customer service is lacking. I asked her what was on the rolled tacos. She says in an abrupt tone " lettuce, guacamole, cheese", no mention of tomatoes. Which, by the way, no me gusta! Not all taco shops put the same stuff on top of their tacos, thats why i asked. Then that's what I order. She says in the most quietest voice something and I don't respond. Then she asks again and I told her taking it to go. Almost $5 for rolled tacos and they were just meh! Will I return? No can dosville...baby doll
OK, I haven't been here for a couple of years and was kinda looking forward to it since it has some nostalgia from when I used to live here. They must be new owners! The guy working the counter had no personality and was pretty rude because I was interrupting his soccer TV time and his phone call? Food was overpriced, and had no flavor. It was burnt meat and guacamole with way to much tortilla. No décor left, very unfriendly. I'll never be back again...sad that Scripps lost a good one. I'm sure they will end up going out of business soon and hopefully someone good moves in
This place is pretty meh. It was never that great to begin with but now that they are under new ownership they have really gone downhill. I've been twice since the new owners took over and once got the California burrito and the other time got the carne asada fries. The prices vs. portion size was really sad. The fries were literally about half the size of any other taco shop I've ever been to and the burrito was super small as well. To top it off they didn't even taste good and their hot sauce it's pretty bad. I used to come here occasionally just because it's the closest place to my house but now I always make the drive into Mira Mesa for better food. The owners here are stingy with their portions. I won't be back.
Been here recently 2 times and it's amazing!!! The owner is so nice! I would return again and again! Really good authentic food!
Been there a couple times and I really like their seafood. It is really good and their chicken quesadillas are good too! The owner I believe is a very nice gentlemen and treats his customers great. Very attentive! Great customer service and food was very prompt. I'll definitely go back!
Ordered beef enchiladas and there was probably 3 bitses of meat between the 2 of them. Worst enchiladas ive ever had. Im going to have to go next door to vons and get something else. $17 on food i wont eat.
I've had takeout from here a couple times and it's decent, but not knock your socks off. The first time I had the carne asada plate, which comes with rice, beans and 4 tortillas (or at least if you order corn it does). The beans were very tasty, the rice was fine and the meat was ok. It was a good size portion of meat. The carnitas were not what I expected. I like them when they're tender and slow roasted, like a pulled pork. But theirs are crispy, flavorless chunks. I might have been ok with the crispy part, but they were pretty bland. Luckily their spicy salsa is really good, so once I dumped a bunch of that on there and then the meat became a nice vessel for the salsa. I would never go out of my way to eat here, but it's really convenient to work and it's fast.
Don't get the California burrito . Meat is dry. Feels like a funeral inside. No music or tv playing for a while . I was here 5 months ago and it still the same. I asked the cashier when will they fix the tv? She gave me an attitude and said no idea. 11/16/15. 14:11
Share this article
Related Posts