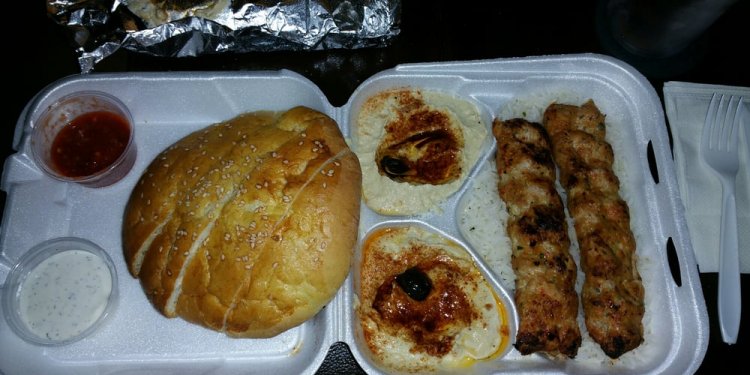 Cafe Istanbul, San Diego
921 6th Ave
San Diego, CA 92101
(619) 544-1700
Very good meal. I chose the Istanbul Plate for dinner. Everything was done nicely, meats, rice, bread. All were delicious and reasonably priced. Wish they had a liquor license.
What I Ordered: Iskender Plate, which is beef shawarma on top of a pita type bread and covered in tomato sauce and yogurt. Flavor: Very tasty. Service: Order, pay and eat. Nothing special. Atmosphere: Hole in the wall place. Again, nothing special. Price: A bit pricey for what you get. Location: Gaslamp. If you're not a fan of going downtown, location is bad. Otherwise, it's good. Other Comments: If I came back, I might try something else, as you can't really taste the shawarma itself with the tomato sauce and yogurt, which is very overpowering.
Located in the Gaslamp, street (metered) parking available (may be difficult to find depending on the time you come). I came by here to pick up a to go order a little after 11 pm on a Friday night with my husband. We ended up getting the Doner Shawarma Chicken Wrap Combo, $10.99 prior to tax ($11.87 after tax). This combo comes with a side of fries, garlic sauce and hot sauce. The fries were pretty standard. The garlic sauce was really good. Sadly the chicken wrap was a disappointment. Although the portion size is pretty big and chock full of chicken, the chicken was not tasty. It was burnt and overly smokey which really killed the flavor of the wrap. I wouldn't order this one again and probably wouldn't come back either. There is outdoor seating here by the way in case you wish to bring your pet with you if you dine here. Don't make a special trip out here.
Absolutely impecable meal! Fresh, full of flavors, very nicely presentable. The Turkish music on background added to the whole experience. I had the Istanbul plate and it was very satisfying!
This place is the best. Food is superb and service is excellent. You get fresh bread and fresh food with a homemade feel. Very nice and hardworking owners. Never disappointed when i go here to eat. The food is quality and prices are very reasonable. They also have a very good breakfast menu. I loved their omelettes. Definitely would recommend it!
The food here is amazing!! ten stars for food if I could, but two stars for the service/timeliness with which the food came out. I came here with my parents during a workweek, and only had an hour for lunch before needing to head back to the office. The food took forever to come out (40 minutes after we ordered). It's very obviously a family run shop bc there didn't seem to be a procedure for taking down orders, getting drinks, etc. I won't go into detail in how long it took to get our drinks and food, and the multiple times we walked up to the counter to ask for the same things we asked for a few minutes ago, but just be ready for a haphazard and disorganized service. Note that they're friendly though. Because I had to get to work, I had to get my food Togo. once I sat down to eat it, though, all my annoyance at the wait and disorganization went away. Long grain Rice was cooked in butter and with a little lemon squeezed On top it was divine. Meat was perfectly seared, hummus was homemade and so creamy and savory. Really good and fresh tahini in the hummus. Bread was also made on site and it was so airy and chewy at the same time. Loved every thing on my plate!!
Do not let the "chain like" menu photos fool you. This place is incredibly authentic and the food was not only good, it was worth savoring every single bite! The Turkish coffee was delicious and I can't even begin to express the taste of the Turkish breakfast omelette. Which really wasn't an omelette that we would expect. It's was a bed of sautéed end chopped tomatoes and herbs topped with three large eggs... Appearing to have poached in the mix and crumbled feta on top. It comes with sliced bread but I asked for a tortilla instead and I am so happy I did! I made mini tomato and egg wraps the whole meal and I was so satisfied. Get it!
Came here recently with a group of co- workers- best idea ever! Collectively we ordered an array of plates to try a bit of everything. Chicken, lamb, hummus, dumplings, rice, tea, baklava, fresh baked bread. They have completely revamped their menu and even repainted the restaurant to add a clean and fresh feel. We sat outside & all of us were impressed with everything we tried... vowing that we would return. Hmmm... maybe I will "forget" to bring lunch to work tomorrow...
I'm no expert on Mediterranean food, but my meal was delicious, and the portions are substantial. The staff is friendly, keeping in mind that this is more of a drop-in place than a full-service restaurant. Don't be discouraged by the photo menu at the door. This is authentic, homestyle food. I ordered the Combo Lamb Doner Shawarma plate, which includes salad, homemade bread, and the best hummus I've ever had - so light it's almost like a mousse. I had to ask for a to-go box, then broke down and bought a piece of their wonderful, fresh baklava at the register. It was worth every calorie and carb.
Share this article
Related Posts