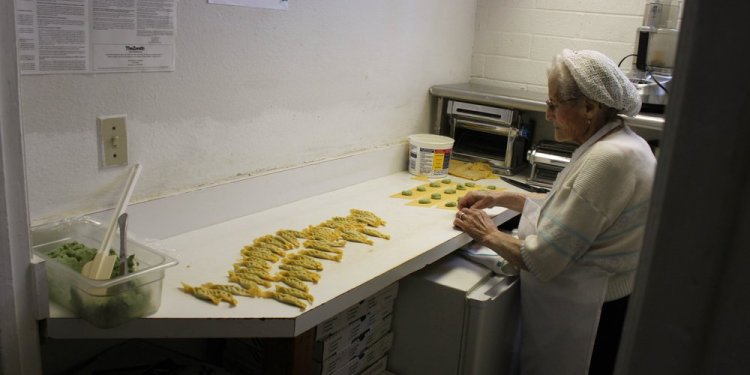 Italian Restaurants old Town San Diego
2391 San Diego Ave
San Diego, CA 92110
(619) 294-2074
Right in the heart of Old Town and Mexican restaurants - Nice, quaint and good food. The wait staff is experienced you can tell. They are attentive to your needs and service was friendly. Never a wait on refills. We had a party of 8 and everyone enjoyed their meals. My father, the meatball aficionado, says the meatball was the best he's had!! That is saying a lot! Highly recommend!
Great shrimp scampi. We had the pesto shrimp scampi and the other one with the wine sauce and mushrooms. The shrimps we huge and amazing. Both shrimps plates we great and hard to decide which one was the beat. A lot shrimp for the money. The service was fantastic. The tiramisu is the real Italian tiramisu. Best one I have ever had in the USA.
Our server and host were both nice and friendly. I came in for a nice bowl of Alfredo for lunch. Nothing spectacular. The noodles were bland and limp. I've had it before and it was much better than that. The sauce was also a little watery and flavorless. I'm not sure if they have a new cook of something but I had to send my plate back and get something else. My waiter understood and did not charge me for my next order.
Had dinner there for the first time based on a recommendation and It was probably the worst Italian food we've had. We ordered the garlic bread which turned out to be a slice sourdough with garlic spread and barely toasted, linguini with clams there was enough spaghetti on the dish for two bites and veal and eggplant parmesan that was ok. We ate out food because we were starving and it was pricey $65. Definitely a place we would not return to and not recommend.
My coworkers and I were in town for a conference, and I was in charge of choosing a restaurant. We wanted Italian, so I Yelped and found this place. I called and reservation, and when we showed up we were promptly seated. I found the menu to not be as extensive as some restaurants I'd been to, and you can expect to pay a little more than $17 per person for entrees. Our waiter said the restaurant is known for their scampi, but I ordered lasagna, two of coworkers got the Alfredo, and one coworker got the Mediterranean spaghetti. The food was great, and portion sizes were ample. However, my main concern occurred when it came to the bill. It's the 21st century, so when people say they CAN'T do something, it's a matter of them simply NOT wanting to do it. We asked to split our bill (annoying, I know, but we needed itemized receipts to get reimbursed) at the beginning of the meal and our waiter shut us down. I mean, c'mon! All it would take would be for him to write four separate tickets, but he refused. Fine. Then, when it came time to actually pay the bill, he was even more difficult. I ended up just putting the entire meal on my card because by that point, I was done. I knocked off one star for the antiquated payment system. Otherwise, everything else was pretty good.
Do you consider the phrase "too cheesy" to be an oxymoron? Do you beg for more salad dressing? And even more sauce? If your answer to all three is "yes!", then get yourself to Jack and Giulio's. If not, stay away. The salad was drenched in dressing and then showered with cheese. The panzerotti sauce was so cheesy it was almost chalky. A half portion as an app might be ok, but the richness became yucky after a few bites - and I love cheese. It also too breaded - a thick crepe is schmeared with a little ricotta and spinach and then submerged under a sauce. Panzerotti should have a lot of filling, like a mini- calzone. Finally, the toilet in the women's room backed up. The staff just rolled their eyes and threw down a towel or two. It was disgusting.
Yep...back again for wife's birthday. When I asked where she wanted to go for dinner, it was J&G. Our favorite in San Diego. Casually authentic. Cozy and a full bar. Wait staff experienced people, not college kids. These waiters earn their living here, so it is very professional and accommodating. The menu is excellent. Period. Everything we have had over the years has been great so go for it. Prices are reasonable, especially when you consider that you are in the tourist land of Old San Diego. Do make reservations if you are coming in after 6pm. This place can get full quick, including the very nice outside patio area. Patio area is "iffy" given the many times chill evening San Diego weather. We will continue to return.
Two dear friends introduced us to this lil gem in old town. *BEST SHRIMP SCAMPI* in San Diego, where are they getting these enormous shrimps? Service was friendly and so attentive. We sat inside, the bar area is small and they have a patio in the front, I had a martini which was made to perfection. Very shocked to see the poor ratings as my meal and service were flawless. Cant wait to return. Parking can be tricky like anything in Old town on weekends.
If you're in Old Town San Diego, why would you eat anything that's not Mexican? This wouldn't be my choice, but my colleagues chose this place and I followed. It really was a good Italian meal. The restaurant had a Mexican feel due the fact that they were in Old Town. It's strange to eat Italian in Old Town, but if you do, this place is pretty good.
Love this place. Makes you feel good place. Comfort food place. Even bring your mom on a date place. The shrimp scampi... Is everything. That is the only thing I ever order from here because I am enamored and I refuse to cheat on it. This is the place to visit if you wanna skip the greasy chips and salsa :)
We went to dinner last night with our 6 year old son. We walked in and were greeted and seated quickly. We ordered drinks and they served us toasted bread with butter as we waited for our meals. My husband ordered shrimp bisque as a starter while I got the Caprese salad. Both were delicious. We all ordered spaghetti for our entrees thinking it would be 'okay'-it was PHENOMENAL! The sauce and the meatballs were so flavorful-the noodles were perfection! We were happily surprised to find this place in Old Town and look forward to going back soon next time we visit! Thank you!
Share this article
Related Posts