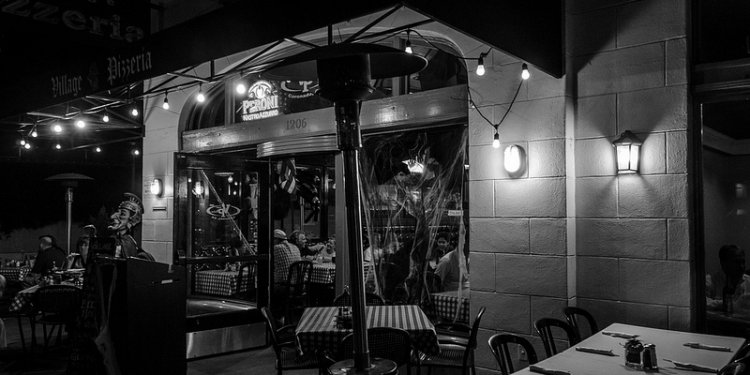 City Pizzeria, San Diego
It's a shame that San Diego's Little Italy only has one place to get pizza by the slice, but fortunately, the sole option, , is one of the best in the city. They've typically got a dozen NYC-style pies, plus a Sicilian on offer. I've tried everything from the standard pepperoni to the chicken pesto, but the white pies, namely the De Medeci, with sliced tomatoes and garlic, and the Dante, with ricotta, mozzarella, and grated Romano are my top picks.
If you swing by for a slice, you can sometimes get lucky and get one of each for $6 (plus a fountain drink), but other times there's only one of the two available.
On my latest visit, I walked in just as a fresh De Medeci pie was being pulled from the oven. The thin crust had a good snap to it, but remained chewy and a bit fluffy in the center. On top, a layer of mozzarella cheese with patches of browned mozzarella cheese was topped with slices of tomato and a touch of garlic —not so much that you'd immediately have to reach for a mint, but enough to balance the sweetness of the tomato.
If you want a more complicated slice, there's always the La Piccante, with pineapple, jalapenos, ricotta, and pepperoni, but I find that at places like Landini's, where the craft of pizza making is taken seriously and done right, the simple slices are the way to go. They also make whole pies, pasta, sandwiches, and other oven-baked items like calzones.
Landini's Pizzeria
1827 India Street, San Diego CA 92101 (map)
619-2838-3502; landinispizzeria.com
About the author: Erin Jackson is a food writer and photographer who is obsessed with discovering the best eats in San Diego. You can find all of her discoveries on her newly-launched San Diego food blog EJeats.com. On Twitter, she's @ErinJax
Share this article
Related Posts