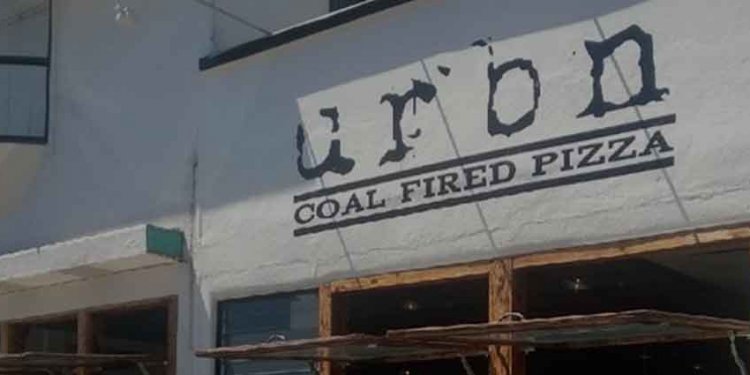 URBN Pizza San Diego
203 Main St
Vista, CA 92084
(760) 724-8840
I love eating here. The food is delicious and the ambience is wonderful. The small size pizza is absolutely huge. A put-off to some might be the a la carte pricing of the toppings. It can get pricey, but everything is quality. What's nice about the toppings is they don't detract from one another. It's not like Pizza Press where things are just piled on and don't mesh well. The flavors here, and textures, are all amazing. Veggies are thinly sliced, garlic is minced. I highly recommend the meatballs... they are in nice flat slices. Even the crust is super thin but tender with chewy edges. The only downfall is sometimes the pizzas have too much carbon burn on them. I learned to come when they first open and my pizzas are always barely carbony. I expect a bit given that they use a coal-fired oven here. You can expect a swift review edit with a severe star takeaway if I ever got a bad pie from here, given the price I pay. They have their signature salad, which I have yet to try. The menu has expanded a bit to include garlic sticks. I look forward to bringing a group with me so I can try more than just a pizza. :) The people who work here are super friendly. I dig the ambience and decor. The lighting is low, and the music is often Frank Sinatra or Bobby Darin. There's a bar area and you can watch the magic happening in the open kitchen. I actually like seeing the flour all over the place lol. Pros: - food quality - ambience - decor - open kitchen - location, near breweries - eco-friendly to-go boxes Cons: - can get pricey - sometimes blacker than usual crust - crap fountain drinks and fake iced tea
Wow.. I think I just saw the entire staff and owner sneak to the back to do blow! They all motioned to head to the back. And came back rubbing their noses and refusing to look anyone in the eye\ Pizza literally black on the bottoM! It's coal fired, but really??? BLACK..
Decided to try Urbn after a night at Avo Theatre. Me and my family were lucky to snag a table at 5:30pm on a Saturday night. The wait to order was a tad too long complicated by Urbn's policy to allow pick up/take out customers to "cut the line" per say. I was not happy about it, but let it go. Once the order was placed the food arrived fairy quickly. The salad lacked real zest although it was large and very fresh. The pizza we ordered was a large red sauce half plain, half pepperoni. Minus the goofy way the pie is sliced, the pizza I thought, was very good. The dough was not too chewy; right amount of sauce and cheese. The crust end was crunchy and delicious while the base of the crust lacked any crunch right out of the oven. The beer selection looked OK, but I was not drinking this particular evening. The decor is industrial like, but appealing. The fountain drink selection is nothing special. Don't expect gourmet sodas, and iced teas, although they sell Voss Water which is a very upscale bottled water.
I can't speak much for all of their food since I typically stick to two main things, but those two things make a great statement for the URBN brand. The menu is much like the sister business (Bar Basic), which is where I was first introduced to their pies. Since then I've had URBN Yelp-style (events and with fellow Yelpers) and most recently came to the Vista location to have a shared bite with friends. Parking is fairly easy either on the street or around the block. There are a number of tables inside and a smallish bar area. As I was waiting for my friends to arrive I ordered a beer, but it never came so we actually went to the brewery right across the street and ordered food from there-most people tend to do that, which is really convenient since you can enjoy both beer and pizza. We got the famous Mashed Potato & Bacon Pizza as well as a house salad with chicken. The wait time around happy hour was as expected and the food was good as expected. Our only issue was that they weren't able to process split checks for our group, but we worked it out amongst ourselves. In summary, Mashed Potato & Bacon pie is the way to go. Be wary of inattentive service and possibly opt to have it across the street instead.
My favorite pizza in all of North County since DiCrescenzo's closed some years ago. Maybe all of San Diego. Even when it's not as good as it can be, it's still pretty good. The handmade meatballs are the best. The URBN salad is very good as well. The service is always friendly and the fact that they deliver to Mother Earth really seals the deal.
This is the only place that we go to pizza in San Diego. New Haven style pizza: it has a very thin crust. The pizza is baked at an exceptionally high temperature, so the crust cooks very crispy, if not blackened, on the outside but retains a slightly chewy, moist, doughy interior (cite from here
$30 pizza should be at least a 4-star pizza. It isn't and thats a shame. They have all the makings to be at least 4-stars. A few changes and you are there URBN! You hear me? My BFFF (aka wife) and I went to Mother Earth Brewery and enjoyed a couple beers and heard about URBN (thanks to you Yelpers out there) so we of course had to order a pizza. Pizza - Large. Olives, Fresh Tomato, Garlic and Sausage. Yummy. The Pizza guy "Randy" was awesome and delivered it to our table in the brewery. Thanks Randy. The pizza arrived in its full glory with a standard issue baking sheet which I thought was a nice touch. Taste - The pizza was very tasty but with every bite you had to ingest burnt cornmeal. Some places use it in there ovens to help the pizza dough from sticking to the hot oven but you got to brush it out frequently because it just burns. We may have gotten the entire days worth of cornmeal by the looks of our picture. Back to the taste... The dough was that beautiful 'glutteny' (yup I said it) chewy doughy goodness and the ingredients on the pizza were fresh and delish. URBN - Always make quality your priority. No one, not even you likes a plate of black cornmeal. One last thing - They did not cut the pizza in any recognizable slices. They weren't squares either. It was like a blind guy was the slicer. We couldn't grab a slice and try to keep the toppings on the pizza dough which further made it inedible because the ingredients were then rolled and sprinkled in black cornmeal. It was a joke. This would have been 4 stars otherwise.
URBN, oh how I've grown to love you..but only one type of your pizza. That mashed potato bacon pie- my god. I don't even look at the menu.when a woman knows what she likes, why try anything else?! My friend and I stopped in to fill our bellies after too much alcohol and trivia. The employees were friendly, pizza was ready in a second, and we ate. My friend kept commenting the entire time about how she couldn't believe I was eating something that wasn't traditional pizza.and raving about it. I know, I know..but it's THAT good. This location is awesome...directly across the street from Mother Earth, and they deliver to the brewery. Pizza and beer, beer and pizza...It's the stuff I dream of at night. I'll be back!
So bummed about our service today. They refused to offer a kids size pizza. As a person in the hospitality industry, this left me in awe. The other 3 URBN pizzerias are willing and able to make a kids size pizza. I'm just curious about this non-option. what's so hard about cutting dough into possibly 3.5 oz. to satisfy a family? Or between 75 to 98.75 grams. The one in Northpark would have done this in a heartbeat. Not to mention completely undercooked dough. #gross
Share this article
Related Posts