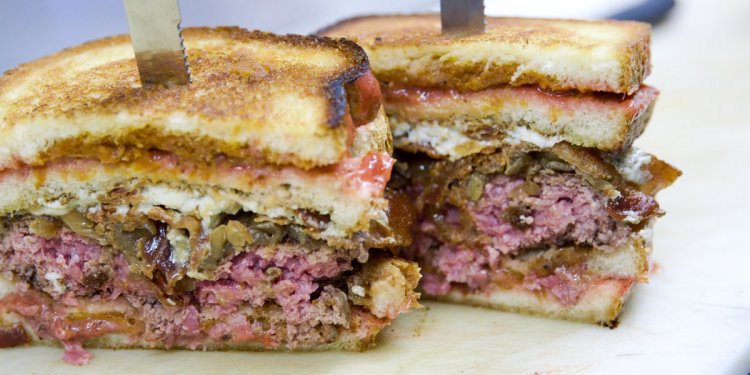 Best Casual Restaurants in San Diego
For quality food at a reasonable price point, fast-casual really seems to hit the sweet spot. A winning combination of organic ingredients and speedy turnaround times have cemented the concept as the new rockstar in food service. And so, here are a dozen places to load up on this freshly prepared, feel-good fare around San Diego.
1 Tender Greens
This casual cafeteria-style chain serves up a wide selection of globally influenced sandwiches and salads using locally sourced ingredients. Your choice of chicken, steak, fish or falafel can be made into a sandwich, hot plate or simple salad ($11.50), and served up with plant-based sides like roasted autumn squash, plus soups including rustic chicken and roasted tomato ($5+).
2400 Historic Decatur Rd
San Diego, CA 92106
(619) 226-6254
2 Artisan Bentō
For Japanese-inspired, health-focused cuisine the customizable bentōs here are hard to beat. The miso salmon ($11.50) comes with miso and mirin-cured salmon, two onigiri rice balls, small salad, and miso soup with an optional extra side of lotus root or seaweed glazed with sesame seeds. Other protein options include chicken skewers, ginger pork, sashimi, and mushroom tofu.
2505 5th Ave
San Diego, CA 92103
(616) 231-0700
3 Carnitas' Snack Shack -Del Mar
Hanis Cavin and Sarah Stroud's wildly popular counter-service spot is revered for its pork sandwiches and craft beer. While the menu changes daily their signature triple threat pork sandwich, shack fries and carnitas tacos usually always feature. Those seeking slightly lighter fare should look no further than the Snack Shack Cobb salad and/or the veggie burger.
12873 El Camino Real Ste M4
San Diego, CA 92130
(858) 350-7675
4 True Food Kitchen
With a menu based on the principals of Dr. Andrew Weil's anti-inflammatory diet, this relaxed eco-chic concept caters to a variety of diets, including vegan, vegetarian and gluten-free. Lunch and dinner menu standouts include the bison burger, sweet potato hash and kale crunch salad with avocado and grapefruit. Libations, including handcrafted cocktails like the ginger margarita and vegan Thai piña colada, plus organic wines are also not to be missed.
7007 Friars Rd Ste 394
San Diego, CA 92108
(619) 810-2929
5 Lemonade UTC
With its cafeteria-style set up and multiple food stations, you can mix and match endless combinations of seasonal, gourmet fare including sandwiches, salads, soups, braised meats and fresh veggies at this colorful fast-casual chain. Prices range from $6.50 for a sandwich to around $12.50 for up to six portions from the marketplace menu. Popular picks include the truffle mac and cheese, red miso beef short rib and housemade guava limeade.
4245 La Jolla Village Drive
San Diego, CA 92122
(858) 251-0912
6 Farmer & The Seahorse
Selected as Open Table's ‪Local Diners Choice‬ 'local pick' of 2015, Brian Malarkey caters to the breakfast, lunch and happy hour crowd at his fast-casual spot near Torrey Pines. Breakfast bites include scrambled eggs and avocado toast, while lunchtime diners can add steak, chicken or shrimp to any of the seven 'field greens' salads on the menu - or enjoy heartier 'blue plate' dishes such as local cod n' garden chips or the New England lobster roll.
10996 Torreyana Rd
San Diego, CA 92121
(858) 260-5400
7 Blue Water Seafood Market and Grill
This casual seafood spot, which featured on Diners, Drive-Ins and Dives, is famed for its authentic Mexican-style fish tacos. The 1-2-3 grilled fish ordering system is foolproof: make a selection from the day's menu pick your marinade and how you'd like it served - plated, sandwiched, topping a salad or a la carte. The homemade New England clam chowder has a loyal local fan base, as do the shrimp cocktails and fresh oysters, which regularly sell out.
3667 India St
San Diego, CA 92103
(619) 497-0914
8 Napizza
Made using fresh local ingredients and served by the square, this local mini-chain currently boasts three locations across the city. Standout slices include: the truffle porcini and bapo, which comprises potato, crispy bacon, mozzarella and fresh rosemary. Napizza also runs specials where you can mix and match any six slices for $4.25 a piece, or get two slices and a draft beer for $15 during happy hour. Vegan/gluten-free options are also available.
1702 India St
San Diego, CA 92101
(619) 696-0802
9 Luna Grill
This homegrown chain serves up authentic Greek kebabs and other Mediterranean eats in a relaxed, counter-service setting. For wraps there are gyros and falafel, while the flat cut chicken kabob (which comes with rice, pita, and salad) is one of the most popular signature plates. Dolmas, spicy feta and handcrafted spinach pie make up just a handful of appetizers on offer.
350 University Ave
San Diego, CA 92103
(619) 296-5862
10 Barrio Starr
Bridging the gap between brunch, lunch and dinner, Barrio Star debuted a new easy ordering and quick counter service set up last fall. With its Latin American-influenced signature rice bowls, tacos and tortas made using local and organic ingredients, look out for the combined lunch and dinner menu, plus "Tacos a La Carte" for mix and match orders.
2706 5th Ave
San Diego, CA 92103
(619) 501-7827
11 Urban Plates
Creative and healthy food options abound at this chef-driven enterprise, which currently boasts three outposts in San Diego County. Hand-tossed salads include a grilled wild albacore niçoise and kale, coconut and tofu creation; while hot plates cover everything from oven-baked salmon to grilled steak. The menu includes a gluten free section, kid-friendly meals and 'pizettes' too, plus family-style meals (take-out only) for up to four people.
1923 Calle Barcelona #148
Carlsbad, CA 92009
(760) 652-5678
12 Native Foods
This vegan restaurant concept centers its dishes round plant-based proteins such as tempeh, seitan and soy-based chicken, cashew cheese and tofu bacon. The globally inspired menu comprises starters such as Japanese sesame crusted chicken bites, alongside other fare like soups, salads and burgers. Their 'Earth Bowls' all in come in under $10 and consist of four separate flavor profiles: Moroccan, Greek, Thai and the Southern-style "soul food".
over development
entrepreneurs week
algorithmic trading
vacation how to
the entrepreneur
venture capital firms
motivation example
york development
fintech us
business startup capital funding
people development
lunch breaks
city of if
motor and
startup tree
cities in germany
startup site
entrepreneur best
school of entrepreneurs
vacation area
uk fintech
a development
lagos postal code
american startup
job entrepreneur
best fintech apps
motion web
93.3 minneapolis
black vacation
quotes with the word inspire or inspiration in it
list entrepreneurs
on vacation
citrix systems
3 day startup
startup sunday
cities in arizona that start with p
vacations for couples in usa
developmental delay causes
vacation with
all vacation
art vacation
entrepreneurship education programs
development is
system startup
entrepreneur high school
clean technology
entrepreneurs blog
fintech ideas
i was on vacation
be in motion
city by
mba in fintech
family reunions
development support
government entrepreneurs
what is my city
vacation in ma
the development game
startup's
people in city
vacation de
cities in georgia that start with d
deal done right. done on time. quote
the city o
word startup
sigma fintech
california map counties and cities
sony startup
best motivational success quote
online vacation
o s motor
how to motivate a group of people
people on vacation
cities in michigan
startup share
its development
which city am i in
small business ideas for couples
i m in or at a city
information about development
your on vacation
fintech funds uk
aero marine interline tours
entrepreneur funny quotes
lagos de moreno jalisco
cities in florida panhandle
list startup
developmental theory of aging
city about
development academy
site vacation
vacations to go cruises alaska
development of women
cities in colorado by population
tech companies houston
cities skylines 2
fintech payments
kids as entrepreneurs
johns hopkins hospital developmental pediatrics
vacation people
inc startup
vacations by rail canada
web startup company
photo motion
startup.com movie download
new startup business credit cards
the 10 entrepreneur
documentary on living in nigeria
cyclic motivational states
swift fintech
fintech companies in dallas
small business ideas for students in pakistan
digital transformation
d d motor
city top
it system development
startup repair
vacations for seniors
developmental delay definition
startup drive
new york surface km
single entrepreneurs
small business ideas for students
lagos airport
cities in florida state
motion family
city of d
s and s motor
ve city
early-stage startups
shine fintech
entrepreneurs center
it vacation
green part of colorado
what to do in city
which city are you
entrepreneurs test
startup art
government development
someone who starts a business is called
startup funding
we have your business funding needs
positive quotes to feel better
people vacation
motion fun
car motion
two types of motivation theories
power and development
she entrepreneur
vacation me
inspirational quotes for teachers
fintech ideas
motor data
cities in alaska
entrepreneurial skills pdf
quality time
against the motion
city over
power development
david the alcoholic pediatrician
startup mobile
developmental delay definition massachusetts
what's a startup
in motion
3 day vacation
child developmental psychology careers
citrix
top 30 entrepreneurs
what the city
inspiring quotes vestry
entrepreneur of 2014
entrepreneur magazine franchise 500
startup program
startup issue
atom fintech
top fintech firms
network computing
startup nation central
city down under
vacations to go ratings
american activist
she is on vacation
private equity investor
development through the lifespan 6th edition
entrepreneur magazine customer service
were in the city
brown startup
development of company
cities skyline check age
from motion
financial technology inc
enterprise technology
market development
city team
pediatric developmental
fintech degrees
motor case
small business ideas for women
technology innovation
cities in new york that start with p
over motor
chattanooga tennessee near by city
motion news
blog for entrepreneurs
long weekends
blog vacation
fintech payment
my city
developing
over city
free development
is motor
weird cities in pa
motor 21
what do entrepreneurs do
air motion
free entrepreneur
startup account
about my city
startup accelerator washington jobs
development of money
motivation examples at work
in the vacation
cities skylines dlc list
inspirational quotes about life and happiness
tv vacation
global finance technology
post development
motion email
motor food
true entrepreneurs
fintech deal
it solutions
psychological motivations
is my city
find my motivation
hewlett-packard hp
the young entrepreneurs
lynq fintech competitors
care motion
vacations by rail promo code
fintech project
can motor
inspirational outdoor images
vacation for two
fintech center
vacation uk
startup you
mentor graphics
technology executive
tide fintech
startup jobs boston
when vacation is over
cities in texas that start with w
entrepreneurial mindset
city how
motor 1 3
best quotes for outstanding week
lagos business school executive education
find a business investor online
how many people live in lagos
largest companies houston
we be in the city
fintech stock index
vacation more
development of a system
city new
fintech ceo
7 city
about business development
entrepreneur tv
no vacation for you
job development
cities in california that start with m
motivational quotes
fintech articles
lagos state logo
what is a just city
startup programs windows 7 command
business person
innovative research
law vacation
children and development
child developmental psychology jobs
cities and the wealth of nations
what is development in business
american business executive
lagos de moreno jalisco noticias
entrepreneurs of 2015
two types of motivation theories
book motion
sales entrepreneurs
vacation states
how to get investors to start a business
business in development
me on vacation
money entrepreneurs
motion 40
entrepreneur magazine customer service
cat inspirational pictures
vacation free
major developments
group vacation
new entrepreneurs
entrepreneurial skills definition
own startup
fintech futures
what is there to do in the city
development video
developmental psychology jobs
food startup
fintech uk
can you own a city
mean statements on pretty background
startup company
law for entrepreneurs
was on vacation
short quotes about brave
vacations to go cruises phone number
startup ideas
into the city
email development
holiday periods
book vacation
articles for entrepreneurs
financial tech companies houston
inspirational quote twitter
spectacular you quotes
kingdom driven entrepreneur
shopify
is vacation
motivational quotes for kids
startup music
30000 dollar startup business loan
startup ideas india
best new small businesses
entrepreneurial
to be an entrepreneur
developmental stages erikson
fintech trend
film vacation
motion and
music entrepreneur
in 10 city
orion fintech
token fintech
lagos bracelets
old entrepreneurs
cities in florida to visit
who is a entrepreneur
vacations california
motivational quotes for work
inspirational quotes you'll love
top motor
entrepreneurial spirit synonym
city development
during my vacation
services startup
motion art
we are on vacation
windows 7 will not repair itself
vacation state
true startup
vacations to go tours ireland
help startup
3 d city
entrepreneurs box
staying motivated in life
technology used in finance
this vacation
real vacation
apple fintech
network computing
entrepreneur on fire
line motion
fintech case study
will development
developmental milestones for infants
this is my city now
developmental psychology project topics
startup network
startup apps settings
developmental pediatrician autism near me
entrepreneurship development books
human development definition psychology
what city is this
expressive receptive language disorder icd 10
vacation express cancun
cities 97 morning show
vacations all-inclusive
love vacation
Share this article
Related Posts