Best Korean Restaurant in San Diego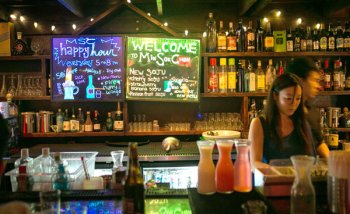 Photos by Sam Wells
A KOREAN PRIMER
Bulgogi
Thin slices of ribeye or sirloin, usually marinated in soy, sugar, sesame oil, and garlic.
Kalbi
BBQ short ribs, marinated in soy, brown sugar, pear juice, garlic, ginger, and sesame oil.
Gochujang
Chile paste made from red chile powder, rice powder, pureed soy beans, and seasonings.
Banchan
Small sides served with rice, usually kimchi and pickled veggies, gochujang, japchae, marinated tofu, and seaweed.
Bibimbap
Means "mixed rice." Usually topped with veggies, meats, and a raw or fried egg—all tossed with gochujang.
Soju
Distilled, highly potent liquor. Like the Korean version of vodka.
Korean food in San Diego almost always means BBQ, as kalbi and bulgogi are wondrous catnip for carnivores. It also means an arsenal of pickled side dishes (banchan). But it goes further, with kimchi stew, bibimbap and, yes, soju.
Chon Ju Jip
When San Diegans think Korean food, they expect a grill in the middle of their table. This is not that restaurant. I've been hard-pressed to find better bibimbap. The Korean classic is served on a hot cast-iron plate, which cooks down at the table. The kimchi jigae (traditional stew made with kimchi, scallions, onions, meat of your choice) is a cold-night remedy. Season and spice to your own liking. The place is tiny—so show up early, or be patient.
4373 Convoy Street, Kearny Mesa
Do Re Mi House
The banchan is unstoppable (eight to ten dishes, which they'll constantly refill as needed). The kimchi is excellent, as is the bibimbap and dukboki (rice cakes in pepper sauce). Each meal ends with a cup of SuJeongGwa.
8199 Clairemont Mesa Boulevard, Kearny Mesa
Buga Korean BBQ
Buga is the Mister A's of Korean barbecue. Top-quality, hormone-free meat isn't a standard among Convoy barbecue joints, but Buga buys its protein from Niman Ranch. Of course, quality costs, which explains the $30 plate of kalbi—the best I've tasted in San Diego. All plates come with an unbelievable array of banchan: Glass noodles, bean sprouts, kimchi (excellent), spicy cucumber, jalapeños, spicy broccoli, and more. There's also some great miso soup and SuJeongGwa to end the meal.
5580 Clairemont Mesa Boulevard, Clairemont
Korean BBQ and Tofu House
I prefer the smaller of Convoy's two main tofu houses—especially now with House of Tofu's recent renovation (nice tile work, pane glass windows). You'll notice a basket of raw eggs at your table. Once the boiling hot pots of tofu stew are served, break one of those into the mix and let it cook. The BBQ beef and kimchi tofu are the best.
4646 Convoy Street, Kearny Mesa
Manna Korean BBQ
This is a party joint, an L.A.-based chain that's exploded. All-you-can-eat, with two options: seafood or short ribs and ribeye. There's a two-hour limit per table, so get to it. Order three proteins at a time and cook them on the table grill. While no protein is amazing, that citrus-soy dipping sauce would make pencil erasers taste exquisite. There's a line out the door every night, and they're opening a spot in San Marcos this month.
4428 Convoy Street, Kearny Mesa
Party Time!
Sometimes you're just looking to let your hair fall into some soju while you joyfully wreck an REO Speedwagon hit single on the mic. When that sort of night strikes, Min Sok Chon (4620 Convoy Street, Kearny Mesa) has some food that'll soak up some of your escalating BAC. It's a little bit of Pacific Beach on Convoy, with yogurt-and-7Up-flavored soju, plus private karaoke rooms.
Another good option is Thang Thang (7905 Engineer Road, Kearny Mesa), with private wooden sections, "towers" of beers, Jenga (the blocks as a drinking game), and beer food (kimchi fried rice, spicy chicken wings, etc). Please soju responsibly.
Share this article
Related Posts