Sushi restaurants in Downtown San Diego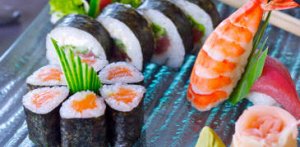 Sushi Tradition
Sushi is a dish enjoyed for centuries. It has evolved to reflect changing times and geographical areas that have imported the dish. From its humble origins as a simple way to preserve fish to the relatively new varieties of sushi, like the California roll, sushi continues to evolve and has become one of the healthiest meals around.
Chef Andrew Hoh
Sushi Chef Andrew Hoh has made a name for himself during his ten years at the Arterra restaurant. Born in Korea and raised locally in San Diego, Chef Hoh has created a signature style that fuses traditional sushi making with the eclectic flavors of So Cal, relying on local to international vendors for the finest ingredients.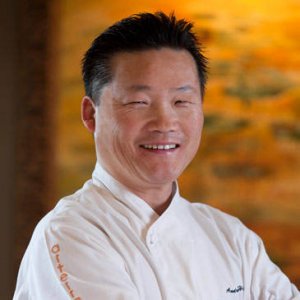 Known for his specialty rolls like the Scrumptious Roll, Chef Hoh is also known to whip up sauces from scratch or throw together new rolls on a whim. Chef Hoh's favorite part of the job is flexing his creative muscles to invent made-to-order rolls that mix and match competitive flavors.
Chef Hoh credits his father, who started making sushi during World War II, for instilling in him a sense of passion for sushi making at a young age. Hoh later cultivated and honed those skills as a teenager when he began apprenticing under his father in a family-owned restaurant in San Diego.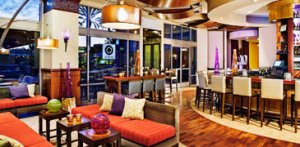 Today, Chef Hoh keeps the family tradition alive by offering Arterra guests the perfect mix of flavorful sushi combinations that will meet and exceed every expectation.
Arterra Restaurant
The Sushi Bar at Arterra takes pride in offering the finest in sushi, crafting modern and flavorful sushi dishes and wonderful seasonal offerings, including specialty rolls prepared by our Master Sushi Chef.
Relax and unwind. Enjoy a relaxing restaurant and bar atmosphere and a wide array of select wines and handcrafted California beers and specialty cocktails. Sushi lovers enjoy our diverse beverage menu to perfectly complement any sushi dish.
Our Sushi Offerings
Arterra is a favorite of Sushi lovers where you can enjoy a wide variety of sushi dishes, including our scrumptious roll with shrimp tempura, shiitake mushrooms with tuna, avocado, chili glaze, and tempura crumbles. Or, for the more adventurous sushi aficionados, simply ask chef to create a roll of his choosing. You can't go wrong with our wide array of menu items paired with your favorite beverage in a warm and inviting atmosphere with a down to earth vibe.
Share this article
Related Posts