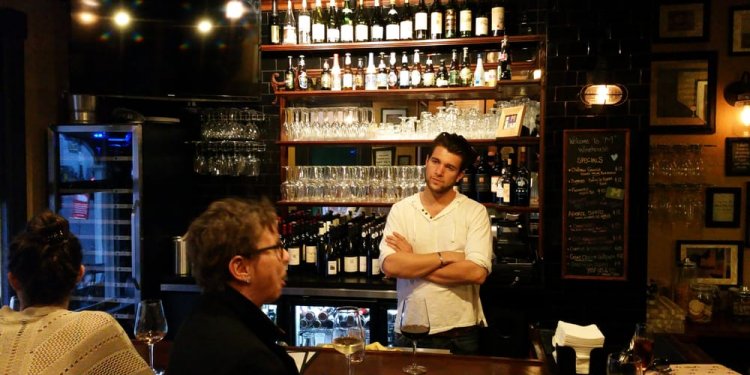 Wine Bar Little Italy San Diego
1918 India St
San Diego, CA 92101
(619) 546-4226
Lovely place for appetizers and wine! Came here Friday evening with a couple friends, we were quickly greeted by Julia and received a menu. I ordered a glass of Cote du Rhône, and shared a beautiful cheese platter. Great place in Little Italy, the customer service given by Julia was on point, and professional. Thank you for a wonderful experience, will refer to friends!
I'll admit it. My pallet isn't quite as developed when it comes to wines as when someone gets me into a whiskey bar. However, I do know a thing or two about excellent service and attention to detail. This place excelled in both categories. A tiny wine house with a lot of character, this place was a perfect way to end our evening. We were greeted by Missy as we walked in and felt right at home. She helped us to find a wine we wouldn't just enjoy, but fall more and more in love with the every time we took a sip. She fit in so well with the environment of the bar that you would of thought she owned the place. Her passion and experience for wine was exuberant and reassuring. This wasn't just another wine bar and Missy made sure that you would remember your time here and be back real soon. The Wine house itself was quite cozy. The decor was delightful and offered an intimate environment for any party. We sat at the bar and had a wonderful time. After sampling a few of Missy's recommendations we found ourselves in love with the 1738. We stayed much longer than we anticipated but walked away already planning when we would revisit this cozy home away from home. If you get a chance to stop in and are lucky enough to have Missy taking care of you. Ask for the 1738, in the top cabinet and be prepared to have a wonderful time.
Came here after stuffing ourselves with too much pasta and we had so much fun! This place is super cute on the inside...kinda feels like your in someones house in New Orleans (does anyone get that?) Anyway, definitely come here if you're looking for an after dinner drink. You will not be disappointed. This place is low key and the guy behind the bar was really nice and understanding of the fact that we knew nothing about wine. Thanks wine guy!
I love wine. Wine makes me very happy.but it's not often that wine makes me want to pack my bags and my sweet little puppy and move to San Diego Just so we can be regulars at the best wine Bar in Little Italy. Missy is amazing, and I feel so very lucky to have stubbled upon this glorious gem!
Our thoughts when stopping at this place: Me: There's a "historic building" plaque near the front door! Cousin: Does that say happy hour? Me: Does that say board games? Cousin: A pitcher of sangria?! ...and into the place we venture. We really just showed up for the proffered pitcher of sangria and board games. We thought we'd hang out for a bit, sip a few glasses of sangria, and then stagger back home in time to meet my husband - or actually, to beat my husband home. What happened, though, was that we placed our order for the sangria pitcher to share (after Missy, the doll working the bar that day, told us that we'd get three glasses each out of said pitcher), bopped upstairs to claim a table in the adorable room up there, and settled down with a Scrabble board between us. Missy brought the pitcher to us, along with a couple glasses of water, and we settled in for a fun hour or so. Fast forward almost two hours. I've been steadily refilling our glasses out of the never-ending-supply of sangria, we're both starting to feel fuzzy in the head, and our word and math skills are quickly disintegrating. We rather blearily glanced over at the pitcher of sangria and loudly wondered why the level didn't seem to be going down. We clumsily - but carefully! - started to gather up the Scrabble tiles, to put them back into the velvet pouch (only dropping one tile, we so weren't drunk!) before placing the box back in the cubby. We again glanced over at the sangria pitcher, which seemed even more full than it had four minutes ago, and wonder if we're strong enough to finish that bad boy off. We decide we're not. No point in drinking until our bladders burst, and no point getting so tipsy that I don't remember the way home. Neither of us loved the idea of leaving something that delicious behind (because did I mention that it was super yummy? And *very* drinkable?), but short of getting a to-go sippy cup, there was nothing we could do about it. As it was, we didn't beat my husband home. But that's okay, because we had a blast with the magical sangria pitcher and the Scrabble game that...did we finish that game...? I loved the feel of the place - it was an old house, and the top level (where we lounged) was adorable. They even have a little shaded porch for you to relax on, should you want fresh air.
Great place. Quaint with a lot of character. Friendly staff. Cute house with b good selection of wine
Cute little bar. It's like a super tiny and narrow two story house. We stopped by for a quick drink while we waited for a table at another restaurant. On the bottom floor, there is the bar with very limited seats. About 6 seats. And two smaller tables. On the top floor, there's a lot more seats available but no bar. The lady at the bar did seem quite snobby and not very welcoming. We decided to try their mint tea margarita. $7 each. Super tiny champagne cups. Tasted like straight up lime and nothing else. Definitely not a good drink, but it did give me a slight buzz. I'll know next time to not order a mixed drink at a place known for wine.
Came here specifically to try their delirium tremens. I've never had from a bottle and can't say that I ever will again. It was served to me in a glass and the bartender (though very nice), didn't pour it so well so I spent almost half the drink trying get past the foam. So wasn't even able to really enjoy the flavor of the beer. That was slightly disappointing considering how hard I searched for this drink. Otherwise I can't say much to the place besides having a really nice and small ambience. I'll still keep it an option to return though.
Very cute wine bar in Little Italy! The staff (we met the owner) was welcoming and warm from the moment we walked in. Make sure to chat with the owner or the bartender about the wine that you like most- they'll be sure to pair you with something delicious! We ordered our drinks downstairs and headed upstairs to play board games and spend an hour in an intimate setting. The owner came upstairs to check on our glasses and asked if we needed another pour. I will absolutely be bringing all of my friends who visit here. It's the sweetest hidden gem in San Diego.
Share this article
Related Posts