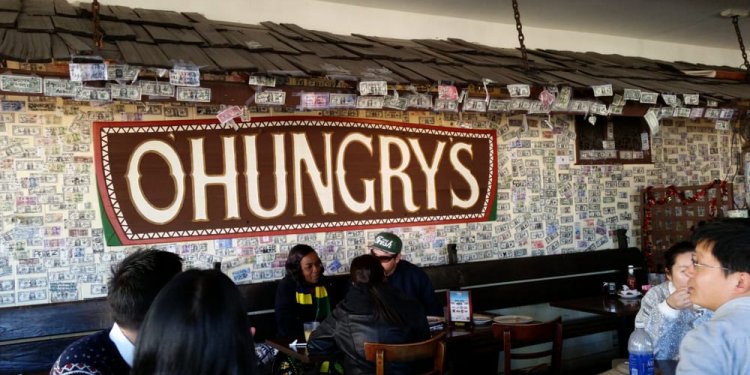 Bars in old Town San Diego
2547 San Diego Ave
San Diego, CA 92110
(619) 298-0133
Stopped in for a quick bite and had a bowl of really great soup! The waitress said they make everything from scratch so we were impressed. Seriously nice atmosphere and great walking part of Old Town.
This place has new owners. We got a burger, fish tacos, cheese fries, prickly pear margarita and peanut butter beer. We enjoyed the food, but the staff wasn't too friendly or attentive
My brother and I wanted a quick drink before we wrapped up our Old Town tour. Since O'hungry was by where we were dropped off, it won. The place probably serves cheapest food and drinks in Old Town so we weren't expecting anything fancy. I mean, $4 mimosas? You can't beat that price! It was a...serviceable one so can't complain. I can't say anything about the service except friendly enough and fast enough considering we chugged the mimosas and we're out of there in less than 10 minutes. I'd probably return for their $2.99 breakfast because even McDonald's can't beat that!
Been here a few times. Food is meh, but not bad. Great prices but just nothing too special. Service has never been too friendly but there's cold drinks and an interesting atmosphere. It's definitely not our first choice but when it is late and you just want to have a few brews before heading to the hotel... not a bad place to stop in. However, our last straw with this place was on a weekend and it was probably about 8:30 (anyone that knows Old Town, knows that there is NO nightlife to speak of) and we figured that since it was a bar, it would be the best place to toss back a few cold ones. BOO!!! Sat for 15 minutes when it was slow (maybe 2 other couples in the entire place) and the waitress walked by us several times, no "just a minute" no anything. We left. Not basing my review on this one episode. basing it on my overall experience though the past couple years.
As a gourmet chef and a foodie blogger. This place doesn't deserve to be on the map at all. Watered down food and drinks. Bad and unprofessional staff. The waitress didn't bring any drinks to the table. We had to get our own salt and pepper shakers. The table was super dirty when we sat down. Manager was nasty and harassing. She refused to adjust the bill for the nasty food that we didn't eat. After we paid she kicked us out in a rude and harassing manner. She was super ghetto trailer trash. I wish I called the cops on her. We are still shocked that this type of person has a real job this place is not closed but it should be!!!
Ate here in old Town less than a month ago. Got a burger and potatoes . Amazing quality. The burger was fresh and topped with delicious veggies and a really good mustard. The potatoes were freshly cut and cooked. Everything was HOT when it came out as fresh food should be. They have many beers on tap. The ambiance was nice it has an urban but rustic look. Would go again.
This place isn't closed. I was just there two days ago. I know why it's called O'Hungry's though. One hour for a sandwich and oatmeal. Don't come hungry. Will never go back...
O'Hungry's is now Hungry's Kitchen & Tap (note: I did not want to rate but had to click on at least 1 star to get this post accepted by yelp)
It was late, and we were very hungry. What a lucky find to stumble across Ohungrys!! We could not believe the prices: $6 for a full meal and $2 for a big 16oz frozen mug of beer!! I had the mahi mahi, and my buddy had the filet ($2 extra). To say we were sceptic is an understatement!! But to our surprise, it was off the charts with perfection! My fish was juicy and fresh. Came with veggies and a good helping of mashed potatoes (REAL spuds, not the boxed mush!!). My buddy's steak came cooked to perfection, was tender and so large, he couldn't finish it all. But with the ice-cold beers, we both had more than our fill. Hard to believe such a wonderful place, with excellent service, perfect food and 1950's pricing could still exist today.especially in the tourist-trap Old Town neighborhood!!
This place is really cute and low priced. The server was more than accommodating, and even replaced the chicken tenders with new ones when she accidentally spilled ranch on them without me even asking(I felt so bad! but I can't stand ranch). Not to mention the location is optimal since its in the middle of old town. This place is also nice if you want something a little cheaper that still has the novelty of old town. We were lucky enough to have a Spanish style musician come and play for us at our table, it was very romantic. I wish I had tipped the man more honestly he was very talented. I was pretty happy with my experience overall, I just like the mozzarella sticks a little warmer and cooked a little differently. Otherwise awesome experience :)
Walked in with my 6 year old who needed to use the restroom. We were rudely kicked out by female staff member because the restroom is "for customers only". We dine out several nights per week and they just lost a future customer. I noticed it was pretty empty for a Friday night, maybe that's why. Only giving one star because I have to.
Share this article
Related Posts