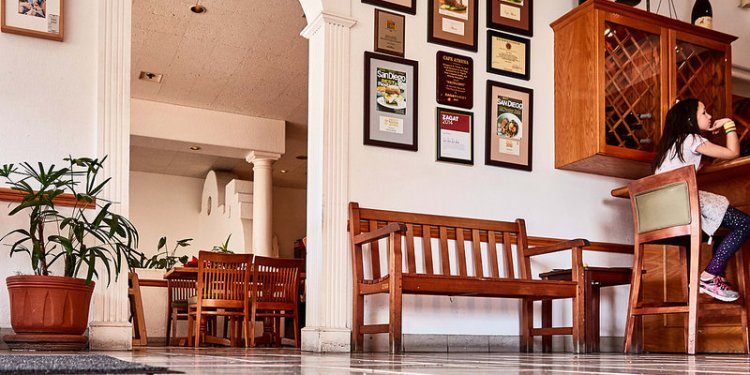 Cafe Athena San Diego
1846 Garnet Ave
San Diego, CA 92109
(858) 274-1140
We used Cafe Athena catering for our wedding of 200 this summer at the Darlington House and they were amazing from start to finish. Tim helped us start the catering ordering process and was super flexible, responsive, and helpful all the way through. We did a tasting at their restaurant and the staff was very accommodating and helpful. They let us try tons of options so we could make the best decision. Tony the owner helped us with the second half of the process and was very thorough helping plan and decide on the final order. He met with us at the venue to review which made us feel well prepared. On the day of the wedding, he was in the kitchen directing the catering which made the whole process go really smooth. Even though we had a buffet-line style dinner instead of plated, they brought pre-made plates to the bride and groom which helped save time. Their overall process was very smooth. We also used their bar services which saved us a good amount by not having to hire separate bartenders. Although we didn't have fancy cocktail bartenders, they were super accommodating and got the job done with our large crowd. We created two signature cocktails which the staff put together and most of our guests ordered. From our venue's list of exclusive caterers, Cafe Athena was by far the best value, and we didn't lose anything on taste or quality of food. The guests loved the food too and said that is was pretty amazing. This style of food is great for Mediterranean/San Diego style weddings, especially in the summer. The benefit of using Cafe Athena is they don't limit your choices. You don't have to choose just two meats or main dishes if you're doing a buffet, unlike other caterers. Great experience overall, I highly recommend them!
Ordered a lamb gyro and chicken on a pita. Both were great- price was on point as well. It wasn't anything over the top for us that's why I only gave 4 stars, but I'm sure we will be ordering from here again. Ordered delivery and was here in a good timely manner.
*Note: you get 10% off your bill with your first Yelp check-in!* I came here for a meet up with my book club. There were eight of us and they seated us in the corner of the more quiet part of the restaurant (its divided into two rooms with a bar in the middle) so we could talk easier (we had made reservations ahead of time). The music was Greek, softly playing in the background. Overall, the restaurant was cozy and comfortable. There is a nice outdoor dining area also. It was especially nicely decorated for the holidays with a beautiful Christmas tree at the entrance. The location is very convenient and near a lot of other businesses. It is located in a large strip-type mall in Pacific Beach, close to the freeway exit near the Vons shopping mall. Its in the corner, by the FedEx. There is a ton of free parking. Our waitress was super friendly, thorough and accurate. Her and the gentleman who took away our plates/brought us to-go-boxes were both really attentive during the meal, frequently checking on us. The service was really quick and our food arrived fast too. Not everyone brought an entree and the staff was totally fine with that. They didn't even charge us an extra gratuity for having a large group. The mostly-Greek menu is extensive, offering everything from appetizers, hummus/dips, soups, salads, entrees and desserts. You will definitely find something good, even if you don't like Greek food and there are a lot of vegetarian options. There is a long Happy Hour menu also which is effective 3:30 to 6:30. The food was really good and well priced. Everyone enjoyed their meals. I had a small Greek salad without olives and no dressing. It was only $5.49 (you can add grilled chicken or falafel for $3.95). It was a very substantial portion (a medium sized plate worth), the lettuce was crisp and vegetables (tomatoes and red onions) were fresh, plentiful and delicious. There was a lot of yummy, very creamy and not too salty feta. It was served was pita bread (they brought it to us in a couple baskets for the table to share). The pita was ok, nothing special, but the feta on the salad was the perfect consistency to spread on it. They do close at 9pm on weeknights which can be a bit of a limiting factor for some, but we stayed till just a few minutes after 9 and they were fine with it. Between the good food, nice atmosphere and great service, this is a place I will definitely be heading back to!
I've had, and experienced, much better. Very disappointed ... The chicken was overcooked and served cold. Won't make the trip again. But, now I know.
Yum! I've been coming to Cafe Athena for years. I was first introduced by a friend back in high school. Cafe Athena definitely delivers a good comforting meal at a good price. You can taste the tlc that they put into their meals. The service is prompt even when they get busy. We came on a Thursday night and it was pretty busy. One comment: given the close proximity of the tables they could use background music. This could definitely alleviate over hearing some of the awkward conversations :)
This place is clean with an open floor plan, the staff is friendly and the prices were fair. The food was warm, plentiful and tasted good.
Moussaka, keftedes, and skordalia were all SO good. There wasn't a speck left on our plates. Service was great, gave us good recommendations, and amused us with some silliness. I'll be back!
I ordered a Gyro meat plate and a greek side salad for take out. Quality was excellent. Service was friendly, and the portions were large! I wanted to try the food first before dining in and based on that I would definitely return. Thanks!
I recently discovered Cafe Athena, while on the hunt for a moderately-priced, sit-down dinner. The food and service surpassed my expectations. I had a chicken wrap filled with the best grilled chicken-crispy on the outside, tender on the inside. In addition, the side Greek salad was amazing thanks to the feta cheese (made from sheep's milk, so it tasted like goat cheese/feta). I must say, I am not the biggest feta cheese fan, but this stuff was super addicting. Our server was a good mix of nice and attentive. The prices are great too! It reminds me of Greek restaurants on the East Coast, affordable yet healthy and delicious. Cafe Athena will definitely be added to my dinner rotation.
lovely quiet hidden little gem in PB. Great gyros and salad. And very affordable too ! We will be back :)
Share this article
Related Posts