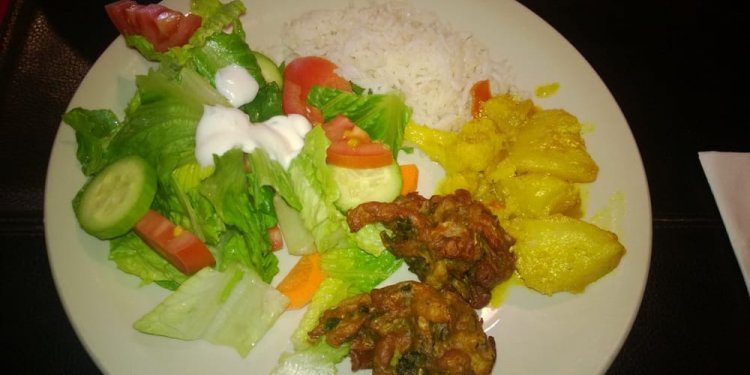 Cafe Indian San Diego CA
329 Market St
San Diego, CA 92101
(619) 269-9999
Driving around San Diego looking for parking is never fun. Until I saw a sign for Royal India lol. $15 for their Sunday lunch buffet is a good price especially since the food was amazing. Lots of variety and the chicken tikka masala did not disappoint. The mango dessert was so good! It's a must!!! The tandoori chicken was fresh and the chicken was moist and delicious. The chicken used was definitely fresh and not frozen. That's a big deal to me since frozen chicken becomes rubbery and I had a bad experience at another restaurant a few weeks back. But this place is a class act! The place was really empty and I was so surprised at this especially given the amazing quality of their food. However, this meant we were given extra special service and we recognized the manager from another Indian restaurant we used to frequent. So, it was really nice seeing him again - he runs a tight ship and is a great manager. He came over to make sure we were taken care of and that made us feel really special. This is a really beautifully decorated restaurant and it's impossibly clean. We will be back.
It's been a few years since my last review and this place is still my favorite spot in town. The staff is always nice and friendly, especially Sunchit, who knows me by name now and always greets with a smile. It's my weekly ritual to meet new business potentials for lunch buffet. It is affordable and those who had Indian food before are always impressed by the rich flavors. Those who try it for the first time? They always remind me of our first meeting at that wonderful Indian buffet in San Diego.
Been here a lot of times and I'm surprised I haven't written a review. The ambiance is beautiful and the servers are very nice. I met some of them at Yelp Parties and one of the young ladies who works at this location is very nice. I've had a few dishes that I always return to. My favorite: Chicken Tikka Masala and different flavors Nan Bread. I've eaten different curries and beef kababs. Everything I've had here has never disappointed me. I loved it that one night I when I dined here they were giving away free red wine. YAY! I'm definitely a fan.
We love this Royal India location. We make a visit here with a group of friends for an annual birthday celebration and we always have a fabulous time. The food is delicious, the garlic naan is spot on and chutney too. Temps are just as you order them and the food is fresh. It never tastes or seems as though it's sat in a pre made bulk amount on heat somewhere. We hate when we experience that. The service is wonderful. Occasionally we have seen a sitar player and a dancer during one of our visits but you may need to ask when and what nights specifically. We are normally a group of 6-8 and they take reservation and do split check. We highly recommend this restaurant. You will be satisfied with the quality, quantity and care.
Popped in for lunch today. First off, it is an all-you-can-eat buffet. I *should have* left as soon as I realized this. But my blood sugar was low and, thus, judgement was compromised. The "service" was good: they brought out a fresh basket of garlic naan. But let's face it, the quality of food can't be all that when it has been sitting under a heat lamp. So manage your expectations. I should have gone to another spot just around the corner (please see my profile; listed 10 reviews below this 1. We will call said location "P" for all intent and purposes). P is not a buffet, but the lunch portion is very generous. The price is competitive. So the argument between these neighboring Indian restaurants, at lunch time, is do you prefer quality or quantity? JM2C. To each his/her own.
This place trully makes me feel like i went to India and back. The food is DELICIOUS AND AMAZING, the portion are big and filling. I really enjoyed the experience especially when our waiter Sanchit welcomed us in a cheerful way and walked us through the menu and recomanded different dishes. I will definitely come back here and try everything on the menu.
Teresa was absolutely amazing took her time to explain the different meal choices as well as the Bossier and helped me make wonderful selections for my lunch All the food on the buffet was absolutely amazing and fresh
I went here on the recommendation of a friend who had been here before on a previous trip. We walked here from our hotel and were able to get a seat right away. The wait staff was friendly and prompt in their service. I am new to food from India so I am not the best judge of the food yet. I keep trying different places so that I can become more knowledgeable. We had a chicken dish that was prepared on a kebab and was sell seasoned. We also had a prawn dish that had a tasty sauce and lots of vegetables in curry. Overall I think that it was a good meal and that my palate is expanding with the introduction of more cuisine from India.
I ordered a vegetarian curry with cheese cube. It tastes really good with rice and onion nan ( must try). Plus, our server is super nice! Will definitely come again.
Fabulous flavor and friendly, personable service. I love Indian food, and this place is the best for the traditional vegetarian.
Share this article
Related Posts