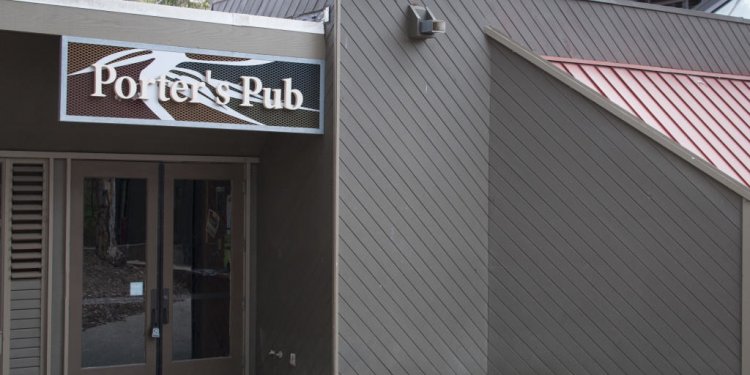 Porters Pub San Diego
Considered summer beers, wheat ales are typically light in flavor, highly effervescent with a slight haze
Y Not Wheat - New English Brewing, San Diego - $6.00
Being medium to medium-high in alcohol volume, copper-colored India Pale Ales are sometimes malty with a bitter, hoppy flavor.
Humbly Legit - New English Brewing, San Diego - $6.00
Weekday IPA - Rough Draft Brewing, San Diego - $6.00
Stone IPA - Stone Brewery, Vista, CA - $6.00
Serrano IPA - Old Orange Brewing Co. Orange - $7.00
Tricerahops Double IPA - Ninkasi Brewery, Eugene, OR - $10.00
Rabid Beaver Bite Rye IPA - Belching Beaver, Vista, CA - $8.00
Trooper's Tipple - New English Brewing, San Diego - $6.00
Slowly fermented with a rich body, these types of ales have an optimal balance of malt flavors and bitterness.
Moose Drool Brown - Big Sky, MT - $6.00
Drake's Amber - Drake's, San Leandro, CA - $7.00
As one of the world's most popular beer styles, Pale Ales have medium to low bitterness with an aroma that comes from the hops.
Sari Sari Pale Ale - Butcher's Brewing, Santee, CA - $6.00
Blue Heron - Mendocino Brewery, Ukiah, CA - $6.00
Stouts are dark beers due to the main ingredient of roasted barley and they often have a bitter hop taste. Porters are mix of dark malts and take the longest to mature out of most brews resulting in a rewarding hop bitterness and dark color for your drinking pleasure.
Noche de los Muertos - Aztec Brewing Co. Vista, CA - $10.00
Black Hawk Ale - Mendocino Brewery, Ukiah, CA - $6.50
Belgian Vanilla Stout - Rough Draft Brewing, San Diego - $6.00
Peanut Butter Milk Stout - Belching Beaver, Vista, CA - $6.00
Bobo's Robust Porter - Big Sky, MT - $6.50
Vanilla Porter - Latitude 33, San Diego, CA - $6.50
Perry Cider - Ace Cider, Sebastopol, CA - $6.00
Haupia Cream Ale - Butcher's Brewing, Santee, CA - $6.00
Share this article
Related Posts