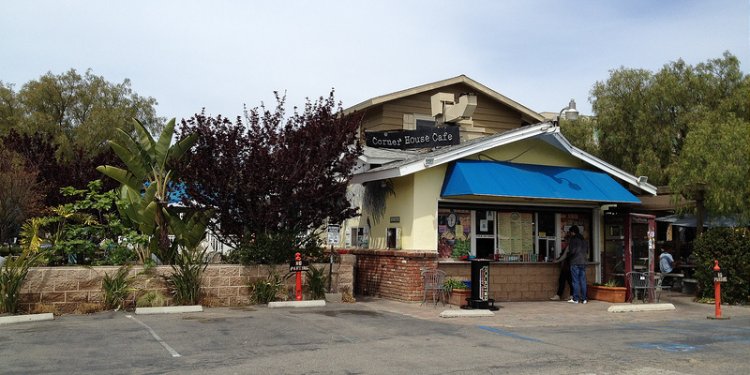 Corner Cafe San Diego
6060 Cornerstone Ct W
San Diego, CA 92121
(858) 597-8585
I've only been here once and my food was good. I had a turkey cobb wrap and it was a good deal for the money ($6 and quite large). The menu is extensive and the restaurant has a small indoor eating area and a large outdoor patio with umbrellas. The main reason I wanted to post is that it is a little tricky to find. The restaurant is in the USPS/Mailboxes Etc building. Park in the main lot, but don't go in through the front door of the main building. I did and was startled when an alarm went off. Apparently you have to be an employee to go through that door. Luckily the receptionist was nice and directed me to the proper location. Instead, walk all the way around the building and you will see the patio tables. The restaurant is right on the corner of Cornerstone and Pacific Heights Blvd, but it is hard to see from the street because it is high up on the hill.
I actually really enjoy their breakfast items! Especially the sausage, egg, cheese croissant! :) and their half breakfast (hash browns, sausages, eggs, and cheese)! I tried their lunch item for the first time this week and I was not all that impressed! :( The grilled chicken sandwich did not taste grill at all...
Awful. I had to wait 40 minutes for a veggie burger, and 15 minutes another time. They weren't busy. The third and final time I got a gross tuna melt that was COLD when you bit into it.
My original review was only 3 stars because I experienced pretty lackluster customer service. I'm updating to 4 stars, because over time it has gotten better. I guess you just have to be a regular that they recognize! :) Still love my fiesta scrambles.
Cant be any more convenient for me to eat here since I work in the building! The Cornerstone Cafe is the sweet spot and watercooler of our office, where you might learn more about company culture and protocol than in a handbook, and for sure where you will rub shoulders with anyone from a temp to the prez of the company. The staff in the cafe is uber talented and makes the world's best breakfast burritos and quesadillas. Lunch specials are varied and tasty, too. Kudos to upper management for getting it 100% right with regard to this brainchild.
After reading the noted reviews, I decided to go there for lunch. I'm not impressed with the food or the service. I ordered a cheeseburger and it was tasteless. They did not season the meat so it tasted boiled or microwaved. The service is slow and unfriendly. As I waited for my order the front end person stood there tapping the register loudly with total boredom. I'm sure this establishment is convenient for the UPS team, but not for the outside public. Nothing special here and I will not go back!
Expensive for what it is but delicious especially for location convenience. I would never go out of my way to eat here, but I like it enough to come for lunch and breakfast every now and then from work.
This place is awesome. When my company moved up here I went looking for nearby delis. The first place I found was pretty bad so I had to look again. Fortunately I found this place. Only a mile away, the food is made fresh and quickly, it tastes delicious, they offer smaller portions of a lot of things on the menu, and did I mention delicious? First thing I got was a Full Box. Home fries with fresh scrambled eggs on top, then shredded cheese, topped with crispy pieces of bacon. I had to have a few people at work enjoy a few bites and they all loved it. Sandwiches are really good too. I've had a couple lunch types and 1 breakfast type.
Aside from convenience, this cafe has a lot to offer, including plenty of indoor and outdoor seating, a great selection for breakfast and lunch, and a staff that never lets me down. They offer daily specials which are a decent price and can help simplify the decision making process. Favorite breakfast items: Grilled Santa Fe Breakfast Burrito - (5 stars, its amazing) and the full box is a good option too. Favorite lunch items: the Cubano!
This place is awesome. From the full box for breakfast to the daily specials you can't go wrong. Staff is helpful, and quick. And if it takes a few more minutes to get a sandwich it's because it's being made to order. Lots of outside seating too
I made a comment once that the salsa verde for the the quesadilla was the best I've ever had, and the response was simple: "Well, that's real food made by real Mexican women." That sums it up. The food here has the feel of homemade, and is always delicious. Check out the daily specials and soups for the heartiest fare. The staff is awesome, especially Letty who made me feel like a regular from day one. If you work nearby, it's a great lunch spot.
Share this article
Related Posts