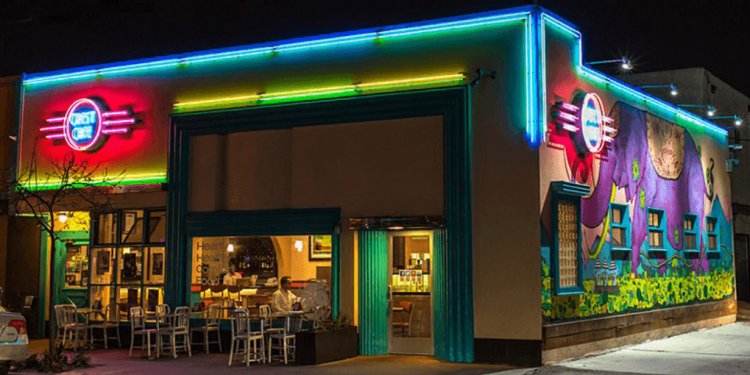 Crest Cafe San Diego
Jalepeños stuffed with cream cheese, rolled in cracker crumbs & deep fried to a golden brown.
$9.00 Isabella's Patties
Zucchini, grated fresh parmesan, potato, Italian parsley & garlic patties sautéed in olive oil.
$10.50 Cheese Butta Squares
Multi-grain, spread with gorgonzola cheese butter on both sides, stuffed with pears & sundried tomatoes. Served with a cup of fresh fruit.
$11.50 Sliders with Homemade Chips
Angus beef (3) mixed with garlic, sundried tomatoes, basil, red onions & choice of cheese. BBQ pulled pork (3)...$11.50
$9.00 Fresh Mango & Brie Quesadilla
Served with salsa fresca.
$11.50 Shrimp or Chicken & Veggie Quesadilla
Shrimp or Chicken marinated in orange juice, garlic, cumin, cayenne pepper and paprika. In a flour tortilla with corn, onions, zucchini, jack & cheddar cheeses. Served with salsa verde.
$4.50/$7.50 Crest Dinner Salad
Avocado, cucumbers, tomatoes, mushrooms, field greens with red cabbage and julienne carrots. $4.50 with entree, $7.50 a la carte.
$8.50 Iceberg Wedge
Blue cheese crumbles, blue cheese dressing, tomatoes & chopped bacon.
$6.50 Fried Mozzarella
A slab of fresh cut mozzarella, lightly breaded & served on top of marinara sauce.
$6.50 Onion Loaf
Beer battered & deep fried.
$9.00 Veggie Chili
A hearty mixture of onions, bell peppers, tomatoes, zucchini, garbanzo & kidney beans, herbs & spices. Topped with red onion & jack cheese.
$9.00 Hog Heaven Battered French Fries
with pulled pork, caramelized onion, cheddar cheese & BBQ sauce.
$7.50 Nutter Grilled Cheese
Cheddar cheese, bacon, crunchy peanut butter & raspberry jam.
$7.50 Mac Truck Grilled Cheese
Fresh mac & cheese, parmesan, jack & cheddar with beef chorizo and kosher beef hot dog slices.
Share this article
Related Posts