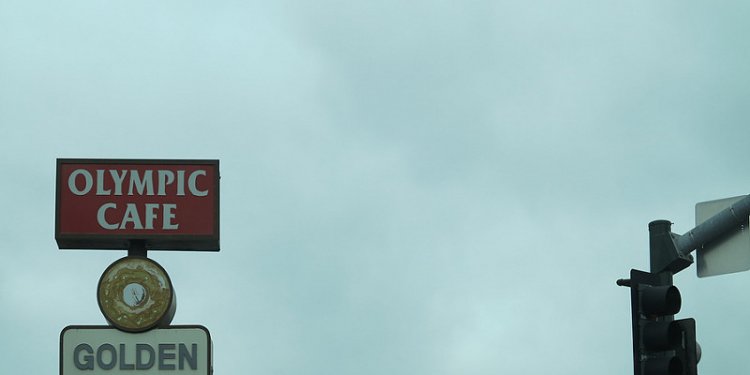 Olympic Cafe San Diego
Following a recommendation from a friend, I breakfasted at the Olympic Cafe recently. It's right on the corner of Texas and University in North Park in the plaza with Golden Donut (where I stop sometimes for a dozen mixed donuts on the super cheap). As the name implies, the cafe is owned by a Greek-American family. I always enjoy the feel of cafes and restaurants owned by Greek families, even in the case of simple pizza places or breakfast spots. Perhaps it's the tendency towards bright white walls with blue trim and pictures of the Parthenon, or maybe it's just that the people who work there tend to be very friendly. Maybe it's because one of my first jobs was at a Greek place. Whatever it is, the Olympic Cafe fit the service model from my head spot on.
If Olympic stood out in any way, it was in portion size. Everything coming out of the kitchen was absolutely enormous. I ordered a gyros breakfast sandwich that practically exploded out of its pita. It had the meat, tomatoes, and onions that I associate with gyros, but everything had been chopped and scrambled with eggs. Even with a side of, admittedly underwhelming, fruit salad instead of potatoes it was still a massive gastronomical undertaking.
A veggie omelet with feta cheese was an even bigger serving of food. The egg dish and hashbrowns filled every inch of the serving platter and it was way more food than one person should put away in one seating-provided she wants to accomplish anything at all during the following hours. Plenty of feta in the omelet was a good touch.
It would be disingenuous to say the food was anything special-although the gyro sandwich was a break from the ordinary-but it was more than satisfactory and the prices were right in the $5-$10 range for everything so no budgets were wrecked. Service was lighting fast. For a fancy brunch, look elsewhere, but for a breakfast where two people can split an entree and a side dish and be eating within ten minutes of being seated, Olympic is a safe bet.
Share this article
Related Posts