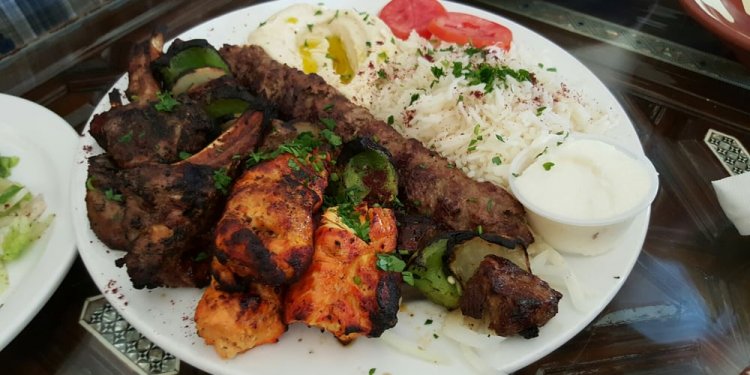 Aladdin Cafe San Diego
5420 Clairemont Mesa Blvd
Ste 101
San Diego, CA 92117
(858) 573-0000
Me and my boyfriend were a little indecisive of where to have lunch when I remembered that I had seen Aladdins' add on Facebook. I called & asked if we needed a reservation & the man who answered the phone was so amazingly nice & very welcoming. Once we arrive we were seated quickly! We ordered a half side of hummus, plate of kabobs and a pizza. The food came out very fast & I can't even explain how delicious it was! When I asked for to-go boxes out waitress was nice enough to ask us if we wanted more bread to go, that was amazing! Will most definitely be coming back! Thank you
Go to Aladdin and a must try is the garlic sauce. So delicious, I can taste it now. I add it to everything I order which is mostly the chicken shawarma pizza & chicken kebab sandwich. The chicken is very tender & juicy. The salads are fresh and a pretty good size that I usually split it with someone. Never had bad service or food here. Mike is my favorite server. I don't get to go as often as I'd like anymore but, he always seems to remember what my mom and I order. It's a must try. Cons: a little pricey and parking is challenging during lunch hours but, I don't let that stop me from going back
I would've given this place 5 stars but I'm trying to get someone's attention. I had an argument with an employee named Kate or Katie (she wouldn't tell me her name). I ordered a sandwich and asked for the yogurt sauce. It came out with hummus. So I pointed it out to her and she was very quick to tell me that I was wrong. I was fine with being wrong until she came back to tell me yet again, I was wrong. It irked me a little so I checked on the menu. Sure as hell, I was right. No where on the menu does it say the sandwich has hummus in it. So I tried to tell her but she quickly interrupted me and slammed the menu on the counter and says "that's a typo in the menu but that's how the sandwiches are made". There were more excuses from her until she decided to be super rude and walked away. I asked to speak to a manager and she said she was the manager. If that's the case, you need a new manager. If not, get someone who can properly train her. My husband has been a loyal customer here for the last 10+ years. I don't want to ruin that for him. I will change my review once someone contacts me. Update: The owner contacted me and he was very apologetic about the whole thing. Hopefully the server sees where I was coming from. Anyway, this place deserves a 5 star rating.
If you are looking for fresh chopped chicken salad Turkish/Mediterranean/Persian style then Aladdin is the place to go. This is my fourth or fifth time here and their chopped chicken salad has always been good and large enough to share between two to three people. I love the fact that it had feta cheese, sun dried tomatoes and pistachio topping to give it that special crunchiness in each bite. They do not drench the salad with dressing but if you want an extra vinaigrette dressing it is available upon request. This place gets pretty busy during lunch time in the Clairemont area and parking can be a challenge. They also offer different entrees such as different kebabs, hummus, grilled chicken, and they even have desserts. I tried one of their creamy crunchy sweet dessert once and it was delicious and not too sweet. They also have large portions so be prepared to take some home. I've never been disappointed with their food.
Even during lunch time this place is fast and efficient without compromising customer service. I love their salads and hummus. I really haven't ventured too much from the salads and hummus. Even when coming with a group of 5 they had us in and out in a reasonable time during lunch.
I have been searching for good mediterranean food in SD and this did just the job. The chicken tikka plate is filling and can be two meals if you get it to go. Don't forget the garlic sauce! The only reason I give it 4 stars is because the price seems pretty steep for med food.
The service here is amazing, the owner hustles and makes sure everyone feels welcomed. We orders the lamb biryani and the chicken tikka kebab and both dishes were very tasty. The meat is tender and the display is clean and elegant.
Came back to give it another try. Glad I did because this time I ordered the right things. The Mediterranean salad replaced with chicken shawarma was bomb. The chicken was so good with the fresh salad. We also ordered their gyro plate and hummus (not knowing the gyro plate had hummus... So we doubled ordered the hummus) the gyro was very good... We didn't get any tatziki (sp?) with the gyro and didn't know if it came it with or not but it was flavorful by itself and the rice. Very good. Service was good. Food was good. Not the cheapest but good quality.
Great spot for good quality Mediterranean dinner or lunch! I'm always going to izakaya kanpai for lunch but wanted to check this place out... I Ordered a Vegetarian Meze platter and a chicken/lamb Schwarma. Looking at their options, it might be a Better idea to choose the Aladdin platter as it includes everything (veggies/meats). The platters may be a little pricier, but it comes in generous portions, enough for 2. Both meals came with good sized, tasty salads. For dessert the Kanafa topped off our meal. Although I was slightly disappointed it wasn't crispier, it was still super yummy and warm, and hit the spot. The waiters are fun and friendly here. Casual ambience. Large restaurant with indoor and outdoor seating. There's a parking lot that sometimes gets full, so look for street parking if needed. I'll definitely come back.
See also:
Share this article
Related Posts