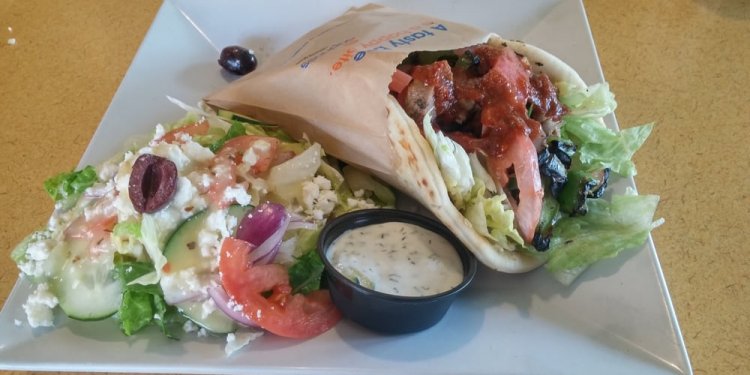 Greek Cafe San Diego
9450 Scranton Rd
San Diego, CA 92121
(858) 452-9094
I honestly cannot get enough of the place its so awesome how they treat you like family an memorize your name an what you like so quickly. I love the number 1, 3, and 13 oh and the number 7 when iam super hungry!!! They also do catering which i have ordered from them a couple of times and the food always arrives hot and delicious and most importantly on time. Greek cafe has defintly helped me make my cooking life easier! Cant thank you enough!
I love a good Gyro - and this is my go to place whenever I want one... fortunately for me, it is close to my office and they stay open until after 2PM. I typically order the Gyro sandwich - multiple times a week!
I wish I could give them more than 5 stars, because they go above and beyond whenever I come here! The staff are all amazing and I honestly don't even feel like a customer, I feel like family. To top off the amazing customer service, the food is delicious! They really are the hidden gem of the Sorrento Valley Plaza!
Quality of Greek food is decent for the typical desk job employee. I went to the bathroom and someone snatched my gyro sandwich ($5). They didn't make a big deal about it and made me another one. Huge respect on that one.
I decided to try out the Greek Cafe because I needed to stop for a pound of coffee at Starbucks and Chicks Natural wasn't sounding as good as it usually does. I had the falafel hummus plate, which was certainly a lot of food. Six small/medium falafels, greek salad, hummus, tahini and pita. The tahini was rather bland and flavorless as was the hummus. The highlight of the meal, meaning, the item with the most flavor was the giant hunk of feta on the salad. Okay, I guess it was the salad itself, but the large piece of feta was quite exciting. Overall, it's not bad for a food court experience, but I don't know that I'd make a special trip here.
The prices are much better than I had thought. I paid $9 for my gyro salad. The meat was very tasty, exactly what I was looking for! I was a little disappointed that the salad had chunks of tomatoes and cucumbers - too big to eat bite size and I didn't have the ability to cut them where I ate (quickly before a meeting). I would have appreciated if the salad came ready to go- without the need for me to cut it up. Overall it was a great experience with prompt service. I'll be back!
I have tried several different items here and have loved them all. Hot, fresh food every time. The gyro is excellent and so is their shrimp! Great salad and yummy fries too. I eat here quite often and so should you.
Great food with generous servings for a fair price. The waitress was extremely friendly and the service was great!
Tried this place for a quick lunch. I wouldn't go back. The cashier didn't seem too well-versed with the menu or special of the day. The gyros plate comes with rice or fries, gyros, pita bread and salad. The rice was just like what you get from a package of rice a roni or instant rice. The salad had a huge chunk of tomato (hard to eat) and they even left the huge chunk of the bottom of a lettuce ball in the salad (maybe some people like that? I don't) even the cheese on the salad is not crumbled. Seems the dish was lazily put together. I guess I cannot complain since it is a spot in a food court, so you get what you pay for.
This place has the cutest guys at the counter - the owners' sons. They are gentle giants, very sweet and built like brick houses. Oh yeah and the food is good too.
Amazing food and ppl food looks fresh and clean o eat here 4 days a week there chicken salad is amazing !
This place has small sandwiches and salads but they are tasty. I wish they had a few more vegetables to really make the food that much better. The prices are right though which is one of the reasons I keep coming back. I think if they added some more vegetables and made the portions bigger, this place could be truly great. I would recommend going here if you aren't that hungry and need something cheap.
This place is COMPLETELY INCOMPETENT!!! I just got back to the office only to open my take out order and find a salad with NO DRESSING anywhere to be found, and NO tzatziki sauce at all. I don't want to eat dry, flavorless meat and salad in the first place, but especially not if I don't have sauce. Thanks for wasting my time and money. I will NEVER be back here. What a joke. I thew it straight in the trash where it belongs!
I came to est here on my lunch break. You need to come early because to get a table during lunch hour is like finding a parking spot at the del mar faire. The guy took my order, although I had told him fries, but he wrote down rice. I was a little but disturbed, but the the rice was good so he can be pardoned. Lol. The meat is good and just everything fits in the right place. This is my default plate as this dish has never failed and everyone seems to like this even if they have never eaten Greek food. The only thing are getting good seats while enjoying your food because the sun burns around 11 to 12. Enough sidetracking, you get what you pay for which is a lot of food, not like cheap Chinese food, but good quality and tastes good. Thats all that matters, either way you will not be disappointed of you come here.
The food is fresh, delicious and reasonably priced. I usually get the special of the day for $7.50. Today I ordered, The gyros plate. It comes with delicious marinated slices of beef, fresh Greek salad, rice/fries and pita bread. Don't forget to ask for some of their hot sauce, I don't know the name but is bomb. There's usually a line during lunch hours but is totally worth the wait. Very friendly staff and pretty girl at the register. ;) Enjoy!
Always consistent and fresh. Good prices and friendly. It's a good court but this place is very good and you wouldn't expect if. Give it a try.
Food was awesome had great bread and plenty of meat. I would come back again. The people are so nice and the place is clean.
Been eating here since 2004 when I worked at Sbux next door. Thier Gryo Sandwich is the BEST in town, really. The meat and tzaziki sauce is sooo good, and hot sauce.. on your sandwich or thick steak fries, good with everything. I've also had kebabs, salads, falafel, dolmas, spanakopita.. never been dissatisfied. Plus, friendly and prompt service. They remember me since I was a teenage barista. But purely 5 stars for delicious food.
Stopped by for a quick lunch with my mom today! Huge portions for a reasonable price and a very friendly staff. Overall wonderful!
Share this article
Related Posts