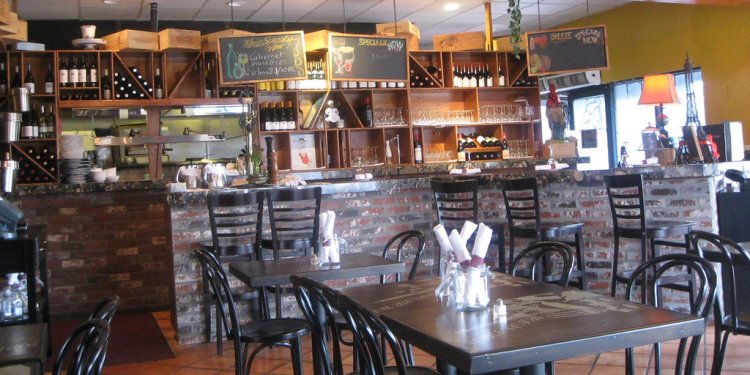 Au revoir Restaurant San Diego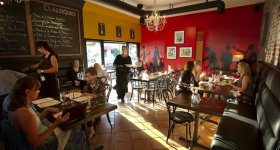 I'd spent most of a hot muggy afternoon at the dentist's office, getting inspected and x-rayed and filling out a long, nosy form that began with "Are you alive? Y/N." The obvious thing to do afterward was to go out with my friend and ride-giver, Dave, drink well-chilled white wine, and eat some good food. Since Dave has spent a lot of time in Paris, we headed straight for the newish Au Revoir Bistro.
Au Revoir occupies the former space of La Vache, a French bistro where I never ate; the unchanging menu and drab decor seemed too depressing. Now it's owned by popular nearby Italian restaurant Arrivederci— hence the name, Au Revoir, French for "arrivederci" ("so long"). The decor has been freshened up to look as rough-hewn Gallic as Gérard Depardieu, with a marble bar and corner seats for two in leather booths, the rest on unpadded wooden chairs. An eclectic music track (French, Spanish, Nashville) plays on the speakers. You're greeted and seated by a charming Frenchwoman who can answer all your food questions. Ah, nothing like some French staffers to make it feel real.
That, and a French chef who nearly became a local superstar: René Herbeck. Twelve years ago, Herbeck excelled at Marius, in the Coronado Marriott. When the hotel replaced that French restaurant with something more plebeian, Herbeck went to work in the Encinitas Lumberyard at a new venture called Twins, where I first tasted his cooking and was highly impressed. Too soon, the owner fired him — "Spending too much on ingredients" was the excuse I heard — and without the chef, Twins expired.
Herbeck hooked up with Amiko Gubbins at Parallel 33. When that came to an end, he went to work for Philippe Beltran at Bleu Bohème (the ever-wandering Beltran has since moved on from there, too). I was shocked by Herbeck's seeming decline, finding the food there stodgy, mediocre French-for-Yanks, with certainly not too much spent on ingredients. So, here the chef is again, hopefully free to be more himself.
I began with a glass of cold Vouvray, Chenin Blanc from the Loire. Just what the doctor (dentist?) ordered, a bit sweet (must have been a sunny year) but light, insouciant, cooling in the wet heat of the day. Dave found a delicious red Côtes du Rhône, probably a Chapoutier (a top Rhône négociant) given its high quality and easy price.
The menu is rather short, 14 items in all (including the requisite cheese plate and a charcuterie plate that doesn't claim house-made credentials on the menu). Choices are divided between a page of Classiques and one of En Saison, the latter prone to change seasonally — probably, before you read this. I did wonder, though, why a "petite salad d'automne" was on there all spring and into July.
With our menus came diplomatic negotiations, weighing our various taboos. My veto was boeuf bourguignon, the budget prix-fixe of every single restaurant I ate at during a week in Burgundy some years ago, until I never wanted to see it again. (Even in some great version, it's still just beef stew, not a personal favorite.) I didn't want halibut, either — too many disappointments with that fish. Dave's a microbiologist: he doesn't like escargots and distrusts all bivalves, including mussels. Fried calamari was too boring for both of us, ditto a variation on Caesar salad. Who needs these ubiquitous clichés at a bistro? Might as well eat at T.G.I. Friday's.
Share this article
Related Posts