Bankers Hill San Diego Restaurants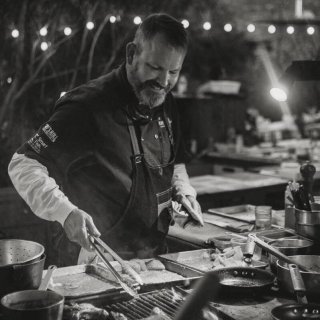 Basile's firm, BASILE Studio, has been the firm on record for countless high-profile restaurants, including Ironside Fish & Oyster and Soda & Swine. Though he'll continue to work with other hospitality groups — he's currently doing the Craft & Commerce revamp and Little Italy's new Born & Raised with CH Projects — the designer is also delving into the ownership realm with stakes in South Park's KINDRED and the recently-opened East Village outpost of Tajima.
The chosen chef who will drive the concept and lead the kitchen is Drew Deckman, whose career has spanned the globe; he spent 10 years working in Europe, where he was awarded a Michelin star at Germany's Restaurant Vitus, and landed in Baja nearly a decade ago where he founded the acclaimed Deckman's en el Mogor at the Valle de Guadalupe's Mogor Badan Winery in 2012.
Basile and Deckman came to Eater for their first official interview about the yet-unnamed restaurant, which is currently slated to open in early 2017. Though the project is still in development, Basile says his design for 2, 800-square-foot restaurant will be clean and contemporary, employing his signature style of maneuverable walls, windows and doors and incorporating the original mid-century features of the building.
The chef's domain will be the focal point, highly visible in the dining room, and centered around a large wood-fired grill and coal-powered oven. Deckman, whose restaurant in the Valle de Guadalupe is a marvel of outdoor cookery and a celebration of the local bounty, says he will apply the same philosophies to his first San Diego restaurant. An active leader of the Slow Food movement, Deckman tells Eater that his menu will be "ingredient-driven and regionally-responsible" and says he's looking forward to building relationships with area farmers, ranchers and fisherman. Though Basile and Deckman aren't labeling the project
Share this article
Related Posts