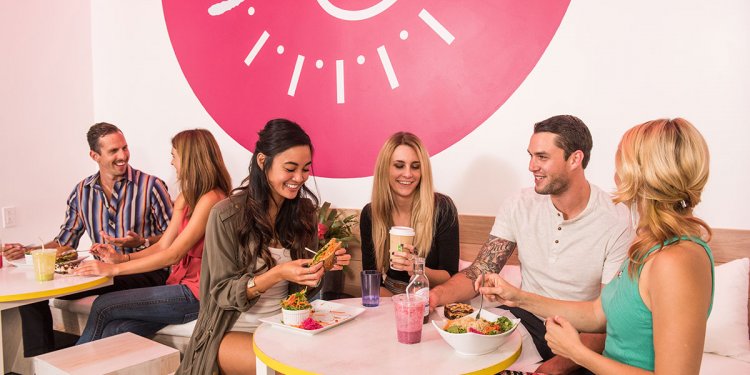 Best healthy Restaurants San Diego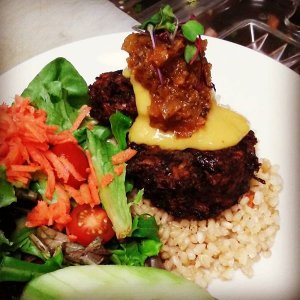 As you are deciding where to eat one night, you begin to crave asparagus, kale, mushrooms, and all of your other favorite vegetables. You even begin to want a black bean burger. Where do you go to satisfy your vegetarian or vegan desires? San Diego has a variety of healthy restaurants for you to choose from.
Plant Power Fast Food
2204 Sunset Cliffs Blvd.
Meet the future of fast food at Plant Power Fast Food. Gone are the days where you have to search for vegetarian items on regular fast food menus. Develop a new fondness for fast food.
The various menu items such as burgers, fries, salads, and shakes are made without animal products, GMO's, or artificial ingredients. Create your own burger with an organic tempeh or black bean patty. You can even have a burger patty that is ¼ pound of 'beef.' Enjoy a jumbo veggie wrap filled with spinach, avocado, cashew hummus, mustard, tomatoes, onions, carrots, sprouts, bell pepper, and cucumbers.
As you are enjoying your tasty meal at Plant Power, you will not even believe you are eating fast food.
Moncai Vegan
3531 Adams Avenue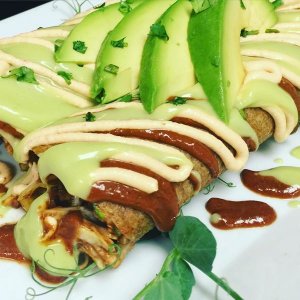 Purchasing locally sourced food and preparing meals that are without GMO, Moncai Vegan brings you healthy food choices that are delicious and nutritious. Helping people live healthier lives is a time honored tradition at Moncai Vegan.
Taste the flavorful grilled vegetable linguini filled with broccoli, zucchini, and bell peppers. Organic brown rice, beans, and guacamole are just a few of the side items. Desserts such as cinnamon rolls, donuts, and cupcakes are available, and fresh daily specials are made with ingredients purchased from local organic farmers.
Peace Pies
4230 Voltaire Street
Peace Pies has been honored with a variety of awards naming it the best raw restaurant in San Diego. Raw, vegan, organic, and gluten-free foods are all at Peace Pies.
As you look over the menu, you will find a wide assortment of healthy foods that will help you live better. Choose from pizzas, salads, wraps, dried goods, pies, desserts, and chocolate to fit the healthy lifestyle that you are committed to. Smoothies and shakes only add to the flavorful menu items.
Chennai Tiffins
9484 Black Mountain Road
Experience authentic South Indian vegetarian food that has incredible flavors along with spices and seasonings that will make your mouth water. Take the time to enjoy South Indian cuisine in an original way.
The menu is loaded with authentic South Indian meals and you have lots of new foods to discover. Try the vegetable kurma, the vegetable biriyani, or the tomato uthapam. Enjoy vegetarian food from another culture that will provide your taste buds with an assortment of flavors.
Jyoti-Bihanga
3351 Adams Avenue
If you desire to enjoy vegetarian food in a spiritual and enlightening atmosphere, then Jyoti-Bihanga is the restaurant for you. Inspired by philosophy, spirituality, and meditation the food at Jyoti-Bihanga will bring you peace, comfort, and joy.
The avocado hummus wrap is made with fresh roasted beet hummus and wrapped in an original vaidya mix consisting of carrots, beets, ginger, and cilantro. The baker steamer has fresh baked russet potatoes that are topped with steamed vegetables, grilled tofu, and jack cheese.
One of the unique qualities about Jyoti-Bihanga is their all you can eat Sunday breakfast buffet. Vegetarian and vegan delicacies such as whole wheat blueberry pancakes, French toast, cottage fries, and tofu scramble can be found on Sunday mornings. Begin your week with an amazing meal on Sundays.
San Diego has a large assortment of vegetarian and vegan restaurants for you to try and enjoy. As you try new foods, you can learn about other countries, cultures, and philosophies. Staying healthy and eating exciting foods is an excellent way to live life.
Share this article
Related Posts