Best Vegetarian Restaurants San Diego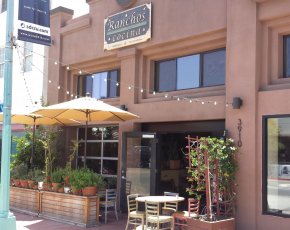 Push tasteless tofu to the side: a new generation of vegetarian and vegan restaurants featuring meat-free menus has given San Diegans of the plant-eating persuasion a plethora of choices for flavorful food. From new wave eco-chic cafés to bohemian joints weaving magic with organic produce, behold some of the finest veggie and vegan-friendly fare in the city.
1 Cafe Gratitude
From the Humble Bowl to the Hearty Raw Italian Pizza, each plant-based dish is created with love and enlightenment at this health conscious hotspot. For libations think tonics and wellness elixirs. In the mood for something stronger? The Mojito Spritzer is one of several adult beverages available.
1980 Kettner Blvd
San Diego, CA 92101
(619) 736-5077
2 Kindred
From the well-crafted drinks to the chef-driven plates (cauliflower steak, jackfruit sandwich), this hip cocktail den serves up an impressive all-vegan menu. Check out the vegan brunch and the bar's weekly tiki Thursdays.
1503 30th St
San Diego, CA 92102
(619) 546-9653
3 Plumeria
Classic Thai dishes get a vegetarian makeover at this budget-friendly eatery. Open for lunch and dinner, all entrees come in under $10 with the option to add vegetables, non-GMO steamed/fried tofu or vegetarian chicken, beef and shrimp to the assorted entrees.
4661 Park Blvd
San Diego, CA 92116
(619) 269-9989
4 Sipz Fusion Cafe
Asian-inspired appetizers and soup and salad 'bowlz' share menu space with noodles, rice dishes and vegan sushi: duck, fish and abalone are offered as exotic alternatives to standard 'mock meats' like chicken. The Thai Curry (coconut, eggplant, potatoes) is a customer favorite, while the vegan coconut cupcakes ($2.25) are hard to resist.
5501 Clairemont Mesa Blvd
San Diego, CA 92117
(858) 279-3747
5 Jyoti-Bihanga
Raw zucchini pasta, soups and salads keep the lunch and dinner crowds happy at this serene little spot, which has been serving up spiritual master Sri Chinmoy approved vegetarian fare since 1986. Featuring challah bread, scrambles, veggies, fresh fruits, granola and vegan apple cake, the twice monthly all you can eat Sunday Breakfast Buffet ($10.95) is the real star of the show.
3351 Adams Ave
San Diego, CA 92116
(619) 282-4116
6 The Purple Mint Vegetarian Bistro
Specializing in Vietnamese-vegetarian fusion, dishes cost $10 or less at this family-run bistro in Grantville. Popular starters include the Fiery Shrimp ($8.25) and the Satay 'Chicken' Lettuce Wraps ($9.95), there are ten soups too, including Pho Chicken and Nam Yang Style Noodle.
6171 Mission Gorge Rd Ste 116
San Diego, CA 92120
(619) 280-3388
7 Sol Cal Cafe
Sol Cal's vegan, dairy and gluten-free menu offers everything from ayurvedic elixirs to all-day breakfasts, plus an abundance of soups and salads. Small bites include assorted toasts with toppings like banana almond butter, while coffee concoction 'Java The Chai' is a delicious blend of banana, coconut milk, coconut nectar and chai.
910 J St
San Diego, CA 92101
(619) 255-2927
8 Trilogy Sanctuary & Cafe
This eco-chic rooftop café offers a wealth of organic, vegan, gluten-free dishes and treats to nourish mind, body and spirit. Enjoy a post-yoga breakfast (8 to 11 a.m.) of crepes, granola and organic oatmeal or simply sit back and sip on one their delightfully named super smoothies (Magic Matcha, Serenity) and watch the aerial yogis in action.
7650 Girard Ave #400 (PH - Penthouse)
La Jolla Village, CA 92037
(858) 633-3893
9 Evolution Fast Food
San Diego's only vegan drive-through serves up an extensive array of sandwiches, salads, burgers, wraps, smoothies and more. Everything from the walnut and pecan meat raw stuffed tacos to the chimichurri carne sandwich is made from scratch at this speedy Bankers Hill health food spot.
2965 5th Ave
San Diego, CA 92103
(619) 550-1818
10 Loving Hut
The El Cajon outpost of this international chain features wraps, noodles, rice dishes and desserts all made with creative incarnations of soy and tempeh proteins. Several dishes have an Asian focus – Lucky Chow Mein, Drunken Noodles – while the award-winning Avocado BLT is a house favorite amongst the selection of Western specialties.
1905 El Cajon Blvd
San Diego, CA 92104
(619) 683-9490
11 True Food Kitchen
Based on the principals of Dr. Andrew Weil's anti-inflammatory diet, the menu at this eco-chic concept (known for serving quick and quality health-conscious fare) caters to vegan, vegetarian and gluten-free diners alike.
7007 Friars Rd Ste 394
San Diego, CA 92108
(619) 810-2929
12 Moncai Vegan
The chick'n dumplings and yucca black bean cakes are two equally solid choices at this cozy cafe. Comprising a vegan scramble, roasted potatoes, maple-smoked tempeh bacon, fresh fruit, fluffy pancakes and drop biscuits, Moncai's Sunday brunch might just steal the show.
3531 Adams Ave
San Diego, CA 92116
(619) 228-9881
13 Pokez Mexican Restaurant
While you can load up on classic meat-y Mexican fare like carne asada fries and enchiladas, Pokez is well-loved for its great selection of vegetarian and vegan items too. For "South of the Border cuisine with a plant based twist" try the potato flautas, tofu fajitas or mushroom burrito.
947 E St
San Diego, CA 92101
(619) 702-7160
14 Mozy's Cafe
Loved by locals for its "good food, good vibes", and offering plenty of 'fresh and vegan friendly' fare, head to Mozy's for an amazing acai bowl (some of the best in Leucadia) or plantain burrito. Don't miss: the peanut butter cookie balls.
698 N Coast Highway 101
Encinitas, CA 92024
(760) 944-9168
15 Veggilish
Healthy eating abounds at this one-stop bomb shop for bowl-based meals. Serving plenty of fresh veggies and other protein options, menu standouts include the zucchini soup, smoothies, and, of course, the quinoa based salad bowls. Check in on Yelp to receive a free organic hibiscus drink.
1146 Seventh Ave
San Diego, CA 92101
(619) 798-3381
16 Plant Power Fast Food
All your fast-food favorites are available animal product-free at this vegan concept in OB. Burger variations come with organic tempeh or black bean patties and vegan ice cream is blended with almond milk for creamy old-fashioned milkshakes. An Encinitas location is currently in the works.
2204 Sunset Cliffs Blvd
San Diego, CA 92107
(619) 450-6845
17 The Naked Cafe
This lovely spot across the street from Fletcher Cove serves a globally influenced menu of breakfast and light eats: standouts of which include the plate of Prosperity (scrambled egg whites, soy sausage, feta cheese), and the tofu, avocado and Sriracha-filled Transcendence wrap.
Share this article
Related Posts