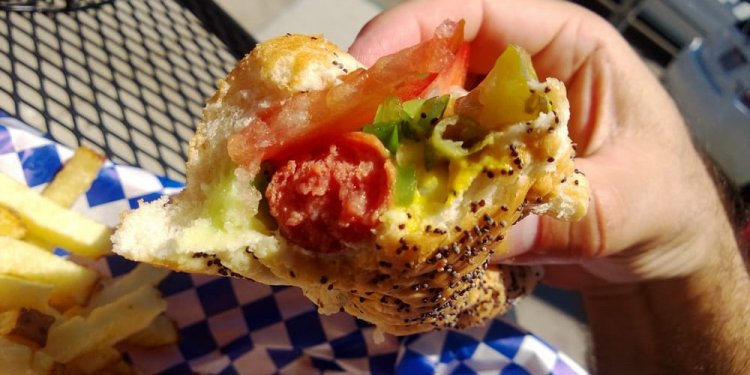 Dog friendly Restaurants San Diego
We know your pup would much rather be out on the town with you than watching TV alone at home. San Diego is a great place for dogs to dine out with many great dining experiences for both you and your furry friend! Well-behaved, leashed dogs are allowed at the following restaurants and cafés. As policies allowing dogs may change, please call the restaurant to confirm they are still pet-friendly. Here are just a few of our favorites:
Only take a well-trained dog that socializes well with people and other dogs.
Always keep your dog leashed and at a safe distance from other diners.
Bring your own food and portable water bowls in case the restaurant doesn't provide them.
Keep your dog content by providing special treats and chew toys.
333 5th Ave, San Diego, CA 92101
(619) 795-9463
Inspired by San Diego's appreciation for craft beer and craving for fresh, creative cuisine, Union Kitchen & Tap is uniquely suited to provide guests with the best of both worlds.
Café Chloe
721 9th Ave.San Diego, CA 92101 619-232-3242
Billed as a European Café, this spot offers good food, beer and wine with a small street-side patio where dogs are welcome.
Knotty Barrel
844 Market Street, San Diego, CA 92101
619-269-7156
Featuring fine, locally-sourced food and a selection of over 100 local, domestic and imported beers from around the world, including over twenty craft beers on tap. During football season, the Knotty Barrel opens earlier on Sunday at 9am for breakfast.
Pier Café
885 West Harbor Drive, San Diego, CA 92101
619-239-3968
More than just a casual café, the Pier Café sits along the Harbor at SeaPort Village and offers a full menu – from burgers to seafood specials. And the best part is, they're pet-friendly.
One Market Place, San Diego, CA 92101
619-358-6740
Located on the Harbor at SeaPort Village, this restaurant is part of the Manchester Grand Hyatt and offer fresh seafood in an upscale atmosphere. Pets are welcome on the patio.
1536 India Street, San Diego, CA 92101
619-234-6802
Part of the Cohn Restaurant Group, Indigo Grill is a fixture in the Little Italy neighborhood of San Diego. The menu features an eclectic mix of Central and South American cuisine and offers a pet friendly patio.
Baja Betty's
1421 University Ave, San Diego, CA 92103
(619) 269-8510
Located in the historic Hillcrest district, Baja Betty's is famous for their Sunday brunch with bottomless Mimosa's.
The Regal Beagle
3659 India St. #101, San Diego, CA 92103
619-297-2337
A quaint bar located just off the 5 FWY at India St., The Regal Beagle offers a good selection of craft beer, grilled sausages and appetizers. Pooches are welcome on the patio.
1549 El Prado, San Diego, CA 92101
619-557-9441
Located in the heart of Balboa Park, The Prado is a San Diego favorite. Owned by San Diego's famous Cohn Group, the restaurant features upscale California Cuisine in a beautiful setting. Bring your dog for brunch on the patio – you won't be disappointed.
Parkhouse Eatery
4574 Park Blvd., San Diego, CA 92116
619-295-7272
Neighborhood hipster eatery with good food, relaxed atmosphere and open arms to furry friends.
The Public House
830 Kline St, La Jolla, CA 92037
(858) 551-9210
This historic house turned diner features indoor and outdoor seating and hundreds of beers, over 40 on draft. For the truly ambitious, join the 80 beers in 80 days club to be entered to win a brewery tour destination trip.
7536 Fay Ave, La Jolla, CA 92037
(858) 246-6759
As the premiere craft beer destination in La Jolla for La Jollans, LJBC will not only feature our own hand-crafted beer, it will also feature a 24 tap rotating selection of local San Diego County craft beers to keep La Jolla tastefully entertained.
8980 Villa La Jolla Dr., La Jolla, CA 92037
858-450-9277
With an on-site working brewery and an assortment of cuisine choices, everyone will find something to love at Rock Bottom. Even furry friends.
832 Garnet Ave, San Diego, CA 92109
(858) 859-2593
Backyard Kitchen & Tap is a chic, yet cozily coastal American eatery and natural fit for the laidback vibe of Pacific Beach. Dogs are allowed in the outdoor areas, which are celebrated with three cabanas, live walls, fire pits and an indoor/outdoor bar. For a tasty brunch, lunch or dinner, Backyard satisfies every palate with scrumptious American favorites and spirits.
4445 Lamont St, San Diego, CA 92109
(858) 412-4648
Craft cocktails and exquisite California cuisine come together in this unique venue centered around outdoor space. Bring your pooch during Saturday and Sunday brunch and get "Dogtails", half off certain cocktails.
Bayside Landing
3780 Ingraham Street, San Diego, CA 92109
(858) 270-9200
Bayside Landing features quality food anc local craft beers. All along the streetside is a large bay window and counter where dogs are welcomed.
The Local
809 Thomas Ave, San Diego, CA 92109
(858) 263-7475
The Local brand was born over a decade ago with the opening of The Local in downtown San Diego. This recent addition by the beach features local musicians, craft cocktails and beer, and great food. Dogs are allowed downstairs on the patio.
Fig Tree Café
5119 Cass Street, Pacific Beach, CA 92109
(858) 274-2233
The café inhabits an old cottage with a dog-friendly patio, surrounded by a garden-like setting just off the beach-goers' beaten path. According to local lore, the flagship locale even includes an old putting green, left intact underneath the deck.
O'Bistro Café
4934 Voltaire St. San Diego, CA 92107
619-223-2202
Located in Ocean Beach, this beachy café offers California eclectic cuisine and welcomes furry friends.
2660 Calhoun St. San Diego, CA 92110
619-297-1874
This historic setting in Old Town offer contemporary cuisine and welcomes pets on their beautiful patio.
Lazy Dog
1202 Camino Del Rio N, San Diego, CA 92108
(619) 481-6191
All dogs are welcome here. It's in the name! Lazy dog has a cozy open air patio with a fire pit and a great happy hour. Brunch is served Saturdays and Sundays.
543 Hotel Circle S, San Diego, CA 92108
(800) 227-4743
Incorporating the finest ingredients, including local organic produce and natural beef, Bunz Burger joint is energetic, modern, upbeat, fun and most importantly, delicious!
Fred's Mexican Café
2470 San Diego Ave., San Diego, CA 92110
619-858-8226
Charming café in the heart of Old Town, Fred's offers traditional me Mexican food and drinks plus welcomes furry friends "no problema."
Share this article
Related Posts