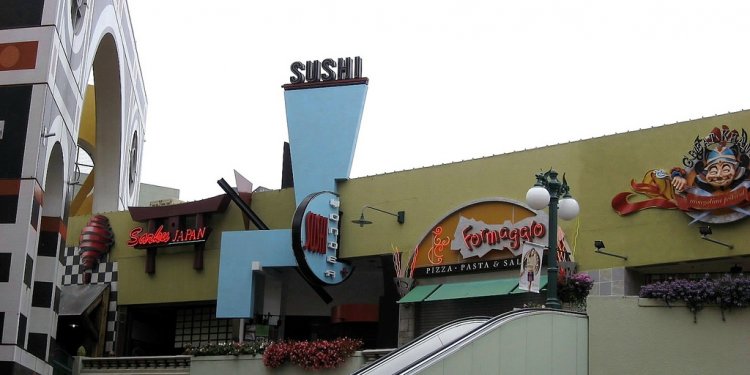 Mongolian Restaurant San Diego
17120 Bernardo Ctr Dr
San Diego, CA 92128
(858) 385-0020
It has been years since I've visited a Mongolian grill but I've always loved the concept of selecting your own ingredients to make your dream dish. Unlike other Mongolian grills that I've visited in the past that only offered an all-you-can-eat option, Stir Fresh lets you choose between gorging yourself with as many trips through the line as you can manage and the slightly cheaper one-time-through-the-line choice. While you understandably can't bring leftovers home with the all-you-can-eat, you can with the one-time. As a light eater, it made more sense for me to save a couple bucks and bring half my meal home. Which option is best for you would simply depend on your appetite. With the one trip option, I tried to pile as much as I could into my bowl. In hindsight, I think I could have done a better job of stacking the ingredients. I thought I had more than I actually did but the bowl is deceptively shallow. Reading the other reviews, it seems that everyone makes it into a game to see how much they can pile on the bowl and I apparently shouldn't feel shy about doing the same. I'll keep this in mind on a future visit and see if I can increase my bowl's capacity. There's a lot of ingredients to choose from but I decided to fill my bowl with a combination of beef and chicken, pineapple and lots of noodles. I'm a sucker for carbs and love stir fry noodles so even though it's one of the cheaper options to fill the bowl with, it's still my favorite. If you're a veggie fan, there are a lot of veggie choices too. At the end of the aisle lies the sauce station and there's a list of suggestions on the wall. I, of course, didn't notice this until I sat down with my food and instead just haphazardly dumped a scoop of a soy sauce, teriyaki sauce and garlic on my bowl. I think I was supposed to use more sauce than I did though. I'll pay closer attention on my next visit. Once the bowl is complete, the chef prepares it on a big open grill and it's ready within a couple minutes. Then you return to your table where a bowl of white rice and sesame bread is waiting. I appreciated the side of rice but found the sesame bread to be strange. I think I needed some butter or something to go with it because dry bread isn't fun. I visited Stir Fresh around 2:30 in the afternoon on a Friday and had zero wait. In fact, I was the only person filling my bowl at the time and there was only a handful of other tables at the restaurant.
The stars are for our waiter. He did an amazing job accommodating us. Super friendly, knowledgeable, and quick to respond. Now, my opinion is formed from prior experiences at Mongolian Restaurants. The food here is super bland (regardless of how many bowls of seasoning you throw in). They give you a rice bowl (the size of your palm) to SHARE with the rest of the table. Need at least one more rice bowl to accommodate the rest of your party? It'll cost ya. Oh, and it's a one bowl policy (unless you wanna pay more, again- which would've been fine if the food was good at least)... Seriously the worst Mongolian I've ever had in my life!
I love Mongolian BBQ. It is one of my favorite genres of Asian cuisine. Stir Fresh is ok, but just OK. The family and I came in for lunch today. We were seated and ordered our drinks and then headed off to the buffet. If you've never been to Mongolian BBQ before: you grab a bowl and fill it with all sorts of raw foods, and then a cook stir frys it for you on a large, flat, iron griddle. They have a nice selection of meats and veggies, and a wonderful variety of sauces. Be warned though, they are super watered -down, so you need to add heaps of sauce for any significant flavor to develop. It's just that the way they charge you is a bit weird. There is a $2.00 difference between just getting one bowl or all-you-can-eat. You may only fill one bowl at a time, and the bowls are not all that big: Thus people are piling them as high as possible before giving them to the cooks. It's ridiculous watching people's bowls spilling over everywhere as they try to cram on as much food as possible! Seriously, they just need to call themselves all-you-can-eat, and simply charge one price. As well, the service is mind-bogglingly slow, and good luck getting your drink refilled. We had to ask three times for a refill. But they watch you like a HAWK just in case you go for a second helping! While I do love the concept and am a huge fan of the Mongolian style of cuisine, the likelihood that I'll return to Stir Fresh is not likely.
Share this article
Related Posts