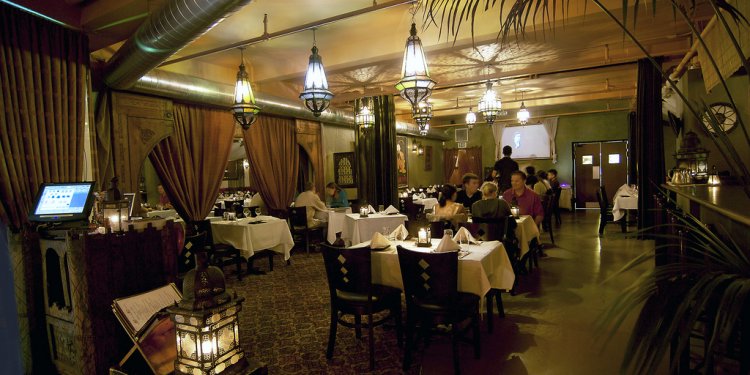 Moroccan Restaurant San Diego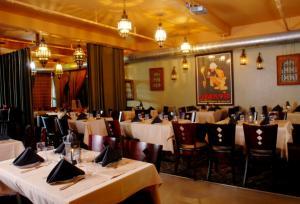 Quick Facts About Kous Kous Moroccan Bistro
The concept for San Diego's Kous Kous Moroccan Bistro was inspired by the owner Moumen Nouri's childhood growing up in Marrakech, Morocco.
San Diego Magazine voted Kous Kous Moroccan Bistro "The Best Middle Eastern Restaurant."
This culturally infused restaurant serves up cuisine from, which is a North African country.
Ambiance: The colorful tapestry and cultural artwork at Kous Kous Moroccan Bistro reflect the worldly cuisine as intricately designed lanterns hang from the ceiling and light the dining room area. The lounge couch seating and dim lighting give this restaurant a cozy and romantic feel, perfect for date night or an intimate conversation.
Why We Dine: If it's your first time dining at a Moroccan restaurant or you can't decide between your favorite dishes, San Diego's Kous Kous Moroccan Bistro makes it easy for you to dine and decide. The restaurant offers feasts, which are family-style meals so you can taste test each dish and share with your dinner company, while the Moroccan tapas menu features a variety of appetizers that are great for pairing with one and another before your main course. Several of the tapas are also available as vegan or vegetarian options. Additionally, San Diego Kous Kous Moroccan Bistro serves fun and unique cocktails that match the cultural flair of the exotic cuisine.
Moroccan Feasts: San Diego Kous Kous Moroccan Bistro serves up family-style meals so you can share dishes and get a little taste of everything. Each feast comes with a serving of couscous, saffron rice, fresh baked Moroccan bread and dessert in addition to several main dishes.
Signature Cocktails: The cocktail menu is as exotic and spicy as the dinner menu at San Diego Kous Kous Moroccan Bistro. The desert rose cocktail is an unconventional blend of rose tea, gin, cucumber and triple sec while the sit sin is a citrus cinnamon concoction of Mandarin Absolut, Citron Absolut, orange juice, cinnamon schnapps and cream.
Moroccan Tapas: Whether you want a little something to nibble on before your main course or you'd like to mix and match your tapas with your dinner date, the Moroccan appetizers offer a variety of choices from the harira soup, which is a lemon tomato broth with beans, to the zaalouk, which is roasted eggplant cooked with cumin, lemon and olive oil.
The Local Scoop: Every Monday is Meatless Monday at San Diego Kous Kous Moroccan Bistro in which vegetarian options are celebrated as guests receive 25% off of all meatless meals.
What We Recommend:
Merguez: This lamb sausage kabob appetizer served with ginger, garlic and an herb marinade comes with traditional saffron rice at Kous Kous Moroccan Bistro in San Diego.
Surf and Turf Feast: This combo from the land and sea is created for you to share with company as it includes tiger shrimp kabobs, lamb chops, fish of the day tangine, endive pockets, B'stila rolls and tomato and cucumber salad more than enough food to satisfy any hungry belly.
Features:
Cuisine: Moroccan
Alcohol: Full Bar
Reservations: Accepts reservations
Price: $$
Traffic stats
Share this article
Related Posts