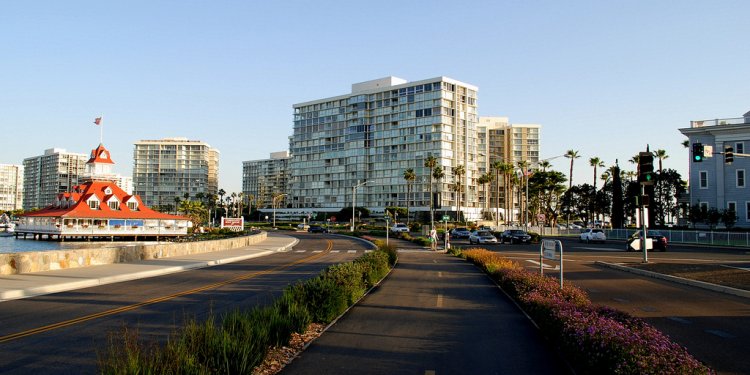 Restaurants in Coronado San Diego CA
Best Bar
McP's Irish Pub & Grill
Where: 1107 Orange Avenue, Coronado, CA 92118
Phone: 619-435-5280
Web site: www.mcpspub.com
McP is Greg McPartlin, a former Navy SEAL who opened his place in 1982 as a hangout for men and women in uniform. Civilians flock to McP's to rub military elbows on the patio during the day and to listen to live music performed every night of the week. Performers are usually local jazz, blues, classical and rock musicians and, on special occasions, Irish folk artists. McP's has a variety of beer on tap including Guinness, Bass, Harp, Honey Wheat Brew and hard cider. The eclectic bar menu has an Irish flair with dishes like Mulligan stew and corned beef and cabbage but includes standbys such as PBJ and Spaghetti-Os for new recruits.
Best Waterfront Atmosphere
Bay Beach Cafe www.baybeachcafe.com
Friendly and crowded, Bay Beach Cafe is a casual and inexpensive eatery in the Ferry Landing Marketplace - a complex of dockside boutiques, specialty shops and galleries on the bay side of Coronado. Guests can eat either indoors or out on the sundeck and enjoy views of the glimmering San Diego skyline and ferryboats docking at the old wooden pier. Happy hours lure crowds for bargain-priced drinks and sunset views. A pub menu features burgers, sandwiches and salads. Dinner entrees emphasize fresh seafood and traditional California-style cuisine. Open for breakfast, lunch and dinner; reservations recommended for weekend dinners.
Best Local Seafood
Azzura Point
Where: Loews Coronado Bay Resort, 4800 Coronado Bay Road, Coronado, CA 92118
Phone: 619-628-5479
Web site: Click here!
Azzura Point is Coronado's big-occasion restaurant, acclaimed for its dramatic views of San Diego Bay, Coronado-San Diego Bridge and the San Diego skyline as well as for its California-French cuisine. Serious seafood junkies come here for local (and non-local) specialties such as oysters marinated in sake and ginger, pan-seared John Dory, Pacific salmon with black truffle sauce, mesquite-grilled swordfish and the 10-spice ahi tuna. Meat dishes are equally as fancy and the vegetarian menu features dishes that incorporate herbs grown in the hotel's garden. A pricey wine list emphasizes California but includes unusual offerings from near and far. Five-course tasting menus fall into the $55 to $70 range with entrees priced from $18 to $30. Reservations are recommended. Try to get there in time for the sunset.
Best Family Restaurant
Miguel's Cocina
Where: 1351 Orange Avenue, Coronado, CA 92118
Phone: 619-437-4237
Web site:
Miguel's is a colorful and noisy Mexican restaurant where diners can enjoy outside dining throughout the year - heat lamps warm the lush tropical patio when the temperature falls. The menu features usual Mexican suspects - tacos, tostados, burritos, chile relleno in various permutations plus unusual items such as calamari relleno and shrimp in jalapeno cream sauce. A modest "Gringo Food" section offers burgers. Along with various Mexican brews on tap and in bottles, grown-ups can order The Really Mexican Margarita and four other varieties of frozen drinks while children guzzle virgin margaritas and pina coladas.
why is instagram shopping not available for my account
what is a regional shopping center
how to get on google shopping
how to submit products to google shopping
what is the biggest shopping center in the world
how to put a car seat on a shopping cart
when is dubai shopping festival
why not showing on google shopping
can i go essential shopping when self isolating
how far can i go shopping during lockdown
how to make christmas shopping less stressful
what to take to wedding dress shopping
why was there cctv in arthur's house
what don't you like about shopping
how does shopping on alibaba work
when do you pay deposit for house
when does late night shopping start in birmingham
what does the shopping cart emoji mean
where to buy shopping trolley
athena rayne where shopping is a pleasure
why do people love shopping
what to wear for shopping in london
what is famous in sri lanka for shopping
which westfield shopping centre is better
when do sainsbury's take payment for online shopping
when did sainsburys start online shopping
how to send amazon shopping list
how to describe shopping experience
what time does the kingfisher shopping centre open
what is black friday shopping
how to delete items from amazon shopping basket
shopping in new york what to buy
who uses online grocery shopping
write five sentences about why i like to go shopping
how much does a shopping center cost
how to create shopping list on tesco
where to get shopping coupons uk
how to get to braehead shopping centre from glasgow
what is the best free shopping cart
how much do you need for a house deposit
why isn't star shopping on spotify
Share this article
Related Posts