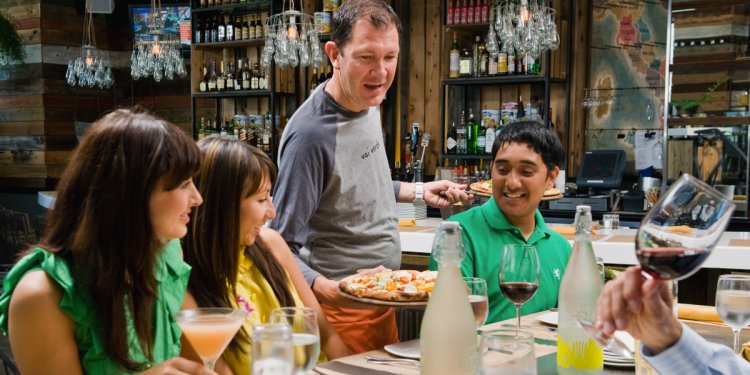 San Diego Restaurant Week 2014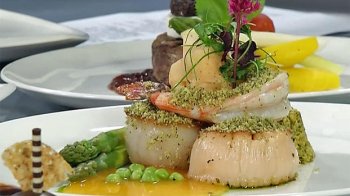 Foodies, this one is for you: San Diego's top-notch dining scene will be showcased once again later this month as San Diego Restaurant Week (SDRW) returns.
Celebrating its 10th anniversary, SDRW will run from Sept. 21 through Sept. 26. Over the course of those six delicious days, foodies can dine at more than 215 participating restaurants across 12 regions throughout San Diego County, including Downtown San Diego, La Jolla, North County Coastal and Inland and Coronado, just to name a few communities.
At a press conference Wednesday, SDRW chair Joe O'Donnell of Ruth's Chris Steakhouse talked about the importance of Restaurant Week for America's Finest City.
"I'm extremely proud to highlight the terrific restaurant and culinary scene we have in San Diego, " he said. "San Diego Restaurant Week is truly a community event."
To kick off the event, organizers held a mini cook-off at Catalina Offshore featuring chefs from 100 Wines Kitchen, Bleu Boheme, Fish Public, Terra American Bistro, Vessel Restaurant and The Wellington Steak & Martini Lounge.
Each chef was accompanied by San Diego Councilmember filling in as their sous chef, including Mark Kersey, Lorie Zapf, Scott Sherman and Chris Cate.
Former San Diego Mayor and current CEO of the San Diego Regional Chamber of Commerce Jerry Sanders also joined in on the cook-off.
"I'm hoping to learn a new profession, " Sanders joked as he garnished a local tuna sashimi dish with crisp watermelon radish and granny smith apples.
San Diego's annual culinary event happens twice a year and features discounted prix-fixe menus at each restaurant, meaning foodies can try different dishes at special prices that range between $10 to $20 for a two-course lunch or $25 to $45 for a three-course dinner.
No passes are required to attend SDRW, just pick the local restaurant where you'd like to eat and go there – easy as pie.
Get in on San Diego Restaurant Week
This year, participating restaurants include The Patio on Goldfinch in Mission Hills. That location will offer a $15 "Locals Who Lunch" menu that includes any sandwich, a choice of a French market vegan salad or watermelon salad, plus a mini dessert.
Downtown San Diego's BiCE Ristorante in the Gaslamp Quarter will offer a $45 three-course dinner that includes ahi tuna served with zucchini, creamy shallot sauce and quail egg, followed by braised rabbit ravioli with kale and Mediterranean olives and creamy leek and thyme sauce. For dessert, the menu will offer dark chocolate crostata with apricot and spicy mango tequila sauce. You might want to make reservations at this restaurant ahead of time.
Free or Cheap Things to Do in San Diego
In the La Jolla area, Beaumont's Eatery in Bird Rock will offer a three-course, $35, prix-fixe dinner menu that boasts dishes such as pan-seared day boat scallops, grilled local yellow tail and a baked local apple cobbler with salted caramel ice cream.
The seaside community's Brockton Villa will offer prix-fixe options for both lunch and dinner. Some of the SDRW dishes on the menu include the eatery's "Epic Chowder, " which includes sea clams, blue crab, bacon, Yukon potatoes and saffron cream, the ginger chili-glazed Atlantic salmon and the whiskey and grana padano crusted filet.
In the North County Inland area, AVANT at Rancho Bernardo Inn will dish out tasty offerings like calamari bites, "Mary's Chicken" with fresh garden squash grown on site and pistachio macarons.
Ocean Beach newcomer, OB Warehouse, will make its SDRW debut. The new Cohn Restaurant Group eatery plans to offer a $35, three-course dinner that includes a kale salad, a Moroccan-spiced flat iron and coconut tapioca.
In Little Italy, the newly-revamped Indigo Grill will showcase comforting Latin-inspired dishes like roasted poblano bisque, handmade pappardelle pasta and fresh churros with Mexican chocolate on the $25 prix-fixe dinner menu.
For the full list of participating restaurants by cuisine, price and neighborhood, visit the SDRW website.
By the way, last year's San Diego Restaurant Week was such a hit that organizers extended the event by a full week. Here's to hoping that happens again. Cheers!
Share this article
Related Posts