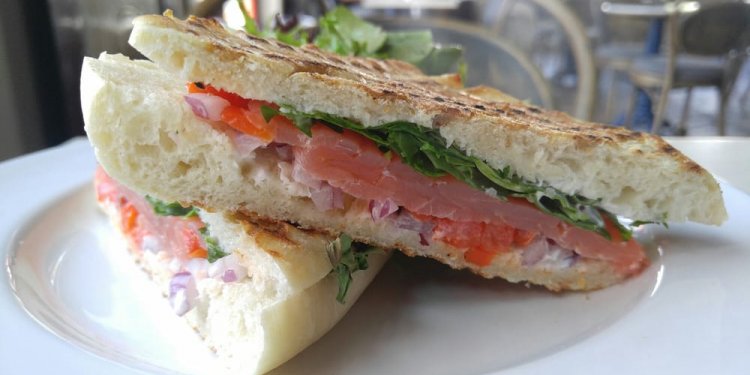 Cafe Madeleine San Diego
2248 30th St
San Diego, CA 92104
(619) 544-1735
I wish they had more vegan food but I love the French vibe and my boyfriend loves the crepes.
Cute little coffee shop in South Park. I had a mocha with almond milk and, to my delight, it was not gritty like a chain-that-shall-not-be-named mocha. There are only 2 comfy tables in the spot, by the windows; the others are small. There's outdoor seating too. So if it's raining, you might be hard up to find a seat. They also serve food- pastries and actual breakfasts- that I did not try but which looked and smelled delicious.
Very quaint cafe, like a slice of Paris in San Diego! Came here on a weekday morning and it felt so nice to have a spot at the table outside under the umbrellas and just soak in the vibe of being at what feels like a "real" cafe. For coffee, I got a drink with caramel and nutmeg which was delicious and not too sweet (plus it came with a mini madeleine as a bonus). To eat, I got the vegetarian crepe which was pretty good. The pesto and balsamic in it had a great flavor, but I was kind of surprised by how tough the crepe itself was (difficult to cut through and not very soft) and by the fact that the mozzarella in it was shredded (I guess I'm just used to having it used in chunks rather than little pieces that didn't really melt after all). I'll definitely be back, but will probably try something different just to see.
Tried to use a restaurant.com certificate & they didn't know how to use it so I couldn't redeem it. Our drinks were also forgotten. The servers were nice but seemed a bit overwhelmed. It was super hot inside so you should get AC for them.
I have to start off by saying this place is so stinkin' cute! It's a home renovated into a restaurant. What a cute add to an already quaint neighborhood. Eats. Miele latte. Strong and well balanced! The drink is a combination of honey, espresso and warm foamed milk. Smoked salmon crepe with an egg (+$2). Onions. Red peppers. Capers. Generous portion of smoked salmon. Comes with salad too! This was the perfect way to start my day. Parking. Can be tough but if you're doing a grab and go they have some 30 min spots. Oh, seating is limited. There are 2 group seats by the window and some small tables for 2. I can't wait to come back and try a few other things on the menu!
I decided to stop by Cafe Madeleine again in the morning when I didn't make coffee at home. I left home early and arrived there, and saw nobody... I thought they were closed but oh apparently they just happened not to have any customer. I guess I was lucky! I was debating between cafe latte carmelato and cafe Mexicano mocha. The employee said that both are popular but he would go for the latte carmelato. Ok I ordered that. Since there was no customer, my latte was done in roughly 1 minute. I tried to sip it, oh it was so good! Both the aroma and the taste fit my preference. The latte is also not watery like what I had in a few other coffee shops. Soon after I had got my latte, a few people walked in. I was truly lucky that I had no wait time during my visit. I'm so glad that I gave cafe Madeleine second chance, aren't I? Now I might be a regular there whenever I don't make coffee at home in the morning. I'll aim for their cafe Mexicano mocha, and possibly their pastry too, next time ;-) 4 stars because if I go there every day (although I want to) that might be bad for my wallet...
This is a quaint and cute little french cafe with little seating in South Park. My fiancé and I came here to get a light lunch before heading over to Balboa park. I was craving a crepe, so I decided we'd try Cafe Madeleine out. I ordered the chicken-walnut-pear-cheese crepe and subbed blue cheese for goat cheese. My fiancé ordered the smoked salmon crepe. We also ordered a mexican mocha. Everything tasted ok, but nothing really stood out. I thought the crepes were too creamy and cheesy and not well balanced with the other ingredients. The crepes at UCSD farmer's market are way better to me. The crepes come with organic greens dressed with vinaigrette. The salad was super plain. The saving grace is at least they didn't use iceberg lettuce. Mexican mocha was good, but pricier than a lot of other coffee shops. Service was a bit terse and lacking here and not the friendliest from the young man who took our order. We lucked out and got a parking spot in front of the restaurant. I thought everything was just a little too pricy for what we got. I also wish they had water in a container sitting out for customers with plastic cups, so customers don't have to ask for it. It seems fitting for a casual cafe like this. I don't know if we ordered the wrong things. Maybe they specialize in pastries? I think this place is worth a try and you should check it out for yourself, but it's 50/50 whether we will try Cafe Madeleine again with all the killer brunch places to choose from around the area.
What an adorable little cafe! My friends and I stumbled upon it while exploring South Park during the recent evening walk about. While I've never been to Europe, this is what I imagine European cafes to look like and the uniqueness is exactly what I love about South Park. My friend and I decided to split the fresh berries crepe for a sweet treat. The crepe is filled with strawberries, blueberries and raspberry jam and topped with whipped cream. While it's not the best crepe I've had (that's the raspberry dark chocolate crepe at Crepes and Corks, if you're interested), it's pretty good. I think some of the fruit was a little too tart for my liking but otherwise the crepe was a solid crepe. My other friends shared the ham and cheese panini and had nothing but good things to say about it. There's also an extensive coffee menu for those looking for a caffeine boost.
Great lunch spot. We split the prosciutto panini and the goat cheese crouton salad. Both of which were quite amazing.
Convenient location with plentiful street parking. Good coffee and delicious croissants baked right in front of you. Nice breakfast options. Indoor and outdoor seating.
Nice little spot to go and enjoy coffee and crepes. Had a smoked salmon crepe and it was prepared just right. The crepe had the right texture compared to other spots that remind me of a tortilla. I love crepes not crepetillas. Next time ill try out the fruit crepes. They have outside seating so you can enjoy the nice weather here. Cool shops nearby also to scope out. Take a walk and enjoy some crepes if youre in the area.
Share this article
Related Posts