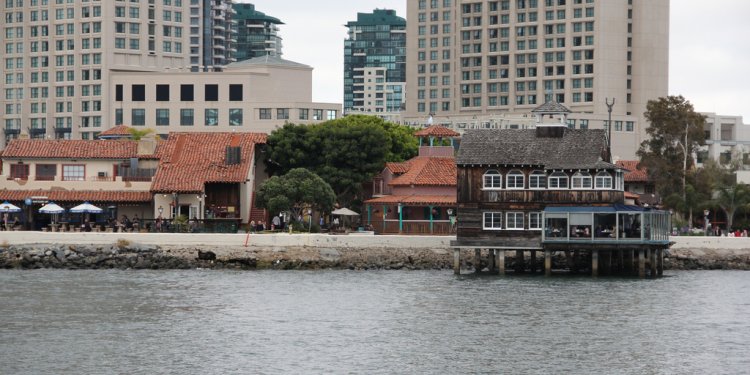 San Diego Seaport Village Restaurants
The link between San Diego's Bay and the city's thriving downtown core. Two unique adjoining properties with meandering walkways and beautiful plazas along with convenient parking and transportation stops.
Seaport Village
A 14 acre waterfront shopping, dining and entertainment complex recreating a harbor side setting of a century ago. Includes 54 one of a kind shops, 13 casual dining eateries, 4 fine dining waterfront restaurants, and located in close proximity to local hotels. Opened in 1980.
The Headquarters at Seaport
Through the restoration of San Diego's Old Police Headquarters, the city has reclaimed a majestic urban treasure by offering an extraordinary new experience; a delightful destination where restaurants on the order of Puesto & Eddie V's and specialty boutiques such as Kitson and Seaside Paper I Home can make a lasting impression.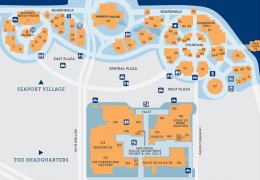 Location
Downtown San Diego on West Harbor Drive and Pacific Highway. Adjacent to Embarcadero Park North. 5 minute drive from the airport & cruise ship terminal. The boardwalk connects with the Convention Center, Marriott Hotel & Marina, Manchester Grand Hyatt and Midway Museum.
Seaport Village
849 West Harbor Drive
San Diego, CA 92101
The Headquarters at Seaport
789 West Harbor Drive
San Diego CA 92101
Sep – May
*Restaurant Hours May Vary
Cruise Ship Shuttles
Seaport Village + Headquarters offers a free shopping shuttle for day visitation cruise ships. Shuttle picks up at the cruise ship terminal and drops off on Harbor Drive in front of The Headquarters at Seaport. Shuttle runs every 15 minutes from 9:30am-4pm.
2017 shuttles available on:
1/21, 1/23, 2/7, 3/23, 3/29, 3/30, 4/5, 4/6, 5/2, 5/9, 5/11, 5/13, 5/23, 7/3, 7/8
Sustainability
Located on San Diego's beautiful "Big Bay", we understand our responsibility and are committed to ongoing sustainability efforts. Our current initiatives include: Single-stream recycling, strategically placed recycling containers for customer use, Waste Vegetable Oil (WVO) collected by New Leaf Biofuel and converted to biodiesel, and water reclamation practices in place to protect our storm drains.
Multiple recycled and recyclable products used our restrooms:
Tissue paper
Paper towels
Recyclable foam soap packaging
Recyclable Eco Fresh air freshener packaging
ma english
google certified educator
autocad classes
google data analyst certification
startup ideas for women
personal trainer certification
business start up costs
online computer science degree
components of entrepreneurship
databricks crunchbase
entrepreneurial management
annamalai university distance education
human resource management courses
coursera free courses
self hosted crowdfunding
enterprise georgetown
cross cultural psychology
pilates instructor
Share this article
Related Posts