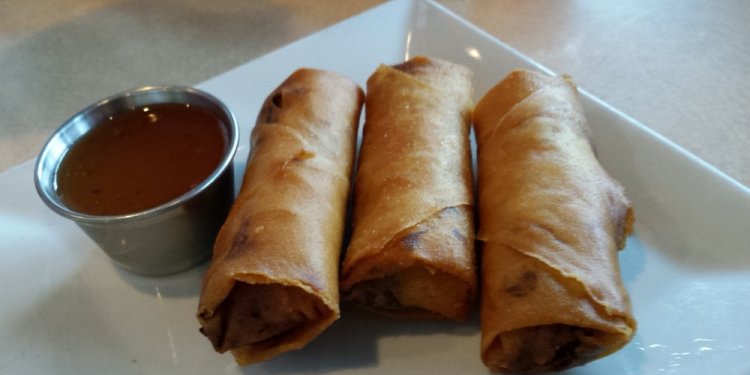 Bali Thai Cafe, San Diego
407 Camino Del Rio S
San Diego, CA 92108
(619) 297-0800
This cute Thai place is literally just down the street from the WorldMark Mission Valley, less than two minutes' walk. I love the cheery string lights and outdoor seating area. It's quiet, which I liked a lot. We ordered yellow curry with rice, and pad see ew to go. (Pro tip: There's a small discount for WorldMark guests!) The curry had a great texture - a little thicker than I'm used to, but it was better that way! Great service, friendly people. We even came back the next day and just ordered rice to go with our leftovers, since the portions were ample.
This place used to be filled during lunch time. Not on this day. I was surprised when we received our food without much waiting at all, almost to fast, like the food was already waiting in the kitchen for our arrival like we had called it in (But we Didn't). Anyway, I guess I made the wrong choice. I was peaking over to another table and was thinking, I wish I had. OK, this was not my day I guess. Food was soso.
I loved Bali Thai. Went every week. But it just closed last week and a new resturaunt is now at the same spot. No fried rice. No pad Thai. No Nasi Goreng. No drunken noodles. On a positive note: Starters/appetizers are still good though.
This is probably the only Indonesian food you can get in San Diego, centrally located. I wouldn't recommend to dine in cause there is a smell coming from where the restaurant is located and is not appetizing, I ordered delivery. I got the soto, gado gado salad, and the corn fritters known as frikkadel jagung. Anyway no meat dishes, I'm sure they would have added a boiled egg in the gado gado which is a delicious peanut dressing salad- a must try!... Ok the soto soup, that was dumb only cause it lacked meat. I never ate it without meat but for a veggie dish it is delish! I'm going to order the rendang beef next time and gado gado salad and corn fritters next time I eat there. When you don't have time to cook Indonesian food and you miss it, this place will suffice for me and I'm Indonesian who loves my cultures food.
Really nothing to complain about. Adjacent to multiple office buildings (incidentally, there's a ton of parking). I've only been for lunch, and it's usually relatively busy. Lots of takeout orders. "Hidden gem, " indeed. It's tucked away from the 8, past Benihana's. Drive past Benihana's. Do it. Come here instead. Great service and great food. Speaking of food: Green curry + sticky rice is a winning combination. Yum. 3 is mild, but a 1 would better suit those intolerant to any spice. Also consumed: mee goreng, pad see ew, pad thai, drunken noodles, eggplant balado, and chicken wings. The wings are savory and delicious when paired with onions and garlic and Thai spices. Get anything with shrimp or tofu...cooked well and generous portions. You could say I've been here too much. Not enough, I'd say! I'll probably be back tomorrow...
Excellent flavor- we ordered Green Curry Chicken & Drunken Noodles w/ chicken and they were BOTH excellent! Take some patience with ya, though it's worth it... ;)
This restaurant was changing owner several times before it was closed permanently. They had nasi campur for $24 per plate. Balado salmon was not bad. Nasi goreng gailan was delish as well.
Food is amazing! I love the drunkin noodle with chicken. You can tailor the heat to your preference which is really great. I am a frequent lunch visitor. The prices are very reasonable.
I decided to try this Thai restaurant and I ordered the Beef Panang Curry and the chicken wings. Both were delicious and definitely will order again and will try the other dishes they offer. I ordered for delivery and was pleasantly surprised how quick it arrived.
DELIVERY TAKES TWO HOURS, no joke! We enjoyed their food despite the ridiculous wait time for delivery.. So we tried to do take out but that won't work since they don't believe in picking up their phone.
We came on a rainy day. Not many people but their phone never stopped ringing cause all the take out. We order Tom yum soup with shrimp with level 9 spicy (very spicy be careful ), green curry with shrimp and ikan balado. Ikan balado is a fried fish type of dish with some sauce came along. But my friend like my dish better which is green curry. Food is very authentic and friendly warm service. Young server, trending, causal, I love it. Hope will be back someday when I am in the area.
This place has a great variety of authentic foods. Their spring rolls are a common thing I see ordered and they are played beautifully. Soups, pasta, curry, rolls, salads, they have a good variety. I love their drunken noodles. The Chinese broccoli is really good. All their veggies are fresh. I also love their Tom Kha soup. It's sweet and coconuty but with a tangy sourness to it. So good. You always get to pick your spiciness. Medium is pretty hot, warning! Their prices are good for your daily lunch break. The staff is so nice and will quickly recognize you if you come around for lunch.
I love their Chicken Panang Curry here!! Best in town! The service and food is fast. I would highly recommend this place for their curry.
This review is from a 2 week trip to southern California I took over Christmas and New Years 2015/16. This review is from a visit on 12/28/15. This is a little hole in the wall restaurant. I got there at 7:30p.m. on a rainy Thursday night during a holiday week. We were the only ones in the restaurant. I ordered I ordered green curry with pork. It was delicious. It came with bell-pepper, eggplant, green beans and Basil. It came with Jasmine rice. You can choose your meat, chicken etc and pay a little more for upgrading your rice. I had yellow rice. Our table also ordered the drunken noodle with beef. The dinner was great and I thought the portions were more than ample. Only one other table was seated after we arrived. If I rated this on atmosphere alone it would get 1 star. I would assume this is a big restaurant for lunch and take out food, based on their size. Our waitress Linda, was great, explaining the menu answering questions.We had a glass of wine . Nothing fancy, an Avalon Cabernet Sauvignon (they bottle wine from different regions) and Bogel Chardonnay for $7.00. It was happy hour pricing so we were only charged $3.50 a glass, which was an added bonus. I would return if I lived nearby.
Right up the street from our hotel. Lemongrass beef ramen was perfect. They serve these ridiculous fried corn fritter cakes IN the bowl of ramen. Genius. Simple. Super inexpensive. Would definitely go back. They have some Indonesian cuisine that is probably delicious.
My first business trip to San Diego and I have $35 allowance for dinner. After 7 hours of traveling I just really wanted to-go and eat in my hotel. I decided to go into the restaurant to order to-go because I wasn't sure if they itemized receipts for expenses - they did. I got there at it took them a while to acknowledge me even after the door had slammed, and there were three teenage employees it seemed like. Not very friendly with the looks and the greeting except for the main girl who actually took my order and packed my order. A little of practice may be needed for the servers with their customer service skills. Decent amount of time waiting for the food, but wasn't offered any water or anything while I waited. Food turned out yummy like any other Thai food place, but the little bowl of Tom Kha was ok for me for $6.50 but then they added another $5 for "protein." Would order the Pad See Ew for the flavor again, but I experienced this place with an "alright, no choice, nothing else" kind of attitude. Props for the girl who actually really helped me with courtesy.
Don't know why they have 3.5 stars, pad Thai was top notch and well priced. Excellent service. 5 star easily for this experience.
Share this article
Related Posts