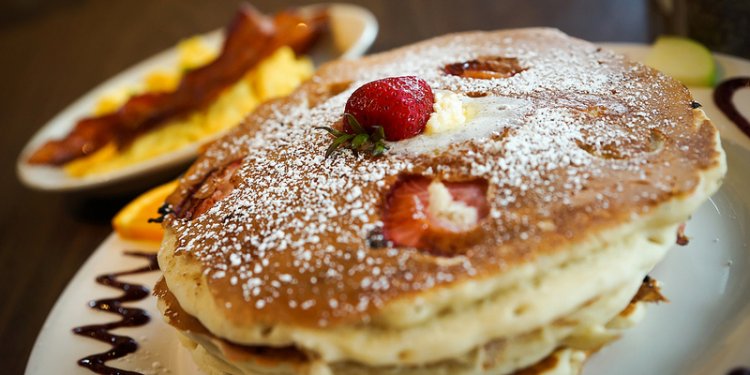 Breakfast Cafe San Diego
Breakfast is the most important meal of the day so don't waste it on soggy cereal, rise and dine like a champ on iconic American eats instead! From eggs over easy and crispy bacon, to short stacks drizzled in syrup - not to mention (almost) endless coffee refills - Eater's handy guide to fourteen essential San Diego breakfast spots will ensure your first meal of the day is a delicious one.
1 Pipes Cafe
Expect bomb breakfast burritos, pancakes and killer breakfast tacos at this iconic North County café. With a laid back vibe, surf-themed décor and a steady line out the door most days, the Big Breakfast -piled high eggs, bacon, Pipes' potatoes, pancakes or French toast, and an English muffin – is also highly recommended.
123 Liverpool Dr
Cardiff-by-the-Sea, CA 92007
(760) 632-0056
2 The Original 101 Diner
An "old school breakfast" is well worth the wait at this cash-only joint in Encinitas, where you can expect some decent weekday specials including huevos rancheros ($9), and an eggs benedict/acai bowl combo for $8.75. The diner's signature apple cinnamon sugar pancakes are also not to be missed.
552 S Coast Highway 101
Encinitas, CA 92024
(760) 753-2123
3 Brockton Villa
It's hard to beat breakfast with views of the world-famous La Jolla Cove as your morning backdrop. In addition to classics like the Cove Combo (two eggs, two slices of bacon/sausage, fruit, toast and potatoes), and Smoked Salmon Plate, expect other upscale eats like local favorite the Crab Ipanema Benedict, plus assorted sides and sweets at this one-of-a-kind location.
1235 Coast Blvd
La Jolla, CA 92037
(858) 454-7393
4 Lucky's Golden Phoenix
Proprietor and chef Lucky has been cooking and serving breakfast at his iconic North Park 'spoon for more than 40 years. Cheap and cheerful, a full breakfast runs between $3 and $4, while coffee refills are free and plentiful. A regularly rotating cast of locals keep the seats filled each day until noon at this North Park institution.
3804 Grim Ave
San Diego, CA 92104
(619) 297-2760
5 Isabel's Cantina
Locals line up for an inventive fusion of traditional Latin and Asian cuisines plus buzzy weekend brunches at this spot in PB. The coconut French toast is a hands-down customer favorite, while other morning menu must-haves include the Carnitas Stack and slightly sweet Breakfast Tamales with roasted tomatillo sauce.
966 Felspar St
San Diego, CA 92109
(858) 272-8400
6 Breakfast Republic
Rise and shine at this sunny spot where inventive breakfast plates plus bottomless coffee and morning-approved cocktails like mimosas and Bloody Marys abound. The Vietnamese chicken wing breakfast bowl, breakfast bacon mac n' cheese and breakfast hot dogs all offer an interesting change from more traditional fare.
2730 University Ave
San Diego, CA 92104
(619) 296-7058
7 Harbor Breakfast
This Little Italy breakfast specialist makes a pleasant setting for early-morning classics such as a Denver omelet, corned beef hash, or sweeter fare like pumpkin pancakes with seasonal fruit. Harbor favorite The Hangtown Fry ($16) is a signature dish of scrambled eggs, oysters, bacon, mushroom, spinach and green onion.
1502 India St
San Diego, CA 92101
(619) 450-7926
8 Hob Nob Hill
Serving up generous portions of classic American comfort food since 1944, Hob Nob Hill is a pure dose of dining nostalgia. With an expansive menu, dishes like the homemade roast beef hash; fluffy pancakes and classic eggs benedict have kept customers coming back for more at this beloved San Diego landmark.
2271 1st Ave
San Diego, CA 92101
(619) 239-8176
9 Fig Tree Cafe
Menu offerings at this popular spot in Point Loma encompass everything from California omelets and Tuscan bennies, to fig jam and ricotta cheese stuffed French toast, pancakes and assorted scrambles. Enjoy breakfast alfresco with a specialty drink – top picks include the Blackberry Bliss (vodka, champagne muddle mint and blackberries), and Lavender Bellini, on the picturesque patio.
2400 Historic Decatur Rd Ste 103
San Diego, CA 92106
(619) 821-2044
10 The Original Pancake House
Founded in Portland, Oregon in the early 1950s, the Kearny Mesa outpost of this popular chain serves up signature pancakes and other American breakfast classics. House specialties include the Dutch Baby (an oven baked beauty served with whipped butter, lemon and powdered sugar), and uber-decadent Tahitian Maiden's Dream - a tender crepe filled with bananas sliced in sour cream and tempered with Triple Sec, sherry and brandy.
3906 Convoy St
San Diego, CA 92111
(858) 565-1740
11 Kono's Surf Club Cafe
All-day breakfasts "like mom used to make", generous portions and killer ocean views have kept lines out the door since '91 at this longstanding PB favorite. Menu standouts include four versions of Egg Burrito, the Big Breakfast #2 and Breakfast Sandwich. With a prime location beside Crystal Pier check the surf while you chow down one of the café's three outside decks.
704 Garnet Ave
San Diego, CA 92109
(858) 483-1669
12 Hash House a Go Go
No mention of morning eats would be complete without a nod to this award-winning spot where phenomenal breakfasts and weekend brunches are generously sized to fill even the emptiest of stomachs. Indiana Favorite Andy's Sage Fried Chicken Benedict with maple reduction, two eggs, bacon-mashed potatoes and biscuit has garnered over 300 reviews alone on Yelp, although house hashes, flapjacks and waffles are all worthy contenders.
3628 5th Ave
San Diego, CA 92103
(619) 298-4646
13 The Mission
Specializing in simple, healthy food with a whimsical edge at affordable prices, Mission favorites include the Zen Breakfast (scrambled egg whites, tofu, brown rice), chicken apple sausage & eggs, and the Mission croissant filled with farm fresh eggs, cheese and tomatoes. The pancakes are also popular and come in a variety of fruit-filled and topped incarnations including banana blackberry.
1250 J St
San Diego, CA 92101
(619) 232-7662
14 Cafe 222
This colorful and quirky spot serves up inventive spins on American comfort classics, including their hugely popular (and famous!) pumpkin waffles. For specialty dishes think huevos rancheros, chicken fried steak and eggs, orange-pecan pancakes, three different bennies, and scrambles plus healthier fare like fresh fruit, oatmeal and granola.
Share this article
Related Posts