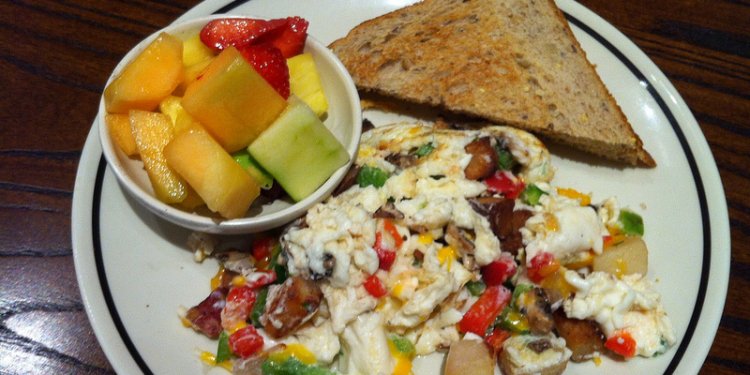 Corner Bakery Cafe San Diego, CA
101 Broadway
San Diego, CA 92101
(619) 233-1642
Who knew that they had great pancakes here? Breakfast sandwiches I did expect, but a full breakfast menu I did not. I also didn't expect their breakfast to be that good, but I was definitely wrong. They have some specialty pancakes but their plain ones are delicious- buttery and nice and fluffy. Decent bacon and great scrambled eggs as well. The cost is about $9, so it's not a bad deal for downtown San Diego. The coffee could be better, but it's OK for the most part if it is hot. I've also tried breakfast panini and the meatball panini and both were good. They've also never failed me on their baked goods - their staple.
This is my third and last time I ever go to CB, had no problems the first time at all, but the second time I went, the cashier had no idea what she was doing or how to cancel an order due to their Credit card system was down. They after waiting for the manager to show up and scold the cashier for something that was beyond her control in front of myself and other customers, the "manager" then had an attitude with me when I politely asked to cancel my order due to the CC system not working. This last time I went, I went with a coworker and the cashier service could've been warmer if it came from a robot. This girl did not know how to approach or treat a customer, she was very snobby and kept a flirty attitude with the cooks. Look, I understand about workplace flirts, but there's no reason to act totally bipolar and a bit hostile toward the client, who's there to eat their food. As if that wasn't enough to put me off from ever eating there again, I ordered the cobb salad, the onions were rank, and the lettuce looked like it was put through a paper shredder as it resembled confetti more than anything. The only decent half descent thing I consumed was half a tomato soup. The meal didn't sit well with myself or my coworkers as all three of us got food-poisoning. So go here if you enjoy what feels like a rip-off of a lunch at regular downtown prices and bad service. The only good thing I have to say about this location is that it's fairly clean and there's never a long line to get your order in.
I enjoyed a quick breakfast from this new Corner Bakery Cafe downtown San Diego right on Broadway. I ordered a new item to the menu, the Crunchy Honey Granola Banana Steel Cut Oatmeal and a cup of Breakfast Tea. The oatmeal came with there homemade raisin pecan sweet crisp served on the side. It was an interesting given it had a salt and sweet thing going on. It was good, but I am not sure what if had to do with the oatmeal though given the oatmeal already provided a grain element. A mini fruit salad would of been more appropriate. The oatmeal was good, but a little watery for my taste. The granola was a nice touch for the added texture and flavor. Both the sliced bananas and drizzle of honey on top added a little sweetness so no added sugar was needed. I did not know that the oatmeal came with dried cranberries so that was a nice surprise. They give you a good amount of oatmeal so the meal is moderately filling, but probably filling for most people given I have a large appetite. Good oatmeal.
Share this article
Related Posts