Creole Cafe, San Diego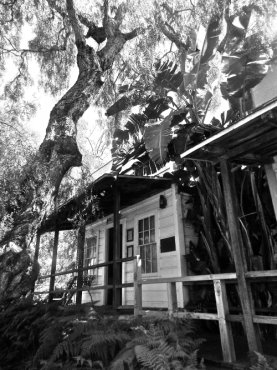 When Anna and Charles Whaley decided to put down roots in what would become the heart of Old Town San Diego, it seems there was a plan to bring a bit of Louisiana to Southern California. Anna Whaley, of French descent, planted the majestic pepper trees outside her house in 1856. Her trees, and other New Orleans touches, were recognized by Mark Bihm more than 150 years later, drawing him to the next stage in his career. He was intrigued by the blind real estate ad that read "Deli in a parklike setting, " describing the historic building that shares the Whaley House courtyard.
"I wanted to open a restaurant, and I didn't want to see concrete or cars, " Bihm says. He immediately came out to look at the property and fell in love with it; the place reminded him of his homeland—his family has been in Louisiana since 1750. "The New Orleans style of the Whaley House [see Whaley House chapter], the gas lamps, the pepper trees—it was kismet." And the rest is history.
Creole Café is painstakingly restored and preserved
Bihm's San Diego Creole Café is part of the historic courtyard that Save Our Heritage Organization (SOHO) created from the buildings saved from demolition and painstakingly restored to preserve San Diego's early history. The adopted buildings are now part of the group surrounding the historic Whaley House. What Bihm didn't realize, but now knows very well, is that he was moving into one of America's most haunted locations.
Bihm and his life and business partner, Humberto Villegas, have both experienced many paranormal events in the buildings that house the Creole Café, moved from what was one of the oldest areas of San Diego called New Town, which is now part of San Diego's downtown area. The two wooden structures with false facades definitely have a feeling about them, and many customers comment about their own experiences there.
Share this article
Related Posts