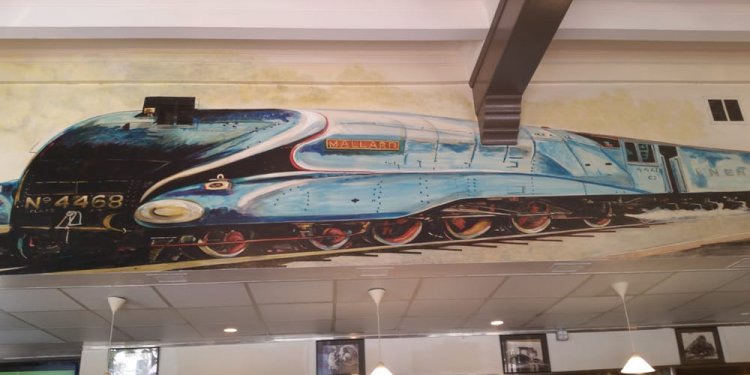 Grand Central Cafe, San Diego
500 W Broadway
San Diego, CA 92101
(619) 234-2233
Great place. Good small "local" vibe. It's up the little stairway off the sidewalk so don't miss it. Reasonable prices. ( under $10). Big omelettes. Friendly service. Very clean. I come here every time I'm in San Diego.
I kept passing the Grand Central Cafe on my way from the Santa Fe Depot to the Hall of Justice, so when lunchtime came during day 3 of my jury service, I figured I'd give the place a shot. Located in the corner of the YMCA building, the decor is quaint and classy. There's a diner counter near the front of the place, with a train station theme throughout. Also, as it's the holidays, the cafe was decorated with a Christmas theme; the tree and decorations near the fireplace and entrance made me smile. The food... well, I've honestly had better. I ordered a Philly Cheesesteak with fries for roughly $9.50 at my server's suggestion, and while the bread was nice and toasty, the meat was surprisingly dry. With my Diet Coke, the order came out to about $12 - yep, it's kinda expensive (then again, it's downtown SD - rarely will you find a good meal for under $10 in the region). The service could also be a bit better - while I came in during lunch rush (and the place is packed with lawyers and clients, so caveat emptor), it took 5 minutes for someone to come take my order, about 10 minutes for my order to come out to me, another 5 minutes for a server to check if I needed anything, and yet another 5 minutes for them to return with the napkins I asked for, seeing how my order didn't have any to begin with. Pretty much the only time they were fast was when they were delivering my bill... Still, there's at least a couple of items I want to try on future visits - a friend of mine raved about their Captain Crunch french toast, and I'm curious about their fried fish and clams plate - so maybe a future visit may be in order.
Okay so we were in a hurry to eat brunch before heading to the San Diego Chargers game and this was the closest spot to the metro station. If you have no choice and you're trying to catch the metro, then this is the place to be. Even though it wasn't busy, it seems like service was a bit slower than it should be. But I guess I was on a time crunch, it probably seemed like forever to me. The menu was pretty basic. Nothing fancy so it was easier for my group to choose their selection. You could pretty much order brunch/breakfast without even looking at the menu. As for me, I glazed at the menu and saw the basic what I was craving for. I ordered the corn beef hash with over medium eggs just the way I like it. And surprisingly it was pretty good! I mean the expectations you get from this place is what you get. So it's on point yelpers!
This mom&pop's place is pretty good. Don't expect high classy food. Just down to earth, straight out of the kitchen food. We like coming here when we're in SD. The breakfast are good and well within our budget. Street parking is free on weekends and certain holidays. They have window seating :)
Great service and large portions. I went twice on my Comic-Con trip. Chicken fried steak and eggs the first time and then pork chops and eggs the next. Out of the two I think the CFS was the best and the pork chops definitely took longer but came out with grill marks. My only complaint is that like many restaurants these days, they went easy on the salt in cooking.
This is just an OK place for breakfast. I had the pancakes and they had no flavor. Also the fork was so lightweight and cheap I had trouble cutting my pancakes.
The food was decent. Good size meal. The chorizo and eggs were flavorful. The coffee was mediocre, but I'm a coffee snob. Good service and convenient location.
Good coffee, crispy hash brown, tasty tomato. A nice place for an out of town breakfast.
Good and quick breakfast place in downtown San Diego. I come here mostly for breakfast meetings. They have a good selection of breakfast items and they food is not overwhelming like some other places I have been to. I have only been here for lunch a few times and the selections are average. Nothing really jumped out at me. The service is always good and prompt. I like the train station feel the place has too.
Traffic stats
Share this article
Related Posts