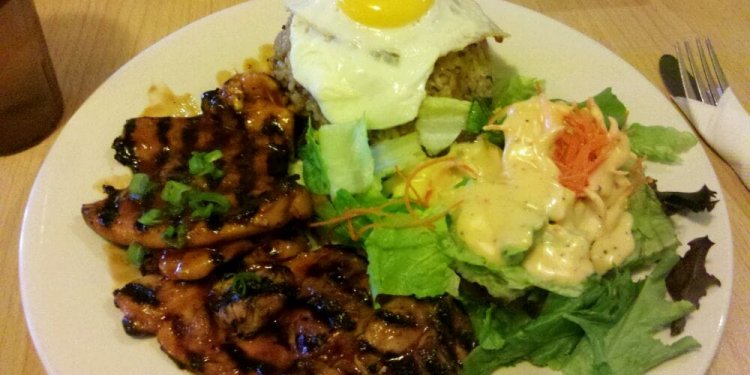 Island Style Cafe, San Diego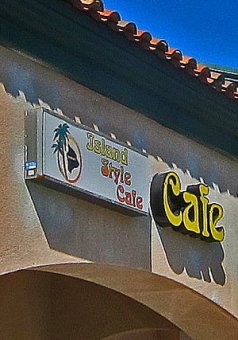 Here's a couple of revists for plate lunch wee;
Island Style Cafe:
Man, has it been almost five years since Island Style Cafe opened? Time usre has flown by. In preparation for plate lunch week, I thought I'd do a couple of revists. Though I really enjoy the Kaloko Moco here, the plate lunches have just been ok.
For this post, I decided to put my biased choices to the side and actually try another plate lunch here. After all, it is plate lunch week. Good thing it's not loco moco week.I might not survive that one!
Island Style Cafe had renovated since my last visit; nice booths giving the place a warmer feel.
I ordered the Korean Mix ($10.95), a combo with the Kalbi and Korean Chicken. I quickly noticed that the portion sizes seemed to have gotten a bit larger than I recalled.
Having not ordered a plate lunch here in ages, I'd forgotten about the mac salad. They put tuna in this; not my favorite version, but at least it was nicely chilled.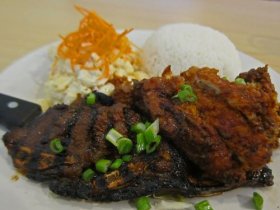 The kalbi is sliced very thin, which made it quite crisp, and perhaps a bit too charred. Still the flavor wasn't bad and the crisp char makes you forgot about how tough this can be.
The flavor for the Korean Chicken, which is pretty close to Dak-Galbi, is nice.
The chicken was cooked perfectly, personally, I'd prefer something with a bit more of an interesting texture to it. There's a component of many version of Dak Galbi that creates a bit of a mushy texture, which was also the case here. Still, this was not bad.
Personally, I think the food is getting better, as is the decor. Still, this won't make me forget about ordering the Kaloko Moco next time.which, according to my arteries is quickly approaching.
According to the signs, the menus have been revamped a bit, so if you haven't checked them out in a while, you may want to see if there's anything you'd find interesting.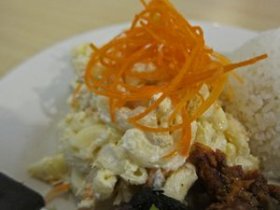 Island Style Cafe
5950 Santo Road
San Diego, CA 92124
Kealani's:
It seems that the place hasn't changed much in the last seven years.
Since the place seemed stuck in time, I decided to order two of the items I did last time. They call the mix plate Mt Ka'ala here. For you trivia fans; if I recall Mount Ka'ala is the highest spot on Oahu, part of the Waianae Range. I guess just saying "mix plate" is too boring. So my two protein combo ($8.50) consisted of the teri chicken and sweet sour spareribs.
Even though it doesn't quite look like it, there's more than enough food here. There's another scoop of rice and a good portion of pork under the two pieces of chicken.
I recall thinking the sweet and sour spareribs, even though it looks like pork butt, and is more sweet-salty, than sour to be not bad. The flavor is heading more toward rafute than sweet-sour spareribs, which isn't a bad thing. Unfortunately, this was super dry.I mean really dry.
I know they serve up what we call "dipped chicken" here. The trick is to not make it seem like precooked chicken that is reheated and dipped in sauce.
This didn't. The flavor was decent, not too sweet or salty, but like the pork, it was quite dry and tough. That teriyaki sauce on the side had been reduced too far and had a bit of bitterness to it.
Personally, I'd still take Kealani's over most of the L&L's.probably over all of the L&Ls on the mainland.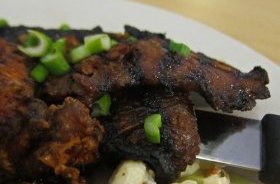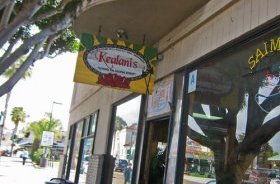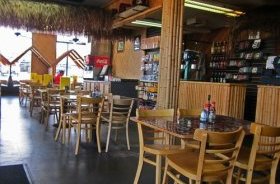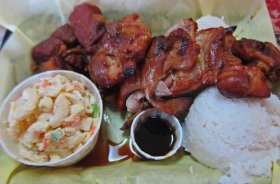 See also:
Share this article
Related Posts